Student Success at the Core of Campus Transformation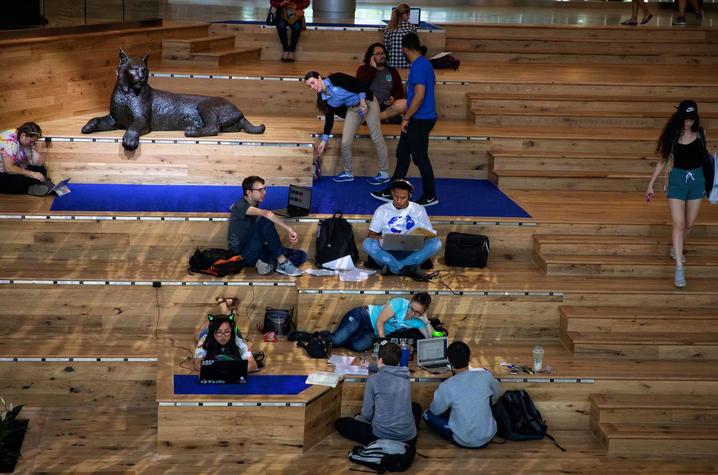 Monday, April 2, 2018
Student success is at the center of everything we do at the University of Kentucky; it has been for more than 150 years.
Since 2011, we have made continuous strides toward modernizing our campus. We can see that clearly when we think about our $2.23 billion campus transformation. Within that $2.23 billion, spaces focused on student success account for $1,016,039,717 and 4,070,965 square feet across 57 projects. 
Our strong financial management and prudent investment strategy is enabling us better support our students. The ability to invest has never been more important as our Strategic Plan outlines ambitious, but achievable, goals for gains in retention and graduation, expansion of research and care, and initiatives that continue to positively impact every corner of our Commonwealth.
Our partnerships with the private sector have strengthened our capacity to create and build infrastructure – classrooms, research labs, health care facilities, living spaces, and dining halls – that supports success at all levels.
I would like to highlight a few key areas we have transformed, with student success as our guiding principle:
Undergraduate Housing: Our nearly $450 million housing transformation — completed in five years and encompassing 6,850 beds in 14 new state-of-the-art residence halls — is a cornerstone of our student success efforts. Our state-of-the-art residence halls help the University of Kentucky stand out as a place for students to not only succeed, but to flourish.
Living-Learning Programs:  A living-learning program (LLP), gives students the opportunity to live with their peers, connect to faculty, and participate in specialized programming. Undergraduates living in residence halls have the option to participate in one of our 17 living-learning programs.
From data we collect, we know that students who live on campus, and – in particular – participate in a living-learning program (LLP), succeed at higher rates on their path to a high-quality degree. Our new University housing is designed to provide students with more support spaces and an environment to thrive and build community
Graduate Housing:  The new University Flats, provides housing for upper class undergraduates, graduate, professional, and post-doctoral students. This complex is designed to accommodate our students' busy lifestyles, providing convenience and support to facilitate their success.
Dining: Through our dining partnership, more than $75 million has been invested in facility improvements across the campus – including two new residential dining facilities: The Fresh Food Company at the 90 and Champions Kitchen in the new Student Center.  Our dining partnership is increasing the quality of the dining experience, brands, locations, and the nutritional value of food options on UK's campus. Dining is an integral part of on-campus students' experiences at the University, so we are working to support them through a wide array of nutritional options and an atmosphere to build community and engagement, and enhance wellness.
Student Center: The UK Student Center is a $201 million, 378,000-square-foot building designed to be the living room and heart of the university community. With phase two set to open in late April and phase three in early June, the Student Center will house the new UK Barnes & Noble Bookstore, many dedicated student organization spaces, the UK Visitor Center, the Martin Luther King Center, the Alumni Gym Recreation Center, a "Blue Box Theater," Senate chambers, a social staircase, dining, and more.  The Student Center will provide space for students to socialize, study, and build community. These spaces and their designs will allow students to focus their attention on the four pillars that we know facilitate overall success: academic success, financial stability, wellness, and belonging.
During the last budget cycle, the state legislature authorized a $60 million campus modernization project. This initiative will further rehabilitate, renovate, and modernize buildings, so that our students will have better access to resources and a more effective learning environment.
The campus transformation is about so much more than nicer facilities; it is about how we create an environment to support student success, so our students can thrive and build community.
Thank you for your continuous support as we modernize our campus.
Eric N. Monday
@UKYMonday
#seeblue