Thankful for Our Students and Their Impact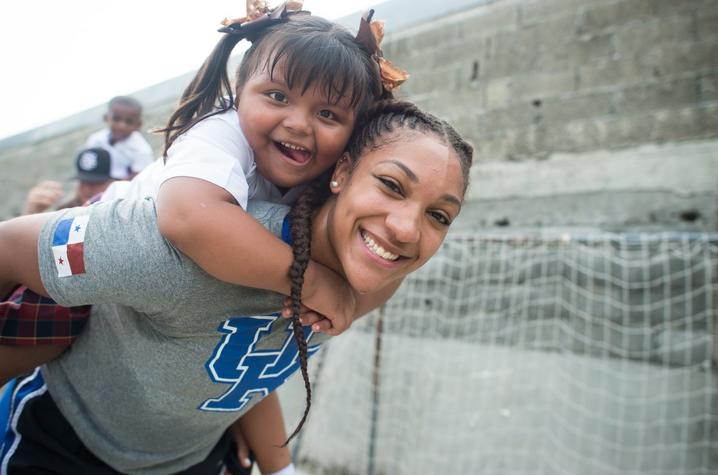 Monday, November 20, 2017
This week, many of our students will leave our campus to celebrate the Thanksgiving holiday. Some members of the UK family, including many of our international students, will remain and enjoy the academic holiday within the boundaries of our campus.
But wherever we gather, this is a time of the year when we collectively take a pause, reflect upon the progress we've made, and remind ourselves of our most valued responsibility, which is also our greatest privilege.  We have a responsibility to make our students' four years worthwhile, and to prepare them for lives of meaning and purpose. They each come here with their own stories: their own collections of aspirations reached, and those left to attain.
Our commitment is to help them reach their goals: to equip them with the skills to write more stirring chapters in their future.
This semester in particular, I've enjoyed hearing many of our students' stories—the tales of the impact and success they're already creating in their communities. Consider a few examples:
They used their skills to provide assistance around the world:
In April, six students in the College of Design went on an inaugural trip to Chez Moi orphanage in Port-au-Prince, Haiti, which was severely damaged in 2010 by an earthquake that registered a magnitude of 7.0. They experienced firsthand the needs of the young people who lived there as well as their culture to fully understand how best to renovate the building.
Students from Professor Swetnam's studio last semester, as well as those in the current studio, have created the Big Blue Crowdfunding project "Humanitarian Architecture: Empowering Haitian Orphans" as a means to raise funds for travel to Haiti and additional building materials. 
They helped launch a small spacecraft with NASA:
A group of University of Kentucky College of Engineering students developed a small spacecraft and — at 5:30 a.m. on Aug. 13—they watched nearby as NASA launched their project into space on a 44-foot tall rocket from NASA's Wallops Flight Facility in Virginia. The team's small spacecraft — a 7.5-inch diameter re-entry capsule — reached an altitude of 94 miles before coming back down to Earth.
During its re-entry flight, the capsule tested its thermal protection system (or heat shield), data acquisition and data transmission via satellite. Heat shield technology in general is a high-priority need for the success of NASA's spaceflights.
They raised money to provide services to victim-survivors:
Students in the College of Dentistry and members of the American Association of Women Dentists (AAWD) hosted the 11th annual Strut Your Smile fundraiser. The event raises thousands of dollars to provide dental care to the women and children of GreenHouse17, an emergency shelter and advocacy agency committed to ending domestic abuse.
They earned competitive funding for undergraduate research:
This past summer, eight undergraduate students pursued research out of state in their academic disciplines with funding from the National Science Foundation-Research Experiences for Undergraduates (NSF-REU) program.
They volunteered in the Lexington community:
Members of a University of Kentucky College of Agriculture, Food, and Environment student organization recently helped beautify the land at Lexington's African Cemetery No. 2. The African-American cemetery is one of Lexington's oldest hidden treasures, having been purchased by The Colored Peoples Union Benevolent Society No. 2 in 1869.
UK soil scientist Mark Coyne reached out to the UK Minorities in Agriculture Natural Resources and Related Sciences (MANRRS) members for their help. MANRRS leaders agreed to help and partnered with Lexington's Town Branch Tree Experts. Together, they planted more than 50 trees. Getting a chance to learn about history, the students were also able to learn how to plant trees.
They are preparing, once again, to host DanceBlue:
DanceBlue is a University of Kentucky student-run organization that fundraises year-round and culminates in a 24-hour no sitting, no sleeping dance marathon for pediatric cancer patients. All of the money that is raised through the event, more than $11.6 million since the first marathon in 2006, is donated to the Golden Matrix Fund.  This fund was established to support the kids of the DanceBlue Kentucky Children's Hospital Hematology/Oncology Clinic, both now and, through an endowment, into the future. DanceBlue also helps to provide funds to support research at the UK Markey Cancer Center. 
DanceBlue 2018 will take place on February 17-18 from 8p.m.-8p.m. in Memorial Coliseum. 

These are just a few examples, among many, of our students doing absolutely incredible things. Each day—but especially at this time of the year—I'm thankful to be a part of a community so dedicated to supporting their success.
Happy Thanksgiving.
Eric N. Monday
@UKYMonday
#seeblue