UK Transforms Local Food Systems Landscape Through Dining Initiatives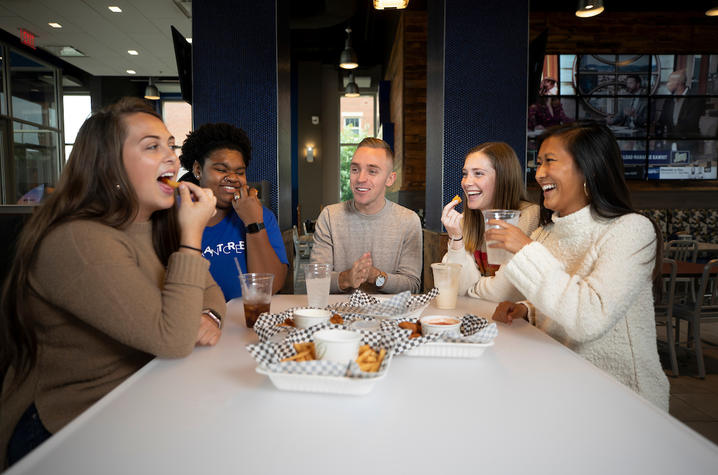 Later this month, The Food Connection at UK, in collaboration with Bluegrass Farm to Table and Kentucky Proud, is holding its second annual Kentucky Local Food Systems Summit.
As the Commonwealth's land-grant, flagship institution, we leverage our role in growing a sustainable and resilient agro-food economy for Kentucky through our commitment to buy locally sourced products.
In fact, through a combination of collaboration and innovation, local food procurement efforts by UK Dining will continue to expand.
New initiatives are well underway on campus to work with local producers and food hubs (e.g., aggregator/distributors) that have ultimately opened doors for small and mid-sized farms to provide products to campus, including the implementation of the Kentucky Salad Bar Program, the Whole Animal Program, and sub-contracting with local restaurants for dining stations.
And, while UK Dining has exceeded expectations in its reported Kentucky Farm and Food Business Impact (KYFFBI) purchases, these new programs and initiatives still have the greatest potential to strengthen and grow our local food economy.
It's why I'm proud to see UK bring together food system experts and professionals to engage in dialogues surrounding the local farm and food systems landscape.
These conversations will center around community nutrition, market development, agricultural research and practices, as well as the public policy behind local food systems.
They show us how everything we do – as members of the community, as an institution, as the Commonwealth – is connected through our economy, our food culture, and our land.
To further connect Wildcats to the larger agro-food community, the University is moving forward on a $25 million capital construction project to expand the Gatton Student Center, including Champions Kitchen, that will include some 300 additional seats for communal dining.
The student center is the heartbeat of our campus. It has become the central gathering and dining space for much of the community, and its expansion exemplifies the power of partnership and our willingness to act on the needs of our students through strategic, collaborative thinking.
It's the next step in asking ourselves what's possible for Kentucky – and its agro-food economy.