The Bill Gatton Student Center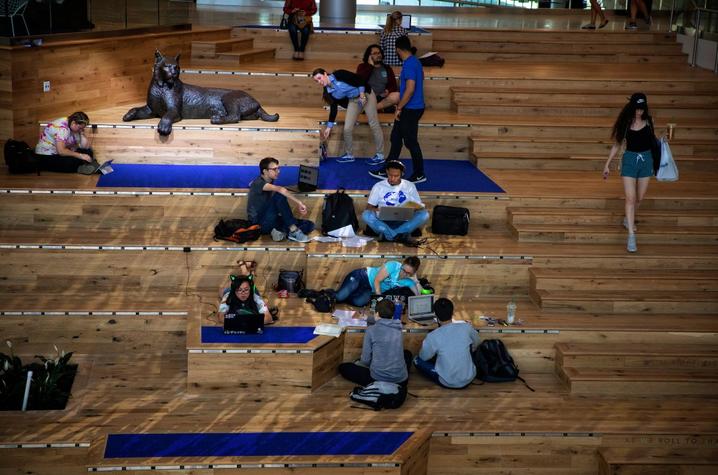 Yesterday morning, our campus community gathered for a special day in the history of the University of Kentucky. Our gathering illustrated in a compelling way the importance of people to this place.
As we continue our journey to recreate with unbound imagination the places where our UK family lives and learns, reads and studies, births ideas and breaks bread, places like the new Student Center bring life to our vision. The new UK Student Center, which we officially opened yesterday, is a place where a chance encounter can create a life-long bond of friendship or love. It is a place where our community can build partnerships that lift the soul, spark innovation, or further the cause of justice and equal opportunity.
Seven years ago, when we embarked upon our journey to better support the success of our people, we were armed with only dreams; granted they were not small dreams.
We aspired to transform this remarkable place to meet the covenant forged more than 150 years ago to provide the best of higher education, the advantages of a virtuous democracy, and a commerce and culture that raises the standards of how and why we live.
We would have been mere dream merchants, peddling illusions and fantasies if not for key people meeting what our times demand of us.
There was no bigger advocate and support of our audacious dreams than Mr. Carol Martin "Bill" Gatton. Mr. Gatton's inspiring support for his alma mater has a powerful impact on this campus, on our students and faculty, and on the entire Commonwealth. He believes deeply in this profound and important mission, which is why he provided the lead, $20 million gift toward the Student Center.
Today, our Board of Trustees voted to recognize this gift – and the legacy of giving that has marked a lifetime. They approved the naming of this incredible space in the heart of our campus the Bill Gatton Student Center.
Mr. Gatton's gift builds on a long tradition of philanthropy to support UK students, faculty and staff—a total gift impact well in excess of $55 million.
Kentucky's native son, Mr. Gatton believes in the power of higher education and the University of Kentucky to affect positive change for the Commonwealth – to build a bridge for a new generation who can follow in his footsteps and serve others.
Through his unprecedented level of support—on the shoulders of a long legacy of philanthropy—and his invaluable service to our Board of Trustees, Mr. Gatton is helping us meet the challenges we face today, so that we – and our children, and our children's children—can reach a brighter tomorrow. 
Just as Mr. Gatton was transformed by his experience at the University, so, too, is he providing a transformative experience for students today, tomorrow, and many who will follow.
His philanthropy and shared responsibility in our campus mission will support members of the UK family for generations to come—generations who will never meet Mr. Gatton but who will without question be served by his generosity.
That is the essence of true giving – giving to those who may never know you, giving on behalf of a cause and mission larger than one's self, giving as a way of reflecting a lifetime of service to others, to an institution you love, and to a Commonwealth that courses through every fiber of your being.
That is Bill Gatton's legacy: a lifetime of success in endeavors too many to count, a lifetime of joyous, deep giving to the students of this university, our university, the University for Kentucky.