Fierce Resolve, Enduring Compassion Form the Soul of this Community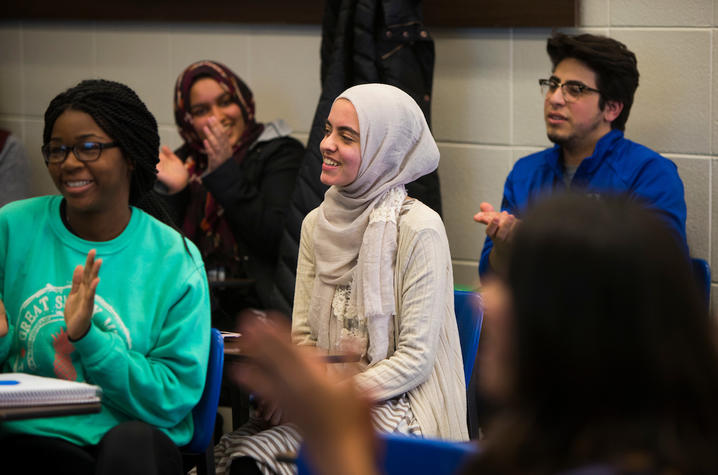 In the past month, I've received telling reminders of why we are here.
In my seven years at the University of Kentucky, I've been uplifted and rejuvenated by the way this community supports its people. I attribute that to the soul of this place.
Rooted in the UK family is a combination of fierce resolve and enduring compassion.
That combination—ingrained in our DNA—compels us, constantly, to think through ways we can uplift each other, and to find avenues that help our brothers and sisters succeed.
That's why the University of Kentucky invests in scholarships and financial aid. That's why we launched the UK LEADS program—to ensure unmet financial need is not a barrier to college. It's why there are hundreds of programs across campus that support student success.
Scholarships—investments in people—unlock the potential of our students.
We know that Kentucky can prepare a new generation of leaders. Kentucky can create opportunities for students to forge their distinctive paths, to make their impacts on the world, and to change communities for the better.
Recently, we celebrated a new scholarship program—a new manifestation of our commitment to student success.
The Bilal ibn Rabah Scholarship mirrors our efforts to support a rich tapestry of diversity, inclusion, respect, and belonging on our campus.
And it reflects that the same generation we serve is finding many ways, known and unknown, to serve others.
This is why I'm not surprised to see one of our students behind this important work.
The new scholarship was founded and administered by UK political science and Arabic and Islamic studies senior Hadeel Abdallah.
In November, we were overjoyed to learn that Hadeel was named a recipient of the highly prestigious Rhodes Scholarship. She is one of 32 women and men selected as Rhodes Scholars representing the United States. UK remains home to the largest number of Rhodes Scholars from institutions in the Commonwealth of Kentucky.
I've been fortunate over the past few years to get to know Hadeel as a student, as an advocate, and as a person.
The passion with which she approaches everything—from her studies to her career aspirations, and from her treasured relationships to her pursuit of a more compassionate and just world—inspires me.  
It also reminds me why we are here.
Hadeel is someone who uplifts other people's voices. She show us the power of education to transform lives and, yes, change the world.
She plans to apply this passion to the study of policies affecting refugees and immigrants, and toward solving inequalities in access to education. If you ask her about this calling, she'll tell you that her focus is not about speaking for other people; it is about giving others a platform to speak for themselves.
We are so proud of her accomplishments and wish her the best in her journey as a Rhodes Scholar.
Her story embodies the values and ideals that our campus holds dear: fierce resolve and enduring good will.
She credits the mentorship and distinct educational experience she received at the University of Kentucky. As such, she and her fellow students are testaments to the vital role we play as the University of, and for, Kentucky and beyond. 
They are showing the world what Kentucky can do.