Mastering Engineering and Empathy to Chart Our Future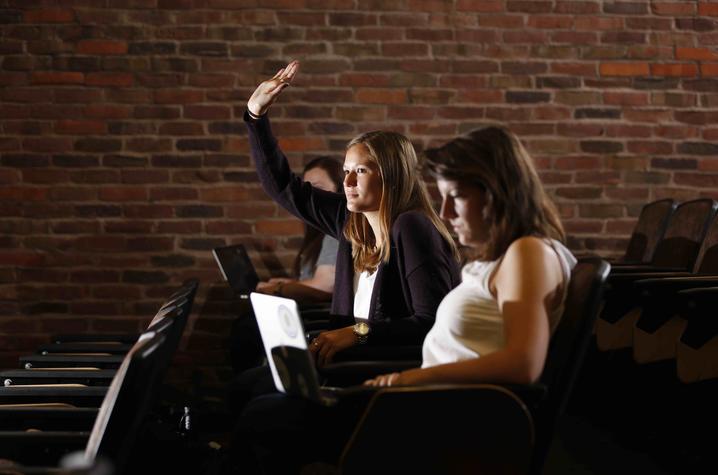 New York Times columnist Thomas Friedman believes that today's college graduates must do much more than compete for a job.
In a global economy, marked by constant change amidst the twin forces of innovation and disruption, competing for today's good job isn't good enough.
Graduates today, he writes, "will have to 'invent' a job … and, given the pace of change today, even reinvent, re-engineer and reimagine that job much more often than their parents if they want to advance in it."
That's just what Kentucky students are doing.
Earlier this year, the University of Kentucky served as host for the state finals of the Lieutenant Governor's Entrepreneurship Challenge in the Kincaid Auditorium of the Gatton College of Business and Economics.
The first annual competition was open to Kentucky high school students and challenged them to think critically and creatively to pioneer a business idea in a competitive entrepreneurial environment.
Originally registering 250 teams and some 700 Kentucky students, the finals narrowed the pool of competitors to Kentucky's top 150-180 students, who engaged in both commercial and social entrepreneurship.
The finalists offered a telling look at creative minds focused on practical and inspiring solutions to common community concerns and challenges.
For one project, four young women from Hazard proposed creating a new way to meet the challenges of chaperoning P-12 students across the country on the millions of field trips they take. It was a real-world question immediately relevant to their current circumstance: how do you ensure the safety of students on an overnight high school field trip?
Tapping into the conveniences of modern technology, embracing the importance of understanding and utilizing code, they responded with a creative mobile app and device for monitoring whether a hotel door is closed or ajar.
Their solution would make it easier for chaperones of large groups to monitor the behavior of their students, ensuring safety for all field trip participants.
A four-person team from Daviess County wanted to improve the efficiency and effectiveness of the school district's bus system.
Their program, "Dolphin Logger", alerts students about their bus number, delays, and arrival and departure times. The goal is to improve speed and ridership by embracing technology and convenience with which high school students are intimately familiar.
These are only two examples – among many –  of our students conceiving clever ideas to solve everyday problems.
Some could generate new jobs and a profit. But all of them are driven by a philosophy to make people safer.
In doing so, they master new technology that will drive future industries by creating code, developing apps, and building platforms that matter to people.
These students were proving for all of us that the process of creative disruption and adaptation happens with greater speed and urgency, but also can be matched with an eye toward community good.
After all, we know that inevitable disruptions caused by technological advance don't always go smoothly or occur without costs.
The automated printing press put bookmakers out of business, but mass production brought knowledge and culture to millions.
The Industrial Revolution pushed agrarian workers from the fields to the factories.
Manufacturing, journalism, education, legal practice, food services, and other industries constantly evolve – often for the better, but also often with real, tangible human costs and economic dislocations.
The liberal arts, as part of a well-rounded education, reminds our students to acknowledge the human effect of these disruptions and act with compassion to account for those affected by technological advance and find ways for them to benefit.
These distinct, but linked purposes – entrepreneurship and the development of practical skills for real-world advance balanced by critical understanding of the world, with an eye toward making it more compassionate – underscore why a college education is more important today than ever before.
A college education provides the skills and intellect to compete, along with the heart and compassion to contribute to stronger, healthier communities.
Disruptions of the economy are inevitable. Disruptions of community and our common humanity don't have to be.
We have students, learning and working across our Commonwealth, with the intellectual and humanitarian depth to navigate the inevitable disruptions and dislocations that mark today's global economy.
At the Entrepreneurship Challenge on our campus, I was privileged to watch just some of those students -- the next generation of leaders -- use their time and talents to address the questions that matter most to people.
Governor Matt Bevin, who spent hours out of a weekend day, and Lieutenant Governor Jenean Hampton, whose leadership made this program possible, understand that building our economic future starts with building our children.
That means strengthening our P-12 educational system and challenging our higher education institutions to partner and collaborate, even as we must continually look for ways to improve what we do.
How we teach -- and how students learn – must continually evolve to match the needs of our global economy while strengthening and building new job opportunities in the communities we are called to serve.
Education also must have the capacity to ensure these young minds are challenged – both intellectually and ethically – as they will shape our future, creating jobs and developing technology tomorrow that we cannot imagine today.
Those jobs of the future – the ones our graduates will invent and reinvent – will require a mastery of engineering, math, and science, to be sure. But that process must also be guided and inspired – informed and understood – by the challenges facing our common humanity.
Watching these young students recently grapple with both the practical and the possible left me with no doubt that they can meet that profound challenge.