There is us. There is this University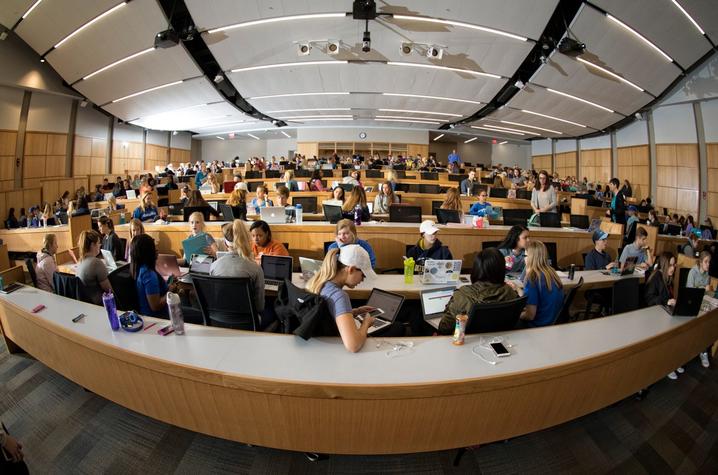 There is us. There is this university.
"There is no vaccination against ignorance, but there is us. There is this university. And we still have heavy doors to open, unmet obligations to the land and its people. There are still leadership opportunities to advance the Commonwealth, this nation, and our world towards fulfilling its potential, towards meeting its lofty promises."
These compelling words were penned by University of Kentucky English professor and former Kentucky Poet Laureate Frank X Walker. His poem, "Seedtime in the Commonwealth," acknowledges "our imperfect past, our opportunity to 'make ourselves right for the fight today,'" and the promise of this place to seize the "leadership opportunities to advance" those we serve towards their potential.
The words of this poem are now permanently affixed to a wall on a path toward the new Bill Gatton Student Center, challenging us to nurture our community. As members of our UK family, these words live on in each of you. You embody the promise of this university and the importance of community.
In May, we were proud to add more than 5,000 new graduates to the ranks of the alumni family. These new graduates are instilled with a sense of purpose and shared responsibility of our collective "us."
During the university's May Commencement ceremonies, our graduates heard from students who reflect our values. One of those students came to the University of Kentucky from Chad in 2014 knowing no English. He followed his father, who graduated from the university some 30 years ago.
He enrolled in and completed an English as a Second Language course before beginning his bachelor's degree in Public Health and minor in neuroscience. As a Chellgren Fellow and Lewis Honors College student, he found a passion for undergraduate research and addressing the detrimental effects of malaria on his home country. He spent his last year studying how cerebral malaria can be a risk factor for future neurodegenerative diseases. Now, he is heading to Harvard University for graduate work before beginning medical school. 
Part of the Commencement tradition is the awarding of the university's highest recognition, the honorary degree. Recipients are community, academic and industry leaders who, in their life's work, reflect the values of our institution. Among the recipients this spring was Sara Holroyd, professor emeritus of our College of Fine Arts. A child of humble beginnings in the segregated classrooms of Selma, Alabama, Professor Holroyd found her way to the University of Kentucky, and, during her tenure in music education, was one of only two female collegiate choral directors in the United States. After 26 years of service, Professor Holroyd retired in 1987 and embarked on her second career, attending nursing school and becoming a third-shift ER nurse until she retired at 71. Her story inspired our graduates to lead the crowd in a standing ovation.
For one of our student speakers, Elizabeth Foster, Commencement held special meaning. Her grandfather began his college career at the University of Kentucky. But he put his academic and career goals on hold to serve his country in World War II. He returned to us and earned his degree in our College of Agriculture in 1943. During Commencement, 96-year-old former Navy lieutenant and UK alumnus William J. Foster II watched his granddaughter address her colleagues and celebrate earning her degree from our College of Engineering. Our students again led a standing ovation for Mr. Foster in grateful recognition of his service.
I was touched and inspired that our students and their families found such powerful meaning in the stories of Professor Holroyd and Mr. Foster — rising to their feet as one in admiration and celebration. This is the first time in recent memory — and perhaps ever — that there was a standing ovation for an honoree and attendee. Our graduates, our honorary degree recipients, and this special occasion are powerful reminders of the importance of this place and our work.
"There is us. There is this University."
Carol Martin "Bill" Gatton believes deeply in the profound importance of our work and the value of the student experience, which is why he provided the lead gift of $20 million on the building that now bears his name. His gift builds on a long tradition of supporting UK students, faculty and staff — generations who will never meet Mr. Gatton but will be served by his generosity. That's Mr. Gatton's express purpose, to build a bridge for a new generation so that they may cross "chasms deep and wide."
The common thread binding these stories is an uncommon commitment to serve others. Every day, a life is changed on the University of Kentucky campus. Every day, someone's trajectory is dramatically and positively altered by our work. Every day, a community is changed for the better by the work of our students, alumni, researchers and clinicians.
After all, there is us. There is this university.