Academic Community Will Thrive in Gatton Student Center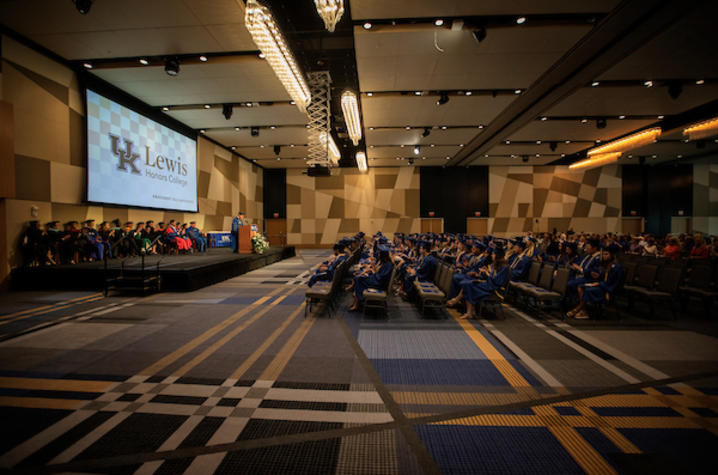 Throughout the past two years, we have watched the Gatton Student Center, the living room of the University of Kentucky campus, take shape.
We gathered as a community to celebrate the legacy of Bill Gatton, in whose honor the facility is named. And we've watched in awe as our students, from the moment the doors opened, sparked life into this facility by gathering on the social staircase, studying together in the common spaces, grabbing coffee in the bookstore, and gazing expectantly through the Grand Ballroom.
The Gatton Student Center is the cornerstone of our effort to design spaces that facilitate community-building.
It is also an integral space for our academic mission.
Earlier this month, President Capilouto and I joined the graduating class of the Lewis Honors College as they participated in their first Honors medallion ceremony in the Gatton Student Center Grand Ballroom. It was a fitting end, in a spectacular space, to their academic journeys at UK.
Among those students were:
a Harvard Presidential Scholar and others headed to Yale and Cornell for law, medicine, and veterinary science;
a young researcher who will begin post-baccalaureate research with the National Institutes of Health; and
still others who will take their efforts abroad through work with the Peace Corps and hospital internships in Portugal.
They shared with me their exhilaration that their final Lewis Honors gathering took place in Gatton Student Center.
And though the space has only been open for a few weeks, UK community members across our campus have already begun planning and imagining the conferences, academic programming, and initiatives that can come to life there.
These include:
The SEC Academic Leadership Development Conference, an on-campus event hosted by a different SEC institution each year, which provides an opportunity to showcase SEC faculty and student research to legislative and other stakeholders. The two-day conference is designed to expand opportunities for collaboration among faculty, students, and administrators at SEC universities.
The Appalachian Translational Research Network Summit, a gathering of more than 100 researchers and representatives from academic institutions, health care organizations, and community stakeholders focused on health disparities in Appalachia.
The College of Education Spring Research Conference, an annual event shared among UK, the University of Louisville and the University of Cincinnati, in which graduate students from each university present their research and get feedback from faculty and other students.
The Kentucky Gender and Women's Studies Conference, highlighting research on issues of social justice, inclusion, belonging, power, discrimination, and unconscious bias.
The Department of Physiology Research Retreat, a biennial gathering designed to highlight the research topics within the department.
The UK Education Abroad Fall Fair, which highlights high-impact international education, research, internship, and service opportunities for students.
The Society for Photographic Education Conference, an event that fosters and supports an understanding of photography as a means of experimental practice, creative expression, and cultural insight.
These are just a few of the academic events that have already been planned and envisioned in our new Gatton Student Center.
It will empower us to coordinate curricular, co-curricular, and extra-curricular activities. It will stand as a breathtaking space to share research and to collaborate on the important questions of our day.
We often say that our campus transformation is about so much more than bricks and mortar. It's about what happens inside these facilities, and how they contribute to student, faculty, staff, and community success.
The student center is a physical manifestation of that idea.
It strengthens our ability to achieve academic excellence. It allows us to better showcase the incredible work happening across this campus—work that positively impacts lives in Kentucky and beyond.
David W. Blackwell 
@UKYProvost
#seeblue