CGPDI Spotlight: Elizabeth Harris-Medina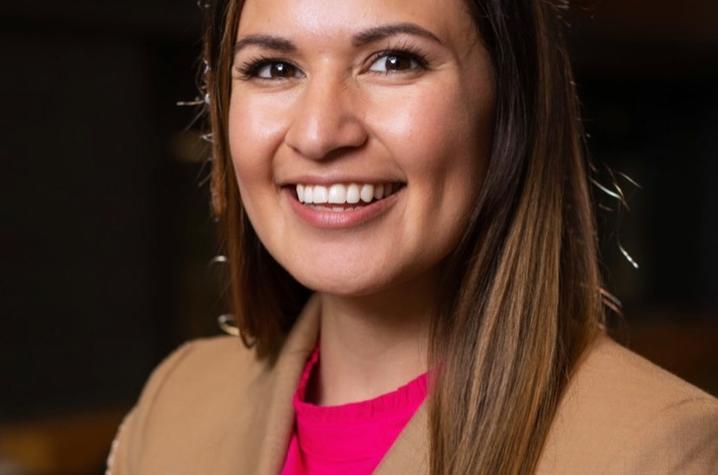 Elizabeth Harris-Medina was recently named assistant director of retention and campus engagement in the Center for Graduate and Professional Diversity Initiatives (CGPDI). She is working diligently to make the University of Kentucky a place of belonging for all graduate and professional students.
Can you tell me a little about yourself?
My family is originally from Jalisco, Mexico, which is the Southwestern region of Mexico, so I am a first-generation American. I grew up in Iowa and went to University of Iowa for undergrad, where I double majored in Spanish and communication studies. I then moved to Kentucky in 2014 where I earned my master's in education policy with an emphasis in Higher Education/Student Affairs. During my graduate assistantships, I worked at the Martin Luther King Center and worked for Transformative Learning as a Teaching Assistant. After graduation, I worked at BCTC as a Latino Outreach Coordinator, working with Latino families and DACAmented students. I provided education resources to the community about higher education and helped provide high school students with access to information to apply to a college, whether that was BCTC or UK or any other Kentucky institution. In 2015, I came back to UK as an Assistant Director in the Office of Student Organization Activities, where I worked with DanceBlue and Service and Community Engagement programs. Working with DanceBlue was one of the most rewarding experiences in my career, because I had the privilege of working with some of the most amazing students on campus who were all working towards a common mission of helping families in the Bluegrass. Although it was different than my usual diversity work, I was still able to educate students on inclusivity and how to make everything more accessible for all students. This summer, I accepted my current position as Assistant Director for Retention and Campus Engagement in the Center for Graduate and Professional Diversity Initiatives with the Office for Institutional Diversity. I am excited to continue working with students and help provide access to education and connect graduate and professional to campus to help create a sense of belonging at UK. I am also currently pursuing a PhD in Education Policy and Evaluation.
When I am not working, you can find me outdoors hiking with my husband, Ben who is a local attorney in Lexington, and my dog, Parker who is a labradoodle. We love driving to the Red River Gorge and traveling around the country to find the best hiking trails. I come from a restaurant family, so I love exploring all the amazing food Lexington has to offer.
What are you looking forward to in your new role as Assistant Director of Retention and Campus Engagement in the CGPDI?
In this role, I will focus on working with graduate and professional students, particularly with students of marginalized identities. I will focus on providing professional development opportunities, education opportunities, and connecting students to campus and community resources. I am excited to be at UK as a resource for students, and I want to be intentional about connecting with different departments and graduate programs. I would love to collaborate with all university departments and offices of student success to make sure that our students are being supported in the best way possible. I am excited to learn about graduate student needs and help our university better support our students and fill in the gaps. I am excited to play a small part in helping students feel like they belong to this university and campus community, because they do.
What does your day-to-day at the University of Kentucky look like?
My day-to-day varies a lot, but you will see me meeting with different departments as well as students in different areas to help connect people to resources or create programs for our students. Currently I am working on our graduate student diversity orientation program called Ubuntu, which means humanity and often translates to, "I am because we are."  It is all about creating that space of belonging, access and support for whatever students need before graduation. Through programming and outreach, I want to make sure we have all the resources we need for graduate student to be successful and graduate from this university.
In your opinion, what is the most important thing the CGPDI does for students, faculty or staff?
The most important aspect of this office is that we are a space of belonging for graduate students of color and other marginalized identities. We fill in the gaps we see within programming and resources, and we connect students with mentors and opportunities. We not only recruit students to come to the University of Kentucky, but we also provide a place for them to grow and feel like they are an important part of the university. Our role is to bridge all the wonderful things the university already has to offer, but also create new opportunities and fill in the gaps for our students of marginalized identities in graduate and professional programs at UK. We want to make sure that ALL our students feel like they belong, that they can be successful here and they that they can change the world during and after graduation.
Is there anything else you would like our campus community to know?
I want to make the UK feel like home for both undergraduate and graduate students. I want everyone on this campus to feel like they are part of a community that they care for and that takes care of them. I am excited to help serve our graduate and professional students, as well as create more partnership opportunities around campus to keep providing resources for our students. If you have any ideas of how we can partner, feel free to email me at elizabeth.harrismedina@uky.edu. I am excited to work with you and keep serving at the University of Kentucky.