CGPDI Spotlight: Letitia Tajuba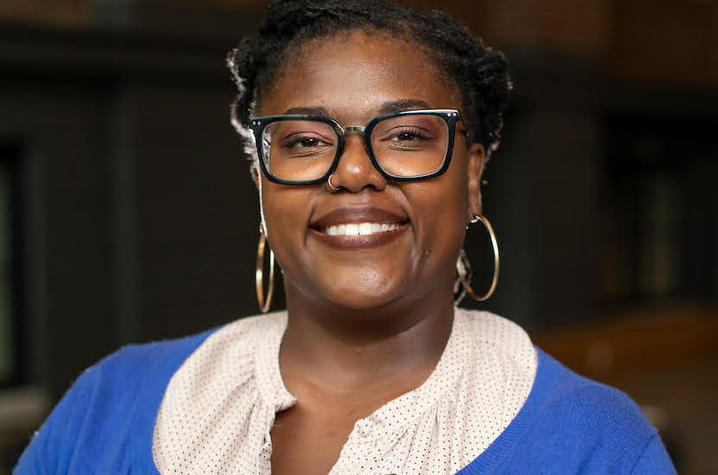 Recently, I had the opportunity to speak with Letitia Tajuba, the new assistant director of outreach and recruitment for the Center for Graduate and Professional Diversity Initiatives.
Can you share your background with me?
I'm originally from Wichita, Kansas, but my dad is from Uganda, and my mom's family is from Okmulgee, Oklahoma.  
I always tell people that I am a career-changing student affairs professional. Prior to getting into student affairs and higher education, I worked in national service. I'm a two-time AmeriCorps alum, and I've worked all over the place. I graduated from Kansas State University with a degree in history and political science. I worked as a historian, and my first job after graduating in 2007 was lead coordinator for the Martin Luther King Day of Service, the day before President Obama was inaugurated.
Later, an opportunity came for me to become a classroom teacher at IDEA Public Charter School. I was a middle school and high school history teacher in Washington, D.C. and started to notice certain things, like how some students were struggling when it came to their college careers. So, I started doing a lot of research work, and that's when I made the dive into higher education. I ended up earning my master's from the University of San Francisco. I chose their program because of the social justice aspect, but I also really enjoyed being in the Jesuit environment.
I did volunteer work at UC Berkeley, some work at USF and an internship at Michigan State, which introduced me to the Big 10 and big residence life programs. I worked at California College of the Arts, and then I eventually ended up getting a job at Fordham University and their residence program.
Later, a friend of mine encouraged me to go to Penn State University. I went there, and I stayed for four years. At Penn State, I was a residence life coordinator, but while I was there, I started diving more into diversity, equity and inclusion work. One of the big things I was able to do was help enhance and change the curriculum.
I would say for the most part, DEI has been just ingrained in everything I do. I've always been that type of person. Even when I was studying, I was looking at the stories that were not being told. I've always explained to folks that history has already happened. We're just looking at the different vantage points of how these things happen, and how they affect people. I started looking at things from my own perspective of being a Black woman. As a Black woman from the middle of the country, you kind of get counted out, so building on my own experience was how I really got into DEI. In a way, I became everyone's unrequited auntie at Penn State. But I really took it seriously when students told me I challenge them. As a DEI practitioner, I like to challenge and support. I'm going to challenge you. I'm going to ask the question, and then I'm going to support you while you're grappling with ideas.
What is CGPDI and what is your role within the organization?
The Center for Graduate and Professional Diversity Initiatives has gone through a lot of name changes, but we are principally located on the health care side of DEI. CGPDI is very one of a kind, and I think that's probably the reason why I took this position. The Center is unique in that it specifically works with graduate and professional students of color and those who are in the LGBTQ+ community.
My role is assistant director of outreach and recruitment, so I am out and about, looking at retention efforts regarding our students of color and our students in the LGBTQ+ community. I look specifically in the graduate and professional schools, but mainly in the health care fields. I will be working alongside our six health care colleges, recruiting students to come or at least consider UK. I think the outreach part is probably going to be a little bit more of building a community within the graduate and professional diversity work. Part of my job is also considering how to bridge that gap between our graduate and professional students, our undergraduate students of color, our students who are in the LGBTQ+ community and the resource center.  
I will also be overseeing the Sister Circle Forum. I will be working with Sister Circle and My Brother's Keeper, while maintaining a partnership with the MLK Center, and much more.
One of the big projects that I'll be working on in the fall is a grant program. There will be professional grants given out to graduate and professional students for those who, as an example, want to go to a conference but need financial assistance. So, I'll be running that program, but as of now I'm getting everything ready to go and working with a lot of people for the fall.
What are you looking forward to in this new position?
I've never worked in a STEM field, so  I'm really excited about the challenge. I like seeing where problems exist and how we can solve them. I think I'm most excited to look at what University of Kentucky graduate programs have been doing to recruit students, especially within the health care side, and see what we can do to improve.
I am also excited to plan the Sister Circle Forum because this is going to be the first in a long time.
Another exciting part of my position is the newness of this adventure.
I'm also looking forward to getting to know a lot of the graduate and professional students and working with juniors and seniors in the undergraduate world to find ways to help them.
What does DEI mean to you?
DEI is about who's in the room. If I'm afforded to be in a room where someone who may not identify easily with me — let's just say, for example, there's a black trans woman student — I want to be the person to say, "What about this person?"
With DEI you're always growing, you're always learning and you're never going to be perfect. Like I said before, history has already happened, we're just looking at the different vantage points and how it affects people. Diversity, equity and inclusion means opening the door for students of color, students of religious minorities, students in the LGBTQ+ communities and those who have disabilities of some sort. It's important to open doors so that they're able to get what they need from the university.
Equity is about giving people access. It's thinking about how to be the best accomplice and how we can address certain things. If I have a position of power, what I can do to wield it so that those following behind me are getting into the spaces that were not necessarily built for them? Or, if the space that I'm currently in is not built for certain folks, how can we make the necessary shifts so they can feel comfortable? I don't want students just surviving, I want them thriving.
Overall, DEI is about being that advocate, being that open space, being the person who is open for students to come talk to so they can grow, develop, thrive and be challenged. And, it's about finding a way to step up and do the right thing. DEI is more than just having a diversity statement. I can say as many things as I want, but if my actions don't reciprocate those statements, then I can't be that support for you. I authentically show up, so what you see is what you get. DEI is about showing up as authentically as possible to the point where people can feel safe or brave enough to be who they are around you.