Academic Enhancement Goes Beyond Campus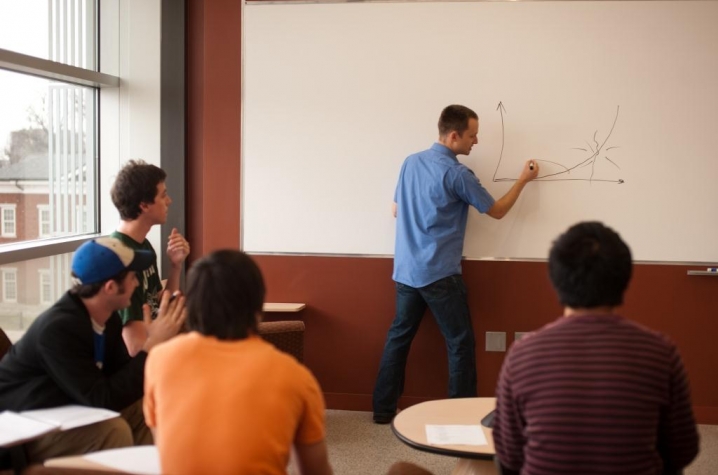 LEXINGTON, KY. (Nov. 10, 2011) — The University of Kentucky's Office of Academic Enhancement may be best known for the programs and services it offers UK students in order to enhance the academic experience, but The Study's staff is also making a difference beyond the border of UK's campus.
This year, seven AE staff members presented at the annual National College Learning Center Association conference in Indianapolis.
"At Academic Enhancement, we try to support research and presentation opportunities," said AE Associate Director James Breslin. "We were excited to have four proposals accepted!"
Academic Enhancement provides undergraduate and graduate staff with opportunities to expand and build their professional experience during their undergraduate experience. Of the presenters, two were undergraduate students and five were graduate students.
"It was rewarding to see other colleagues respond to our presentation data," Breslin said. "After our presentations, other attendees approached our presenters and asked about our sessions. It was great to see the ripple effect Academic Enhancement at UK is having."
AE staff presentations included:
Cost Effective Leadership: The SPC Model," presented by Breslin, Blake Dickens and Stephanie Sipp. This presentation shared AE's Student Program Coordinator model, which focuses on overcoming new challenges in higher education while benefiting undergraduates with unique leadership opportunities.
"Critical" Competencies for Success in the College Classroom: Strategies for Developing Students' Critical Thinking Skill Sets," presented by Dana Malone and Anna Gatewood. Malone and Gatewood focused on curriculum strategies meant to improve student's critical thinking.  
"Using Assessment to Further Develop Programs Dedicated to Student Excellence," presented by Breslin and Elizabeth Neiser. This project shared AE's assessment plan, developed to make sure learning outcomes are met each year.
"Sharing Text, Sharing Social Media, and Sharing Meaning," created by Bethany Sharpe. This poster presentation presented AE's use of technology to create book clubs across continents for students in college reading classes.
For more information regarding Academic Enhancement's staff presentations, please visit http://www.uky.edu/AE/about/research_2011.html.