Alumnus Helps Brighten Smiles Around the World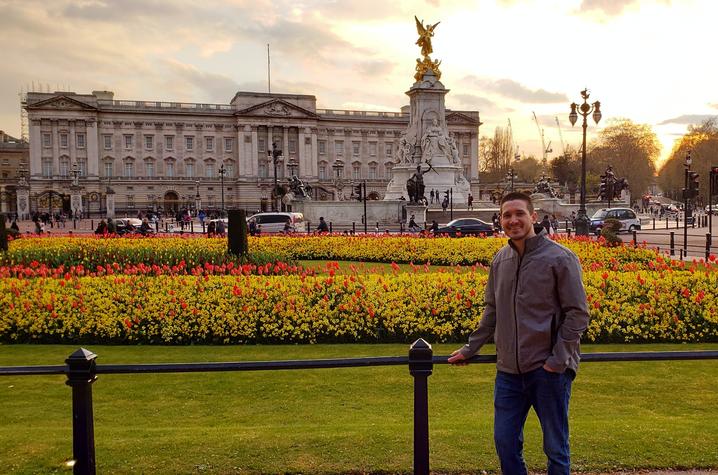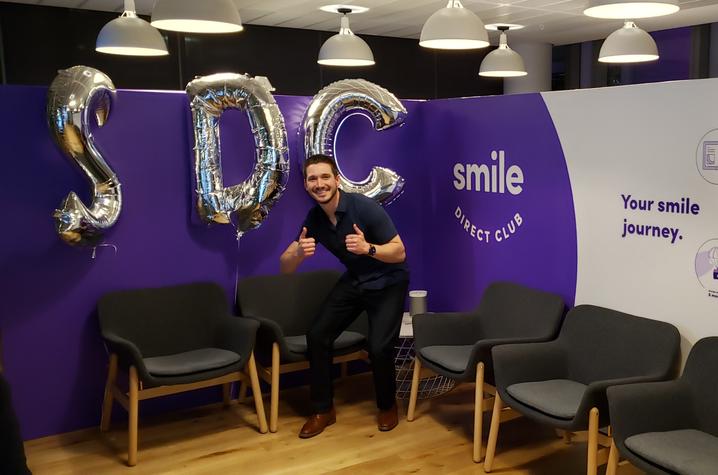 LEXINGTON, Ky. (July 3, 2019) – Those who know Brian Barr, know him as the guy who gets the job done, the guy people rely on and the guy you go to when you want to have a good time. He has a big personality and loves to make people laugh and smile. As a student at the University of Kentucky, Barr met countless people who can vouch for his positive, friendly demeanor. He earned two degrees while attending UK, a bachelor's in finance with a minor in international business in 2014 and a master's in business administration which he completed through the one-year MBA program in the Gatton College of Business and Economics in 2018.
It comes as no surprise that he currently works for SmileDirectClub, a doctor-directed at-home clear aligner industry that has helped over 600,000 people transform their smiles. It's his job to bring smiles to the faces of customers around the world. Currently, Barr works as the global operations manager, a role that oversees the production of goods and the provision of services that are helping the company expand internationally. There is no "normal" day for Barr, he explained. "My day-to-day activities vary quite a bit depending on the status of a new country launch," he said.
The challenges and problem-solving are what Barr enjoys most about his job.  "It allows me to combine strategy with problem-solving to ensure customers all around the world have access to straighter smiles while benefiting from lower pricing." Barr travels quite a bit for his job and he has worked on two projects in Australia and one in the United Kingdom, he has other countries on his schedule too.
International travel isn't new to Barr, he's been doing it since he was a tiny baby. Though he was born in Cincinnati, Ohio, he really grew up all around the world. At a year old, he and his family moved to Seoul, South Korea, and at four they moved once again to São Paulo, Brazil. When Barr was eight years old, the family moved back to Cincinnati where he and his family put down roots. This love for seeing the world is hereditary, Charles (Jake) Barr, Brian's father, traveled often throughout his career with Procter and Gamble and Brian and his family were able to accompany him on occasion. "I've been blessed to be able to see nearly every corner of this world, traveling to six out of the seven continents and I plan to check Antarctica off my bucket list in the next few years," he said.
The education he received and all that he learned at UK, benefits Barr as he travels the world and continues to grow in his chosen field. "Leading a business requires analytical skills to both identify direction and business options as well as people skills to collaborate and align a path to victory. UK gave me a chance to build these skills," said Barr. Through coursework and mentorship from various professors, including Walter Ferrier, a professor of management in the Gatton College of Business and Economics, Barr learned to focus on strategic decision-making.
"As an undergrad at UK, I was able to participate in a six-week study abroad program in Europe," he said "This experience equipped me with vast knowledge on how other countries and businesses operate." Barr applies the skills he learned through Education Abroad on a daily basis in his current position as he works with people from different cultural backgrounds.
Barr plans to apply the knowledge he gained at UK, throughout his career and in his international travels and use it to make a difference in the world. Ultimately, he wants to become a business owner and through that business address homelessness and nature conservation.
Barr described his time at UK as informative, enlightening, educational and fun. In 2011, Barr helped to reestablish the fraternity, Beta Theta Pi on UK's campus and was involved in Students Taking Action Globally. As a founding member of his fraternity, he learned the importance of brotherhood and forming bonds that last a lifetime. However, out of everything Barr gained and learned at UK, his ultimate gift and favorite memory of his time was meeting his wife, Julie Barr, a '18 graduate of the physician assistant program in the UK College of Health Sciences. The two met in 2010, were married in 2015, and currently reside in Nashville, Tennessee.