Bill Gatton Gift Allows Expansion of Student Center That Bears His Name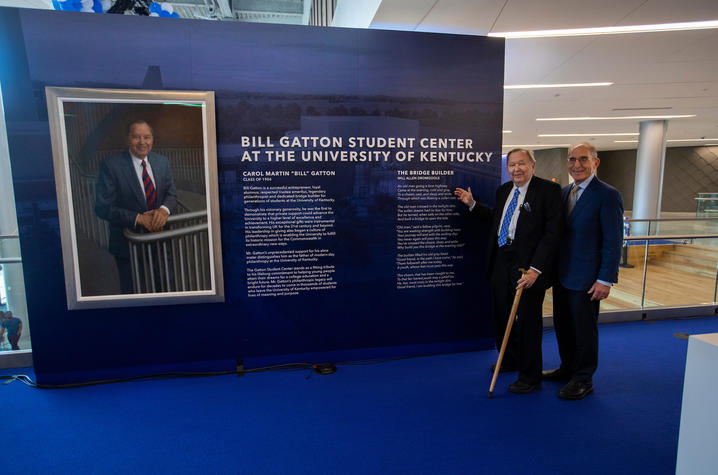 LEXINGTON, Ky. (Feb. 21, 2020) — The University of Kentucky Board of Trustees, on the recommendation of President Eli Capilouto, accepted a gift of $13.5 million pledged by the Bill Gatton Foundation to support the expansion of the Gatton Student Center.
"I am deeply grateful and touched by Bill Gatton's generosity that has and will continue to have a direct, tangible impact on our students for generations to come," Capilouto said. "Through this commitment — and decades of giving to his alma mater — he is building upon an incredible legacy that is shaping our journey as the University of, for and with Kentucky."
Currently at 378,000 square feet, the proposed expansion of the Gatton Student Center would increase the facility's space by 9.1%, bringing the total to 412,500 square feet.
The expansion was approved by the Board of Trustees in October 2019 and follows the university's strategic growth initiative, which has resulted in a record first-year enrollment in fall 2019 of nearly 5,400 and a total enrollment of more than 30,000.
Because of robust student enrollment and more than 3,500 faculty and staff meal plans purchased this fiscal year, UK has seen a higher participation level — specifically utilized in Champions Kitchen — and the current facility is operating beyond its intended capacity.
The expansion will provide the community with up to 350 additional dining seats in Champions Kitchen, an exterior seasonal dining terrace, an additional food serving station and dishwash return.
"In my more than 50 years at this institution, I've had the honor of engaging with alumni and donors from near and far — but none like Bill Gatton," said Mike Richey, UK's vice president for philanthropy and alumni engagement. "Our promise as the people's university — 155 years in the making — is reflected in his unmatched generosity and inspires us to renew our commitment to it."
The additional 34,500 square feet will also include a second and third floor, which will be used for student service and support efforts to be determined at a later date.
The Bill Gatton Foundation was established in 1985 by C.M. "Bill" Gatton of Bristol, Tennessee. Gatton earned his Bachelor of Science in commerce from the University of Kentucky in 1954, and Master of Business Administration from the Wharton School of the University of Pennsylvania.
Gatton, who owns a family of automobile dealerships and has real estate and bank holdings in Kentucky and Tennessee, is a UK Trustee Emeritus, a member of the UK Hall of Distinguished Alumni and a member of the Gatton College Hall of Fame.
His total philanthropy, individually and through the Bill Gatton Foundation, to the University of Kentucky is nearly $60 million, and his total gift impact upon the university is more than $71 million, with several of his gifts matched by the Commonwealth of Kentucky's "Bucks for Brains" program. He is the single largest donor in university history.