Car Sharing Now Available on Campus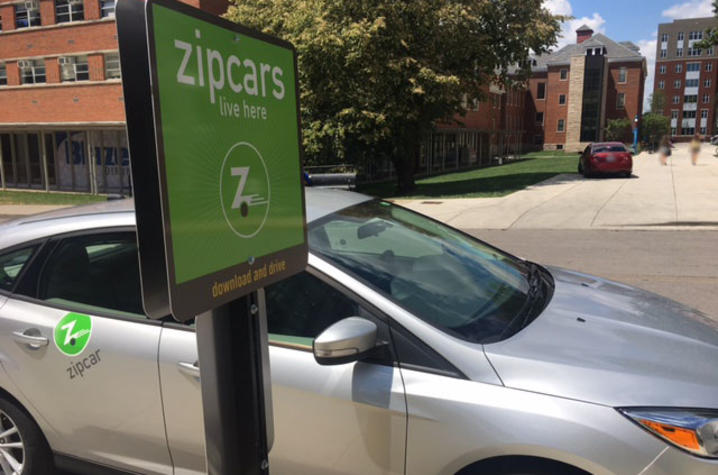 LEXINGTON, Ky. (Aug. 24, 2017) — University of Kentucky faculty, staff and students who opt out of bringing a motor vehicle to campus now have a transportation alternative available 24 hours a day – car sharing. The partnership between University of Kentucky Transportation Services and Zipcar will provide a convenient option for members of the campus community who do not have their own car or only need one on campus intermittently.
"Car sharing provides a quick and convenient choice for members of our campus community who choose to not bring a motor vehicle to campus," said Executive Vice President for Finance and Administration Eric N. Monday. "By adding Zipcar to the university's suite of mobility alternatives, Transportation Services is not only expanding the number of options aimed at improving access to, from, and around campus, but also benefiting the campus, community and environment."
Two vehicles are available – a Ford Escape named "Ellen" and a Ford Focus named "Slater." The Zipcars have designated parking spots located in the Woodland Avenue Lot and on Martin Luther King Boulevard, respectively, for convenient pick-up and return.
UK members can join for $15, with rates starting as low as $7.50 per hour and $69 per day. After the first year, members will pay an annual membership fee of $25. Gas, maintenance, insurance, and up to 180 miles of driving per day are included in Zipcar rates. Students can join online and make reservations either on the website or through Zipcar's mobile app.
The convenient, self-service transportation option is available 24 hours a day, seven days a week for students, faculty, and staff ages 18 and older, and members of the local community ages 21 and older. Cars can be reserved for as little as an hour or for multiple days.
"The Zipcars offer an option for anyone who only needs a vehicle occasionally, whether that is for trips to the grocery store, to off-campus meetings or to explore Lexington," said Lance Broeking, director of Transportation Services. "The cars are positioned near campus bus stops, making the vehicles easily accessible."
The partnership will officially kickoff with an event held today, Thursday, Aug. 24, from 10 a.m. to 2 p.m. at Wildcat Alumni Plaza. Students and employees are invited to stop by for free pizza and to learn more about car sharing on campus from Zipcar and UK representatives. 
The car sharing program — along with other Transportation Services programs such as BluPass, the bicycle voucher program and the "cash out" incentive — is part of a suite of alternative transportation options available to the UK community. The programs are designed to simplify the process of shifting from driving a single-occupancy vehicle to campus to an alternative form of transportation, and to reward those individuals who make the change in their routine. These initiatives support the recommendation of the Transportation Master Plan (TMP), which aims to improve access and mobility to, from and around campus for all members of the UK community — not just those who choose to commute by car.
For more information on campus car sharing or to become a member, go to www.uky.edu/transportation/carsharing  or www.zipcar.com/uky.