CHER Building Opens in Morehead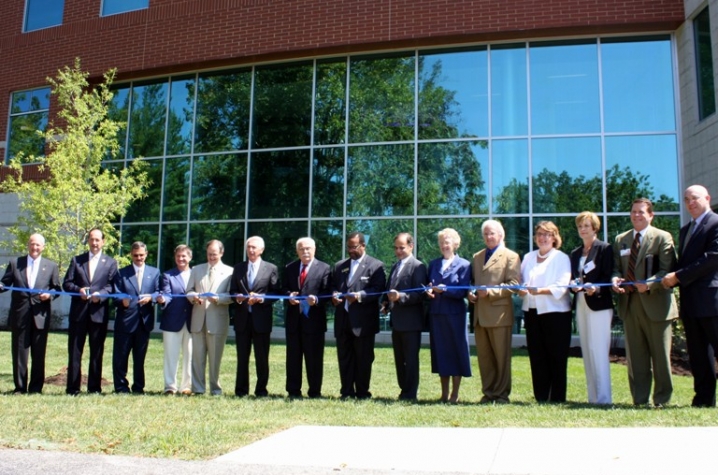 LEXINGTON, Ky. (Aug. 30, 2010) – As the result of a $30 million investment and a unique partnership among the University of Kentucky, Morehead State University and St. Claire Regional Medical Center, the dedication of the Center for Health, Education and Research (CHER) fulfilled a 10-year-old dream.
 
The ribbon-cutting ceremony for CHER was held on Friday, Aug. 27. The 90,000 square foot facility was constructed on land provided by St. Claire Regional with funding from the state and federal governments. It is considered the first such partnership involving a regional public university, a land grant university and a private, non-profit hospital corporation.
"We are thrilled to work alongside our friends at St. Claire Regional Medical Center and Morehead State University to add value to rural health care throughout eastern Kentucky," said UK President Lee T. Todd, Jr. "This is a world-class facility, and UK is certainly excited to strengthen our connections in this region."        
A variety of programs will be housed in the new Center, including the University of Kentucky College of Medicine's Rural Physician Leadership Program, the third and fourth year of medical school, as well as the Center for Excellence in Rural Health, the Office of Research and Engagement for Advancing Community Health (REACH) and the Kentucky Homeplace Program.
CHER has allowed the UK College of Medicine to develop its first regional site in Kentucky, enhancing the rural health research capacity in the region and providing medical students with the knowledge and experience necessary to work with civic and community leaders to improve the general health of their communities. These medical students, receiving rural clinical practice from the St. Claire Regional Medical Center and additional curricular content in business, information technology and health policy for a required Certificate in Health Systems Leadership from MSU's College of Business, will gain the knowledge and training regarding community health to help solve the acute shortage of physicians in the rural areas of the Commonwealth.
CHER also will house the master's degree in physician assistant studies of UK's College of Health Sciences. According to Andrews and Neff, a number of other program opportunities are being discussed with UK's Colleges of Dentistry, Pharmacy and Public Health.
"We now have the means for students and residents to train side-by-side and care for patients in a modern primary care facility and where research on the causes of chronic diseases in East Kentucky can be evaluated and innovative solutions proposed," said Mark J. Neff, president and CEO of St. Claire Regional.
The facility is expected to markedly improve the supply of urgently-needed healthcare professionals by allowing local students to train and remain near their hometowns to practice.
"This [ribbon cutting] ceremony is a tribute to those individuals who never gave up their dream of a state-of-the-art facility where students from across this region could be trained for a variety of careers in healthcare," said MSU President Wayne D. Andrews. 
A variety of other program housed in the new Center, include MSU's bachelor's and associate degrees in nursing, associate degree in radiologic sciences, and bachelor's degrees in computed tomography/magnetic resonance and diagnostic medical sonography.
The facility also will host St. Claire Regional's Family Medicine Clinic, family medicine residency, certified registered nurse anesthetist program and the Northeast Kentucky Area Health Education Center (AHEC).