College of Education Alum's Studies, Experience Prepare Her for Journey of a Lifetime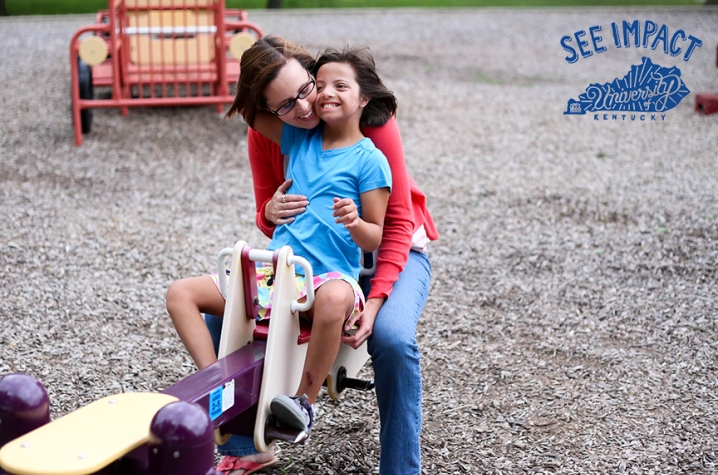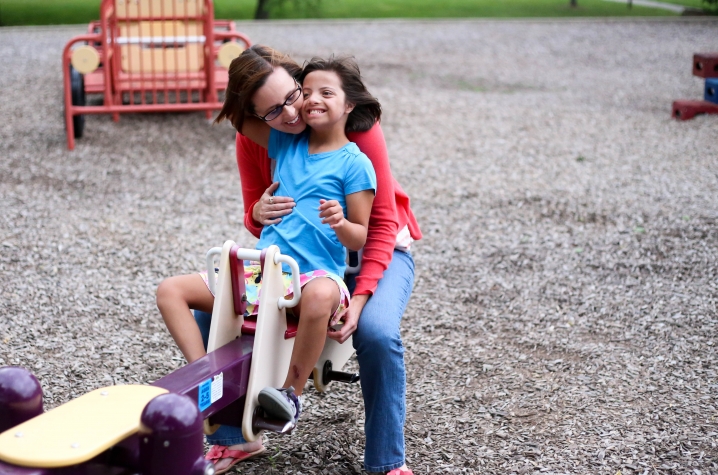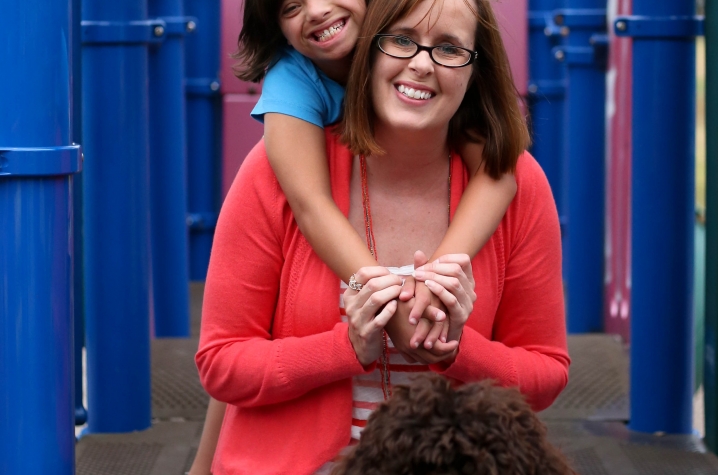 LEXINGTON, Ky. (April 21, 2015) – When University of Kentucky College of Education alumna Dixie Miller met Olivia — a tiny baby with a big hole in her heart — doctors doubted Olivia would live to have surgery. Miller had recently become certified to accept foster children when a friend told her about Olivia, who at the time lived with a family equipped to care for medically fragile children. But Miller wasn't looking to adopt, at least not yet.  
Still, she would hear from her friend, "You need to go see her, she's your baby."
Reluctantly, she went. At the foster family's home, Olivia lay on the living room floor and as soon as Miller looked into her deep blue eyes, she was completely taken. Ten days later, Olivia was deemed strong enough for a life-saving heart surgery. Suddenly, Miller was thrust into a gut-wrenching situation with a baby who wasn't legally hers, but with whom her heart was already intertwined with maternal feelings of love and care.
Surgery was successful and Olivia was determined to live, but her tiny body kept giving out. Alarms would sound, alerting teams of doctors and nurses to rush to the room of the coding baby. Eventually, she grew stronger. Miller was able to visit her in the hospital after Olivia was moved out of intensive care, but couldn't stay overnight without legal custody. She would leave Olivia's room at 11 p.m., knowing she wouldn't see her again until after work the next day. Olivia was in the hospital for more than a month.
"I had to completely let go of my baby and just wait," Miller recalled.
During the day Miller found distraction by focusing on her clients at work as a developmental interventionalist. She was an independent contractor for First Steps at that time, working with children with developmental delays. Since 2007, she has been with Visually Impaired Preschool Services — a nonprofit organization that provides educational and therapeutic services to young children of the Commonwealth. She works with infants and preschoolers with visual impairments caused by issues such as cerebral palsy, seizure disorders and prematurity.
"We're getting involved with the family fresh after the child has been diagnosed," Miller said.
"The parent is grieving the loss of the 'typical child' while facing getting services started. They are bombarded with learning about developmental milestones and trying to navigate the system and some families feel completely overwhelmed."
With the help of specialists like Miller, parents begin to understand that despite a disability diagnosis, it is going to be OK. A new mom may be in tears during the first meetings with Miller, but cheering her child's progress a few months later. The grief comes and goes, Miller says. A parent will come to a stage of acceptance, but may walk into a preschool and see other kids talking, walking, running – things that don't come easily to his or her own child. And all the emotions come rushing back.
Miller says as families begin to take steps to get services, they often come together stronger as a unit and advocate for the child. It's her role to help them get prepared for when the child enters the school system for kindergarten.
"It's definitely a world you don't want to enter, but when you're there you learn to love it and capture small moments of what your child does," Miller said. "It's kind of like you're in a secret society when you're a parent of a kid with special needs, and until you are in it you don't understand it."
Miller counts herself lucky to be part of that society. Olivia was eventually discharged from the hospital and after a process involving meetings with social workers and hearings with a judge, the 9-month-old came home to Miller on Jan. 13, 2005 – commonly celebrated as "gotcha day" (official adoption did not happen until 2006).
Olivia, who has Down syndrome, recovered from heart surgery and is now a spunky and energetic 10-year-old. She is athletic and uses a healthy dose of stubbornness and determination to keep up with her peers. Her latest mission has been learning to ride a scooter like her cousins. Not being able to master it was driving Olivia nuts, her mother says. This past spring she finally got it. Now, she's doing tricks.
"I love watching every milestone she's hit," Miller said. "Watching life through her eyes, it's so much fun."
Turning passion into a career
Miller, who graduated from Lafayette High School and has a bachelor's degree in recreational therapy, did not find her calling until a friend told her about developmental intervention and Kentucky's First Steps program. She researched available schools and chose the UK College of Education Department of Early Childhood, Special Education and Rehabilitation Counseling, where she completed a master's in Interdisciplinary Early Childhood Education (IECE). She also has a teaching certificate from the University of Louisville as a teacher of the visually impaired.
"I was finally in a field where I knew it was something I was interested in and would walk away from the program being able to enjoy my career," Miller said. "The professors are a strength of the program. The education college at UK is top-notch in the nation, they are right on it with research. And, they're a family."
Miller worked as a graduate assistant and got a first-hand glimpse at what professors do in addition to teaching courses. Her faculty mentors in the program included Jennifer Grisham-Brown, Lee Ann Jung, Katherine McCormick, and Charlotte Manno.
"They want to see good teachers being produced so they put their hearts into it," Miller says.
"They have a love for children with special needs just as much as I do and they want to see those children being served, and so they are going to educate these students coming through to the best of their ability."
Miller's time as a student in the College of Education included many hours doing observations and working in the Early Childhood Lab, operated by the IECE program. The lab not only provides care and education for young children, but also serves as a teaching facility to train the next generation of early childhood professionals. It has existed at UK for nearly 80 years.
"I sent Olivia to the lab school at the age of 2 ½ to get the experience and top-notch education I knew it would provide for her," Miller said. "As a professional, I have encouraged many of my families to tour the lab as a possible place to send their child for preschool."
The lab recently moved from the basement of UK's Erikson Hall to a freshly renovated building designed specifically for the needs of the program. The new space is allowed the lab to double in size, serving more than 100 children using best early childhood practices. The 10,000-square-foot, freestanding building is part of the former Lexington Theological Seminary campus, recently acquired by UK. 
Miller's involvement in the lab is starting to come full circle. In addition to her time spent there as a student and sending her daughter there, her professional work will soon be based in the lab. Her employer, Visually Impaired Preschool Services, is partnering with UK and will share the new space.
"The new facility will not only be accessible, but geared toward children with visual impairments," Miller said. "This will also allow us to partner with the vision program at UK and help them provide hands-on experience with visually-impaired children from birth to 5. It will create an opportunity to help better serve our children throughout the entire state of Kentucky."
MEDIA CONTACT: Whitney Harder, 859-323-2396, whitney.harder@uky.edu