Community Supported Agriculture for UK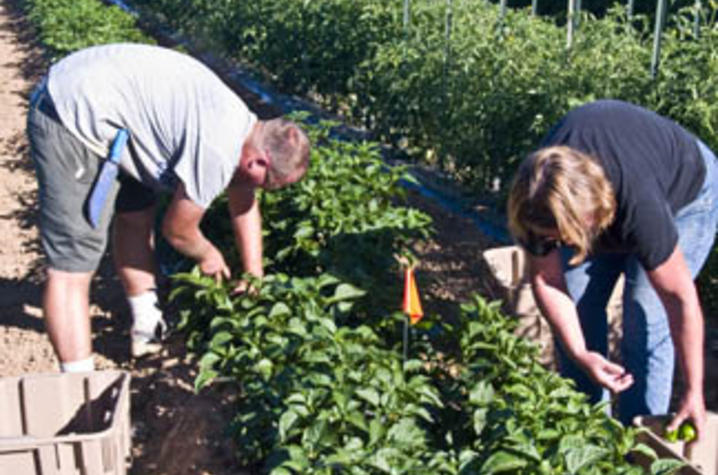 LEXINGTON, Ky., (Feb. 8, 2011) – Registration is underway for the 2011 season of the University of Kentucky College of Agriculture's Community Supported Agriculture project.
 
Community Supported Agriculture, commonly known as CSA, is a system of mutual commitment between farmers and their community of supporters. In exchange for a membership fee, farmers agree to provide the members with produce for the duration of the growing season. Consumers, on the other hand, agree to share in the risks of the growing season and to accept the outcome of difficult growing conditions. The farm benefits from having a reliable market at an equitable price, and shareholders receive fresh, local and affordable produce grown by people they know and trust.
 
The UK CSA project is operated out of the organic section of the UK Horticulture Research farm in Lexington, a nonprofit operation that is not a commercial farm. Instead, it is an integral part of the experiential education component of UK's sustainable agriculture undergraduate curriculum. Student apprentices provide the majority of the skills and labor necessary to produce, harvest and deliver the shares. The farm is the classroom, affording students, as well as interested community members, hands-on experience in sustainable agriculture.

Shareholders in the College of Agriculture's CSA will receive a weekly basket of fresh U.S. Department of Agriculture-certified organic vegetables from May 19 through Nov. 3. In addition, shareholders will have access to a variety of u-pick crops available on the farm. The average weekly share will depend on growing conditions throughout the season, but is usually a variety of six to 12 items. Based on a typical growing season with no major plant diseases or insect infestations, shareholders can expect to see these items in their shares:

May—salad mix, broccoli, radishes, cabbage, spinach and Asian greens
June—beets, broccoli, carrots, cucumbers, flowers, lettuce, peas and spinach
July—basil, beets, broccoli, corn, carrots, tomatoes, cauliflower, greens, melons, onions, garlic, eggplant, bell peppers, hot peppers, yellow squash and zucchini
August—basil, beans, beets, broccoli, carrots, corn, melons, onions, garlic, bell peppers, hot peppers, thyme, rosemary, yellow squash and zucchini
September—salad mix, basil, beets, broccoli, corn, carrots, melons, onions, potatoes, snow and snap peas, tomatoes, yellow squash and zucchini
October—salad mix, beets, broccoli, Brussels sprouts, carrots, onions, potatoes, spinach, yellow squash and zucchini

The CSA is open to all UK students, faculty and staff, but the number of shares is limited and offered on a first-come, first-served basis. Share costs for the 25-week season are $570 for faculty and staff and $456 for students. This breaks down to $22.80 per week for faculty and staff and $18.24 per week for students. The UK CSA program is committed to engaging students, and the reduced share price offered to students is in recognition of their limited financial resources. Although full payment at the start of the season is encouraged, payments may be spread over three equal payments throughout the season. All proceeds from the sale of shares will go toward covering production costs and supporting student educational activities.

For more information or to receive a registration form, e-mail Ben Abell at ben.abell@uky.edu.