Company Formed by UK Students 'Pitches' in NYC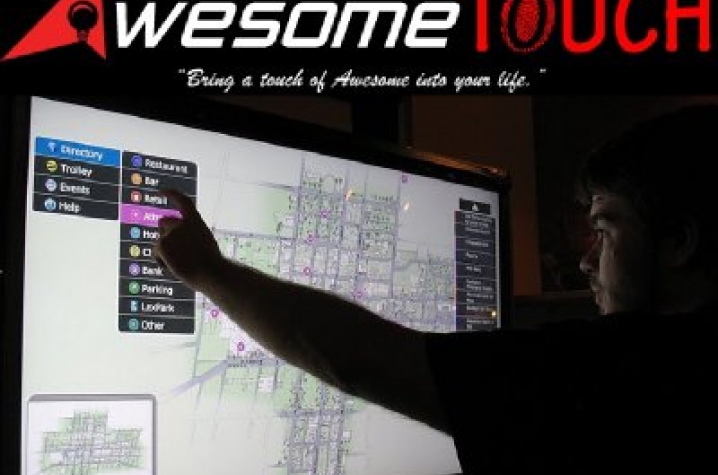 LEXINGTON, Ky. (Jan. 20, 2011) – AwesomeTouch, a company formed by a group of University of Kentucky engineering and business students, recently received the opportunity to present on stage at Vator Splash NY in New York City.
AwesomeTouch was selected from over 50 participating companies. AwesomeTouch was the only company from the Commonwealth to be selected. Other companies participating were from New York, California, and Canada.
AwesomeTouch is developing applications for large multitouch screens in public. AwesomeTouch's first product, AwesomeMap, is a way-finding solution that allows visitors to quickly and easily discover dining, shopping, entertainment, and similar venues in a downtown area.  It employs multitouch gestures like pinch-to-zoom to allow for intuitive use.  The software allows visitors to navigate to unique locations downtown, as well as discover the route to these locations and browse a constantly-updated feed of local events.  AwesomeMap also allows for advertising opportunities through the use of featured listings and a digital signage mode when idle. The application's backdrop is a hand-drawn map created by Lexington architectural designer Brandi Berryman.
VatorSplash, a product of Vator, is a high-tech startup event for entrepreneurs to pitch their ideas to venture capitalists and angel investors. Vator, a leading platform for innovators and entrepreneurs to connect and learn from each other, and a provider of news and information through VatorNews, recognized 10 promising startups across technology, including digital media, social media, consumer Internet, software, SaaS, iPhone apps, mobile, etc. The gathering brought together high-profile, successful tech entrepreneurs sharing their lessons and advice alongside promising startups showcasing their innovative ideas. 
AwesomeTouch was formed last year through the Awesome Labs program at Awesome Inc.  Under the name of "Warpt Displays," this team took second place in the 2010 IdeaStateU undergraduate business plan competition.  Following the successful installation in Lexington,  AwesomeTouch plans to expand to other cities, as well as offer a product catered to college campuses.
"We're really proud of how the AwesomeTouch team has progressed in such a short time," said Brian Raney, one of the co-founders of the company.  "From idea, to engineering senior design project, to having customers and competing with NYC's top startups in only 11 months -- it has already been quite a journey for us."
"It was exciting to represent the state of Kentucky in New York," added Nick Such, another one of the company's co-founders.  "That city is one of the world's top breeding grounds for high-tech startups, with success stories like Foursquare, Meetup, Blip.tv, and Boxee.  And we are right there with NYC's latest round of early-stage tech companies."
The research was supported in part by an award from the Kentucky Science and Technology Corporation under the Kentucky Innovation Act.
"We got some pretty tough feedback from the VC judges, but that's really what we're looking for," said Such.  "The industry that we're in, digital out-of-home media, has barely been around for a decade, and there are no clear winners yet. Opportunities like Vator Splash help us to get exposure and feedback, and that helps us get one step closer to understanding the niche where our product fits best."
Here is a list of UK students who have been involved in AwesomeTouch and its predecessor, WARPT Displays:
(*= currently active with AwesomeTouch, name, major, graduation year, hometown)
*Nick Such, mechanical engineering, 2009, Prospect, Ky.
*Ryan Copple, electrical engineering, 2011, Nicholasville, Ky.
Chase West, computer science, 2010, Berea, Ky.
*John Kiffmeyer, computer science and computer engineering, 2010, Lexington, Ky.
*Nolan Lancaster, computer science, 2010, Lexington, Ky.
*Patrick Kelly, computer science, 2010, Lexington, Ky.
*Chris Allen, computer science, 2010, Columbia, Ky.
Stephen Lewis, computer engineering and computer science, 2010, Georgetown, Ky.
*Brian Raney, computer science, 2005; master's in economics, 2006, Crestview, Ky.
Sam Nicaise, electrical engineering, 2010, Covington, Ky.
Michael "Rico" Carrico, computer engineering and electrical engineering, 2010, Independence, Ky.
Jeremy Elias, electrical engineering, 2010; MBA, 2011, Paducah, Ky.
Reagan Miller, computer engineering and electrical engineering 2010, Shelbyville, Ky.
Luke Murray, biology/business, 2004; MBA 2006; and medicine, 2014, Union, Ky.
Andrew Goodale, business, 2010
Garrett Ebel, business management 2010; MBA, 2011, Fort Campbell, Ky.
Course and project advisers included Regina Hannemann (Electrical Engineering), Holly Hapke (Business), and Paul Piwowarski (Computer Science).
 
 For inquiries, contact AwesomeTouch at (859) 472-4219 or info@awesometouch.org.