DanceBlue's Commitment to a Cure Is Changing the Commonwealth
Video produced by UK Public Relations and Marketing. To view captions for this video, push play and click on the CC icon in the bottom right hand corner of the screen. If using a mobile device, click on the "thought bubble" in the same area.
LEXINGTON, Ky. (Feb. 28, 2016) — DanceBlue celebrated their 12th annual 24-hour dance marathon this past weekend, raising $1,785,286.96 "For The Kids." "For The Kids" may seem to be three simple words, but for the DanceBlue community, when these three words are bonded together into one powerful phrase, "For The Kids" means everything.
Thanks to DanceBlue, the Kentucky Children's Hospital offers incomparable amounts of medical, emotional and personal care to kids living with cancer in the Commonwealth.   
DanceBlue is UK's largest student-run philanthropy — a yearlong fundraising effort involving thousands of UK students, culminating in a 24-hour no-sitting, no-sleeping dance marathon. All of the money raised by DanceBlue goes to the Golden Matrix Fund and cancer research. Since the organization's launch in 2006, DanceBlue has raised more than $11,616,829.58 for the kids, providing financial and emotional support for children and families living with childhood cancer.
In January 2017, the new, state-of-the-art DanceBlue Kentucky Children's Hospital (KCH) Pediatric Hematology/Oncology Clinic was opened. Being majorly supported by a culmination of efforts of thousands of DanceBlue students over the past 12 years, the clinic now caters to roughly 80 new oncology patients every year. A majority of the patients treated within the clinic come from within the state, specifically Central and Eastern Kentucky.
Though financial support raised through DanceBlue has helped open more exam space and infusion treatment rooms, support research, and provide social workers and child life specialists, a relational — emotional and personal — aspect provided by DanceBlue leaves lasting impressions on DanceBlue Clinic patients and families across the state of Kentucky.
"The students have a real commitment to our patients," said Dr. Lars Wagner, division chief of pediatric hematology/oncology. "They build relationships, then they work hard to raise funds to help support these very kids that they're getting to know and care for."
DanceBlue students volunteer approximately 1,000 hours in the clinic each year. Every week, dozens of students produce smiles and laughter among patients and families during their medial visits at the clinic. Students selflessly give their time every day because of that one phrase that embodies the DanceBlue mission — "For The Kids."
"Their energy is just amazing anytime they come in the clinic and volunteer," said Kara Gore, social worker in the DanceBlue Clinic. "They treat them like kids. They aren't coming in to give them medicine or talk to them about anything intense. They just come in and want to play a game with them."
"I think it's huge to see what it means to patients and families to know that there's a whole community standing behind them when they're going through such a difficult experience," said Rachel O'Farrell, a KCH pediatric hematology and oncology social worker in the DanceBlue Clinic. "Many of our families feel very lonely, but when you know that there are 900 to 1,000 students dancing and standing for 24 hours to encourage and support your family — I think that holds a lot of meaning."
Watch the video above to learn how DanceBlue has helped KCH provide comprehensive care "For The Kids."
For more information about DanceBlue, please visit www.danceblue.org. Connect with DanceBlue on Facebook at www.facebook.com/danceblue and on Twitter at http://twitter.com/UKDanceBlue.
DanceBlue is a program housed in the UK Center for Community Outreach (CC). The CCO seeks to serve, connect and unite UK with the surrounding community in collaborative efforts to promote lifelong community service.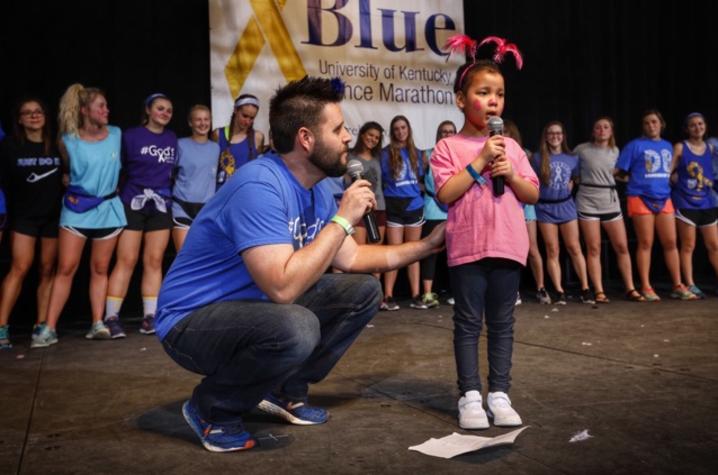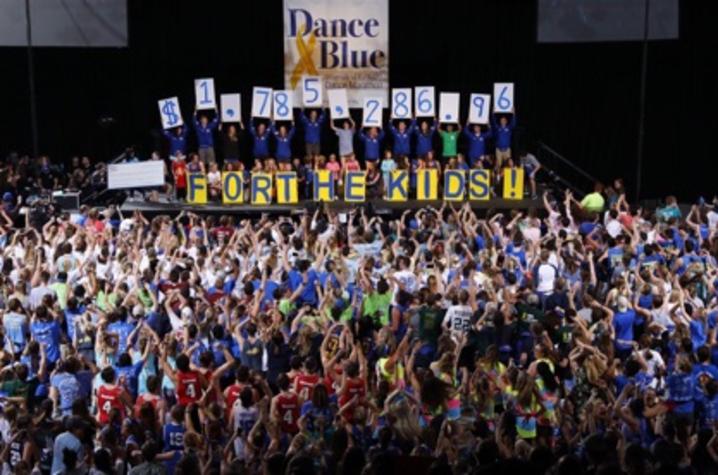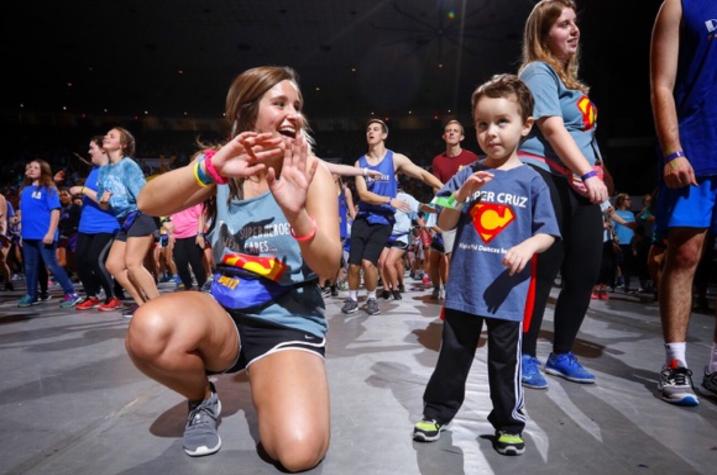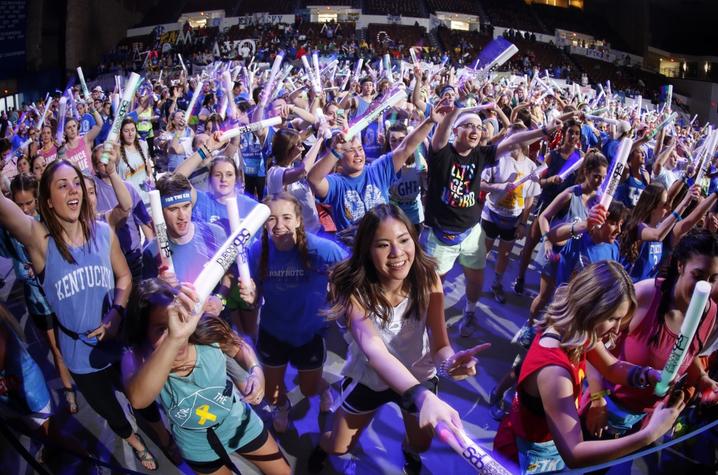 UK is the University for Kentucky. At UK, we are educating more students, treating more patients with complex illnesses and conducting more research and service than at any time in our 150-year history. To read more about the UK story and how you can support continued investment in your university and the Commonwealth, go to: uky.edu/uk4ky. #uk4ky #seeblue