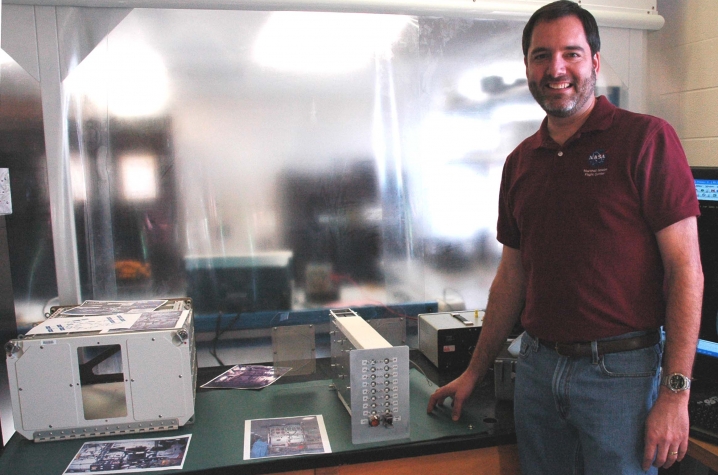 LEXINGTON, Ky. (Dec. 15, 2009) -- A University of Kentucky professor and his team of students are delivering a device to NASA this week that will permit the International Space Station to house small cube modules for experiments by scholars and corporate scientists.
Electrical and computer engineering Professor Jim Lumpp and students Twyman Clements and Daniel Erb are taking the experiment enclosure, called a NanoRack, to Cape Kennedy. There, it will be part of the payload in a March 2010 Space Shuttle mission making a run to the International Space Station (ISS).
The NanoRack -- designed and built by Lumpp, student team leader Erb, Clements, and fellow students Zach Jacobs, Meetra Torabi, Jason Rexroat, Samir Rawashdeh, Jason Bratcher, Anthony Karam and Max Bezold -- can hold up to 16 cube experiment modules, also called CubeLabs.
Lumpp and the students began work on the NanoRack -- which is about the size of a microwave oven -- and the CubeLabs earlier this fall at the request of NanoRack LLC, an enterprise focused on small entrepreneurial and educational space opportunities and markets.
The UK team developed the NanoRack and CubeLabs under the auspices of the UK College of Engineering's Space Systems Laboratory, which itself is part of the Kentucky Space Consortium, comprised of UK, Morehead State University, University of Louisville, Murray State University, Western Kentucky University, the Kentucky Community and Technical College System, Belcan Engineering and the managing partner, the Kentucky Science and Technology Corp.
"We have been developing spacecraft for several years as part of Kentucky Space and have developed several sub-orbital and orbital spacecraft," said Lumpp, director of the Space Systems Lab.
"Developing hardware for the manned space program is a new domain for us," he added.
Lumpp said the NanoRack will be permanently mounted in the ISS. It is designed so that the CubeLabs -- which measure 4 inches long, 4 inches deep and 4 inches wide and weigh about two pounds -- can be inserted and removed, permitting an easy and interchangeable method for gathering scientific data in space.
The first two CubeLabs will contain a number of small memory cards that will help measure the effect of radiation in low earth orbit.
The NanoRack and CubeLabs will mark the second major test of devices built by the Space Systems Laboratory in 2010. In January, a small cube satellite, or "cube-sat," will be launched from an unmanned NASA rocket at a suborbital altitude as part of a test of an ejection system. The cube-sat will send out an audio beacon during its brief flight after it is launched.
Still, the CubeLab project holds a special place for Lumpp and his students.
"We're very proud to have hardware fly on the Space Shuttle and then be operated by astronauts on the International Space Station. That's the most advanced laboratory platform ever developed," Lumpp said.