Dining Partnership Will Transform Vital Service to UK Campus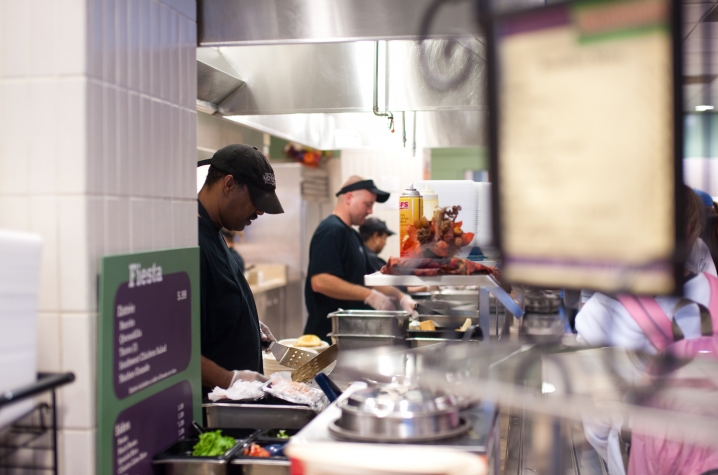 LEXINGTON, Ky. (June 10, 2014) — Saying it will "transform overnight the way we provide a vital service to our campus," University of Kentucky President Eli Capilouto said Tuesday the university is moving forward with a 15-year, nearly $250 million contract with Aramark to provide dining services for UK.
"In many respects, the direction we are embarking on today is as transformative as the process we started two years ago to revitalize student housing across the campus," Capilouto said. "Both initiatives place as a priority our top goal as an institution — doing what is best for our students. We are placing students first — in how they live, how they eat, where they learn and how we prepare them through a first-class education alongside a stellar faculty and staff. Today marks another way that we are declaring that the University of Kentucky will be among the handful of top-tier residential public research campuses in America."
In the last two years, working with private developer EdR, more than $380 million has been invested in the construction of more than 5,700 high-tech residence hall beds — the largest overhaul of housing in American public higher education.
Capital investments of more than $600,000 have to be approved by the board. The board, as a result, was being asked to consider some $70 million from private funds in dining capital project investments at its Tuesday meeting, many of which if approved, would be ready for students this fall.
"Over the last three years, under the leadership of President Capilouto, our board has been focused on creating the kind of residential campus that will stand out in American higher education. That's what Kentucky needs. It's what our students deserve," said UK Board Chairman Britt Brockman. "This partnership represents another important step in that direction as we will be providing our students and university community with better food, healthier options, and the kind of facilities that will promote greater use and collaboration. That is all by design. Along with our housing revitalization efforts, and our initiatives to rebuild the core of campus, the University of Kentucky is, without question, leading."
"Aramark is proud to partner with the University of Kentucky to transform their student experience and environment as part of our mission to enrich and nourish lives," said Mark Nelson, president of Aramark's Higher Education business. "We look forward to achieving that goal together with UK Dining's employees and the Kentucky Proud program through local sourcing, offering nutrition and wellness initiatives, as well as introducing exciting new retail brands."
Key provisions of the partnership with Aramark will include:
Prices for UK's six current student meal plans will be reduced, with the most expensive plan falling in price by 26 percent or about $740 per semester.
$70 million in facilities investments, including $40 million in new facilities, subject to board approval, would be made by 2017-2018, including the new K-Lair at Haggin Hall and substantial upgrades to the Student Center Food Court, both to be ready for this fall and a newly constructed Commons for Fall 2015 that will feature Kentucky Proud products and sustainable design elements.
Several new food brands will be locating on campus starting this fall and next year. This fall, a new locally owned Common Grounds, Rising Roll Gourmet, Einstein Bros. Bagels and Greens to Go will open on campus.
In Fall 2015, the first on-campus Panera in the nation will open as part of a new, $32 million Commons that Aramark is building near the W.T. Young Library.
More emphasis will be placed on nutrition and wellness with a full-time dietician hired by Aramark, digital menu boards, a nutrition website and mobile apps for nutrition and fitness that will be instituted, among other innovations.
Aramark is providing guarantees to increase Kentucky Proud and local food purchasing, including an 11 percent increase in the first year of the contract with $2 million in guaranteed purchases. Over the life of the contract, local food and Kentucky Proud purchases are projected to grow each year and represent approximately 25 percent of total food purchases by the end of the term.
Significant sustainability initiatives will include LEED certification being sought on new construction, hiring of a full-time sustainability coordinator and implementation of Green Thread business practices, including waste stream management practices, minimizing food waste and supporting composting, energy audits and other energy and conservation initiatives.
The creation of a "Food Hub" in partnership with the College of Agriculture, Food and Environment, including a $5 million guaranteed investment in an unprecedented academic partnership. More details about the food initiative will be announced later this summer. "The College of Agriculture, Food and Environment community is excited about promoting food education and outreach campus-wide, in partnership with Aramark," said Nancy Cox, dean of the college. "Soon we will begin soliciting input to plan programs that strengthen the student experience and elevate UK's prominence in the study of food systems." 
Current UK employees with dining — about 110 people — will have the opportunity to remain university employees with the same salary and benefits — a guarantee made by the university more than a year ago.
Aramark is committed to growing the number of full-time and student employees.
Key Performance Indicators on all major facets of the contract between UK and Aramark will be tracked and will include financial penalties if measures are not met in areas such as local food sourcing, customer satisfaction, nutrition and wellness, and employee numbers.
"Better food, more reasonably priced and healthier options along with significant investments and upgrades in the facilities where our students, faculty and staff eat — those are the kinds of guaranteed investments this partnership represents. As a result, this contract represents a game-changer for UK, for our students and for the broader community we serve," said Eric N. Monday, UK's executive vice president for finance and administration. "This initiative says to everyone that UK is an institution looking to put students at the center of what we do and, in fact, we are acting on that in creating the best possible living and learning environment."
Terms of the contract are outlined in the PDF attached below or can be accessed here.
An update on the partnership presented to the UK Board of Trustees today is in the PDF attached below or can be accessed here.
For more information, visit the dining revitalization website: http://www.uky.edu/DiningRevitalization/index.html.
MEDIA CONTACT: Jay Blanton, jay.blanton@uky.edu, 859-699-0041