Eight UK-Affiliated Companies Get State Matching Funds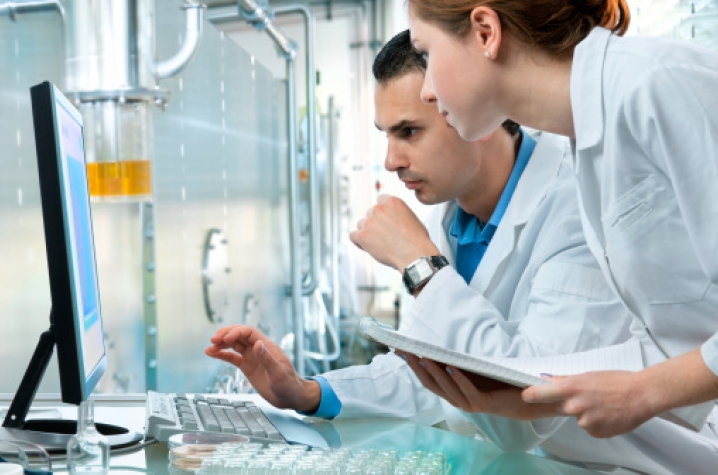 COVINGTON, Ky. (April 29, 2011) — Gov. Steve Beshear recently joined state and local officials to announce that 14 Kentucky high-tech companies will share more than $4.22 million in state funds as part of a Kentucky initiative to attract and support technology-based small businesses.  Eight of these companies are affiliated with the University of Kentucky.
Through the state's competitive Small Business Innovation Research and Small Business Technology Transfer (SBIR-STTR) programs, Kentucky matches federal SBIR-STTR awards received by Kentucky companies and those willing to relocate to Kentucky.  The eighth and ninth rounds of the state awards supplement more than $8.7 million in federal funding the recipient firms have brought to Kentucky.
"Kentucky's unique matching awards program is the envy of the nation as it helps support our high-tech firms and create hundreds of new high-tech jobs across the Commonwealth," said Gov. Beshear. "The Kentucky companies receiving our matching state funds have already had their research reviewed by federal experts and were found to have very promising technologies with excellent opportunities for commercialization."
The state matching funds were awarded after the high-tech firms received grants in Phase 1 or Phase 2 of the federal Small Business Innovation Research and Small Business Technology Transfer programs. Kentucky is the first and only state to provide funding to specifically match both phases of the federal program: up to $150,000 to match Phase 1 federal awards and up to $500,000 per year to match Phase 2 federal awards.
The UK-affiliated companies receiving the competitive federal and state awards are: Exatherm, Transposagen Biopharmaceuticals, Scout Diagnostics, NuForm Materials, ParaTechs Corp., CustomKYnetics, Alcomed, and Alkymos.
To date, the state's SBIR-STTR Matching Funds program has made a total of 106 awards to 57 Kentucky high-tech companies. The combined $24.7 million in state investments have leveraged more than $42 million in federal funds and have helped bring 12 high-tech, start-up businesses to the Commonwealth.
The most recent Kentucky companies receiving matching funds specialize in areas as diverse as human health and development, energy, nanotechnology, bioscience, materials science and advanced manufacturing.
Company descriptions:
CustomKYnetics Inc., of Versailles, received matching funds of $147,783 to support developing an electrical stimulation device for use by individuals undergoing orthopedic rehabilitation and those with neuromotor disorders due to spinal cord injury or stroke. The device is designed in the form of a recumbent stepper that involves the lower extremities through electrical stimulation, while upper extremity involvement is controlled by the patient. www.customkynetics.com
MC3 Inc., of Ann Arbor, Mich., will establish operations in Kentucky under the name Exatherm to receive matching funds of $500,000. The funding will be used by Exatherm to support developing a medical device that can apply heat to localized areas on patients to treat lung, colon, pancreatic and other forms of cancer. The process has been shown to selectively kill cancer cells, as well as enhance the effects of certain chemotherapy drugs without damaging normal tissues. www.mc3corp.com
InfoBeyond Technology LLC, of Louisville, received matching funds of $99,000 to support developing a means of increasing the network capacity of airborne fighter systems by 10 percent by incorporating mathematical algorithms into the software used in airborne networks, without the need for hardware updates. www.infobeyonds.com
NuForm Materials LLC., of Sadieville, received matching funds of $149,996 to support developing polyurethane foam insulating materials containing ceramics derived from coal ash. The company uses its patented process to recycle coal ash into high-purity ceramic materials that can reduce the need for expensive polymers in composite materials, while also improving the foam's performance in automotive and aerospace applications. www.nuformmaterials.com
Paratechs Corp., of Lexington, received matching funds of $111,002 to support developing a device to facilitate the non-surgical assisted-reproductive procedure for laboratory animals. The device would save significant time and money and position the procedure to become the standard throughout the research industry. www.paratechs.com
SureGene LLC., of Louisville, received matching funds of $365,579 to support developing a multi-gene genetic test, called the AssureGene Array, to predict how effective treatments will be in specific patients being treated for neuropsychiatric illnesses, such as schizophrenia. www.suregene.net
Transposagen Biopharmaceuticals Inc., of Lexington, received matching funds of $499,936 to support developing a method of completely removing the genome of laboratory rats to facilitate use by researchers to mimic human diseases in the animals. www.transposagenbio.com
Advanced Energy Materials LLC, of Louisville, received matching funds of $150,000 to support developing nanomaterials for use in the anodes of automotive batteries and large-scale lithium ion batteries, as well as in solar cells and other photocatalyst applications.
Alcomed Inc., of Lexington, received matching funds of $150,000 to support developing a nasally delivered pharmaceutical (naloxone hydrochloride) for the emergency treatment by medical personnel of patients experiencing an opioid overdose. The treatment would reduce the time needed to administer the drug, currently given through an injection, as well as reduce the risk to first responders of contracting hepatitis or HIV.
Bexion Pharmaceuticals LLC, of Covington, received matching funds of $500,000 to support developing a new treatment to target and eliminate glioblastoma multiforme, the most common and most aggressive type of primary brain tumor in humans, for which there is currently no effective treatment. The company is working on a clinically usable formulation for use in human trials. www.bexionpharma.com
Alkymos Inc., of Lexington, received matching funds of $500,000 to support developing a method of preventing aluminum contamination in the intravenous fluid used to feed infants born prematurely. Aluminum is a common contaminant in Total Parental Nutrition (TPN) solution and excessive exposure can produce toxicity in the brain and skeletal system.
Global Quality Corp., of Cincinnati, is relocating to northern Kentucky to receive matching funds of $364,990 to support developing a software-based warning system to alert personnel when there is contamination in drinking water. The system will be installed and tested at Ft. Drum in upper New York State. www.gqc.com
Louisville Biosciences Inc., of Louisville, received matching funds of $249,913 to support developing a diagnostic test to help detect up to six autoimmune diseases, including lupis, rheumatoid arthritis, multiple sclerosis (MS), scleroderma, polymyositis and Lyme disease. www.lbidx.com
Scout Diagnostics LLC, of Lexington, received matching funds of $435,600 to support developing a laboratory test to detect and confirm Alzheimer's disease in its earliest form, which is usually termed Mild Cognitive Impairment. www.scoutdiagnostics.com
The Kentucky Cabinet for Economic Development, through its Department of Commercialization and Innovation (DCI), manages the Kentucky SBIR-STTR Matching Funds program, which is administered under contract to DCI by the Kentucky Science and Technology Corporation (KSTC).
Applications for each round of the program are accepted by KSTC on a regular basis. A link to the online guidelines and application form for the Kentucky program are posted at www.ThinkKentucky.com/dci/SBIR.