Extended Hours for Blue, White and Green Routes Coming This Fall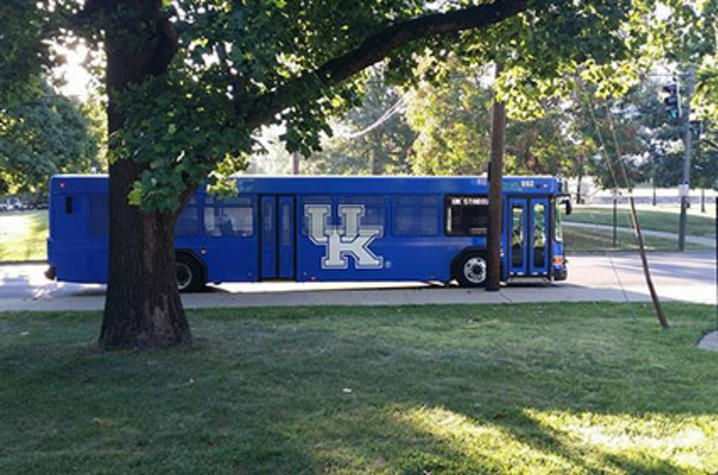 LEXINGTON, Ky. (May 24, 2017) — As part of the improved and expanded mobility options offered for the 2017-2018 academic year, University of Kentucky Transportation Services has worked with Lextran, the city's municipal transit provider, to offer extended hours of service for the popular campus Blue and White Routes, as well as the Green Route Connector. The changes will take effect in August.
The bi-directional Blue and White Campus Shuttle Routes (Lextran 14) will operate from 6:45 a.m. to midnight Monday through Friday during fall and spring semesters. The Green Route Connector (Lextran 26) will have the same extended hours. This route provides a transit connection for residents of the Shawneetown and Greg Page apartment areas. It is also expected to be utilized by students who choose the new remote parking option.
This extension of service hours will better serve the campus community with simple, predictable and reliable campus bus service. Additionally, this change reflects a significant increase in the frequency of service after 8 p.m. In the 2016-17 academic year, Transportation Services operated two buses from 8-10 p.m. and one bus from 10 p.m.-midnight. With the planned changes, Transportation Services will more than double the level of service, with four buses operating on the Blue and White Routes from 8 p.m. to midnight (two each direction), and one bus on the Green Route from 8 p.m. to midnight. These changes will provide better late night service to the entire campus.
The Yellow Night Route is being discontinued, based on feedback from campus groups that longer service hours for the Blue, White and Green Routes would better meet the needs of students and employees. The Blue and White Routes were established in August 2015 to simplify the campus transit experience. The continuation of these routes into the evening hours further that goal.
Campus buses can be tracked in real time using the TransLoc app on iPhone and Android devices allowing for users to plan for delays caused by traffic, accidents or inclement weather. TransLoc is a GPS-based tracking system that tracks all campus buses as well as the Red Mile Route (Lextran 15) frequently used by the campus community. Users should be sure to select both Lextran and the University of Kentucky under Current Transit Systems in order to include the Blue, White and Green Routes and Route 15 data on the app.
During fall and spring semesters, after the Blue, White and Green Routes stop service, the On-Demand Night Bus provides on-campus transportation. Riders may call 859-221-RIDE (7433) to make a pickup request between the hours of midnight and 5 a.m. Monday through Friday, and from 7 p.m. to midnight on Sunday. For off-campus, late-night transportation, students may utilize Kentucky Wildcab, an on-demand ride service available through the TransLoc Rider app from 10 p.m. to 3 a.m. Thursday through Saturday. Kentucky Wildcab is provided by the UK Student Government Association and operated by Transportation Services.
All campus bus service, including Kentucky Wildcab, is provided free of charge.
UK is the University for Kentucky. At UK, we are educating more students, treating more patients with complex illnesses and conducting more research and service than at any time in our 150-year history. To read more about the UK story and how you can support continued investment in your university and the Commonwealth, go to: uky.edu/uk4ky. #uk4ky #seeblue