Former National Republican Chair Mike Duncan to Talk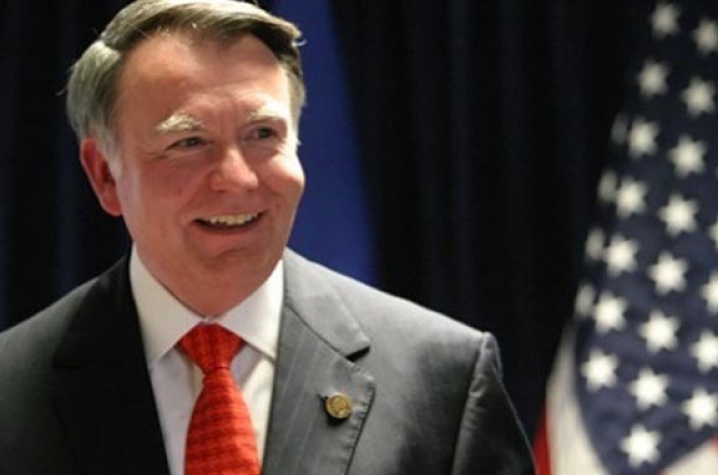 LEXINGTON, Ky. (April 23, 2010) − The University of Kentucky Libraries Wendell H. Ford Public Policy Research Center will present Mike Duncan, former chair of the Republican National Committee (RNC), in conversation with Al Cross, director of the Institute for Rural Journalism and Community Issues. The talk, which is free and open to the public, is scheduled for 3 p.m. Monday, April 26, in the William T. Young Library Auditorium.
Robert M. "Mike" Duncan, the Inez banker who was chairman of the RNC from January 2007 to January 2009, has been a Republican leader since his youth. As member of the College Republicans, Duncan became a friend of Karl Rove, who went on to become President George W. Bush's chief political strategist.
Duncan has served the party at every level, been a delegate or officer at most of its national conventions since 1972, and is one of the few people to serve on all four standing convention committees. He was assistant director or the public liaison office at the White House in 1989-90, under President George H.W. Bush. He was elected treasurer of the RNC in 2001 and was general counsel from 2002 to 2007. In the 2009 election for national Republican chairman, after the party lost the White House, Duncan was the top vote-getter on the first ballot, tied with Michael Steele on the second ballot, and withdrew after placing second on the third ballot. Steele has since become the party's most controversial chairman, in sharp contrast to Duncan.
In Kentucky, Duncan managed U.S. Sen. Jim Bunning's 1998 campaign and was active in the 2003 election and transition of Gov. Ernie Fletcher.
Duncan is in his third four-year term as national committeeman from Kentucky. He is a director of the Tennessee Valley Authority (TVA) and has served as chairman of the TVA board. Now he is founding director of a new organization, American Crossroads, that is expected to raise and spend tens of millions of dollars for Republican candidates in this year's elections.
The Institute for Rural Journalism and Community Issues, housed in the UK School of Journalism and Telecommunications, helps non-metropolitan journalists define the public agenda for their communities, and grasp the local impact of broader issues. It interprets rural issues for metro news media, conducts seminars and publishes research and good examples of rural journalism. It helps journalists all over America learn about rural issues, trends and events in areas they've never seen but have much in common with their own. Al Cross, a former chief political writer for The Courier-Journal of Louisville, has served as director of the Institute for Rural Journalism and Community Issues since its founding at UK in 2004.
UK Libraries' Wendell H. Ford Public Policy Research Center supports research and programming relating to public policy, politics and Congress. The Ford Center also provides digital primary source materials on the Web.
For more information on the Mike Duncan event, contact Esther Edwards by e-mail to eedwards@uky.edu.