Help UK Beat Orange on Last Day of Big Blue Crush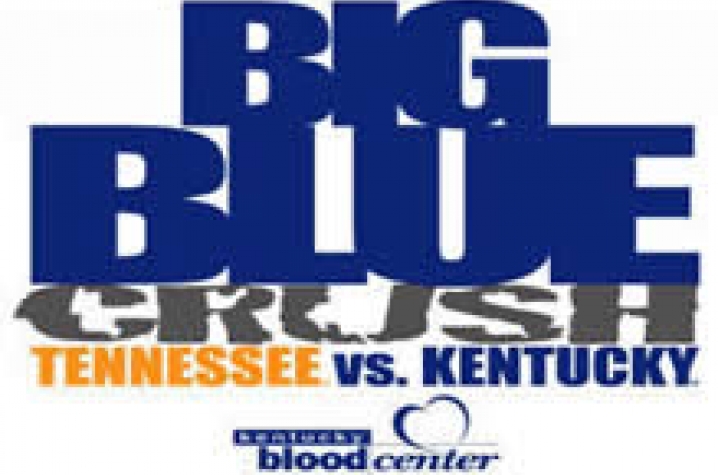 LEXINGTON, Ky. (Nov. 19, 2010) — Kentucky fans are continuing to bleed blue in hopes of winning the 23rd annual Big Blue Crush blood battle against Tennessee. The score is 2,632 to 2,356.
With only one day to go, though, Kentucky Blood Center officials are not resting. Last year, Tennessee came from behind with a nearly 200-point deficit to take the lead on Friday. Donors are urged to prove their big blue loyalty by giving blood at a blood drive or donor center on Friday.
Everyone who registers to donate on Friday is eligible to win an iPod Nano or two tickets to the UK-Tennessee football game in Knoxville on Nov. 27.    
All Big Blue Crush donors will also receive a free commemorative T-shirt and a coupon good for a free McDonald's Snack Wrap.
Big Blue Crush is a friendly blood battle between UK and University of Tennessee fans that helps to ensure an adequate blood supply during the holidays. Tennessee leads the rivalry 12 to 9 with 1 tie. Kentucky hasn't won since 2002.
Big Blue Crush Donation Opportunities
During Big Blue Crush, the four KBC donor centers will be open 9 a.m. to 7 p.m. through Friday – Beaumont and Andover in Lexington, and Somerset and Pikeville.
Big Blue Crush blood drives for Friday:
Friday, November 15
Frankfort Community
7:30 a.m. to 3 p.m.
Memorial Baptist Church - Narthex Room
Kentucky Transportation Cabinet Department of Highway
7:30 a.m. to noon
Conference Room
UK Medical Center
8 a.m. to 5 p.m.
Main Hospital Building – Room H-133
UK Singletary Center for the Arts
10 a.m. to 6 p.m.
About KBC
Kentucky Blood Center, the largest FDA licensed blood bank headquartered in Kentucky, is a non-profit organization dedicated to ensuring a safe, adequate blood supply for patients at nearly 70 Kentucky hospitals and clinics in more than 60 counties. KBC relies on volunteers to collect 400 pints of blood per day to meet area patients' needs. Over the last year KBC distributed nearly 130,000 blood components.
Visit Kentucky Blood Center at www.kybloodcenter.org or become a friend on Facebook at http://www.facebook.com/kybloodcenter.