Help UK Bring the Best and Brightest Students to Campus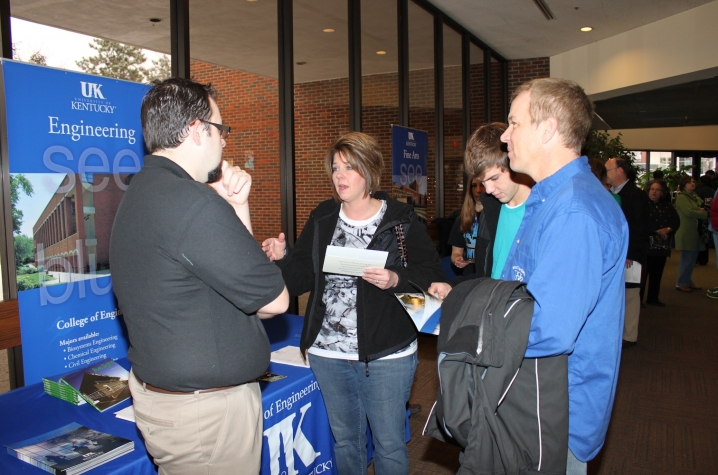 LEXINGTON, Ky. (Jan. 10, 2011) –This is a busy time of year for admissions counselors at the University of Kentucky as they travel the state and region to tell prospective students about life at UK.   
Now, the Office of Undergraduate Admission and University Registrar is asking for the help of UK faculty and staff to help them identify top students from local high schools and from across the country.

A new initiative, called The Kentucky Club, makes it easy for faculty and staff to identify names of prospective students, from near and far, who might be interested in attending UK.

"The goal is to connect with potential students, especially the daughters, sons, grandkids, nieces, nephews, cousins, or friends of UK faculty and staff," said Don Witt, vice provost for enrollment management.  "While UK may be in their own backyard, they may not realize all of the great opportunities that set this university apart so we want to show students what we are about from multiple perspectives including academics, research, and various extracurricular opportunities.  We have great stories to tell and we need to share them directly with our UK friends and families."

While these students may be family members or friends, faculty and staff are also encouraged to submit names they may recognize in newspaper clippings or from local events.

"This initiative is our way of showing UK faculty and staff that we care about their students and want to work with them in the matriculation process so that they can make well-informed decisions about where to attend college," said Witt.  "Of course, we want UK to be their top choice!"
Once a faculty or staff member has submitted a name, an admission counselor will then follow up with that student by sending more information about UK and will be updated about special Kentucky Club events.
Witt hopes the initial contact will help them share vital information with even more prospective students about all of the enrollment process from visiting campus to applying for admission, financial aid, and scholarships,
"The goal is to build a very positive relationship," said Witt. "We plan on hosting specific events for the students and families who sign up."
If you would like to submit a name of a top student, visit: www.uky.edu/Admission/KentuckyClub.htm .
For more information on undergraduate admissions at UK, visit: www.applyuk.com.
To watch videos about the University of Kentucky, visit: www.youtube.com/universityofkentucky.