Nora Shares Inspirational Past of UK College of Medicine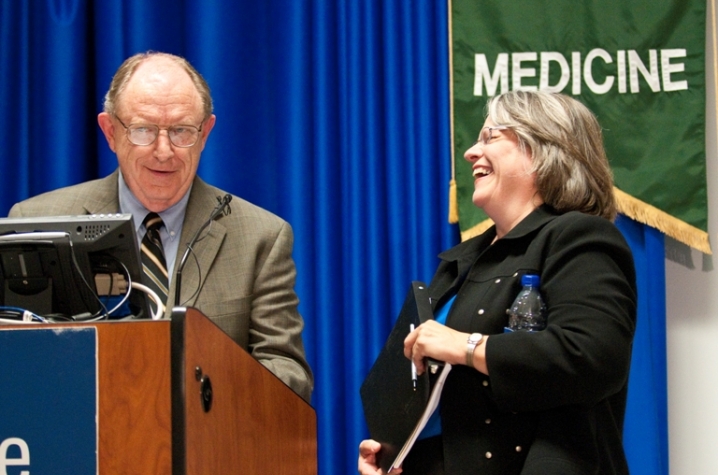 LEXINGTON, Ky. (Oct. 26, 2010) −  The University of Kentucky College of Medicine celebrated its 50th anniversary through an Academic Convocation, featuring speaker Lois Nora, M.D., J.D., MBA, former president of the Northeastern Ohio Universities Colleges of Medicine and Pharmacy and dean emeritus of the UK College of Medicine, on Sept. 23. Dr. Nora noted the importance of supporting the future with lessons from the past.
"This anniversary is a special occasion to celebrate the tremendous accomplishments of the last half century," Nora said, "but I would suggest to you that, even more, it is a time to think about what is ahead."
Nora illustrated her point by recognizing four people affiliated with the University of Kentucky who have been important examples in her life, and whose stories she believes provide important lessons for the upcoming academic year as well as the upcoming century.
Nora first recognized Edmund Pellegrino, M.D., the college's founding chair of internal medicine. Pellegrino, who is now 90 years old, still participates in clinical rounds and published a book in 2009.

"He embodies all that is best about our academic values in the academy," Nora said. "He is firmly grounded in the past and yet wholly contemporary in his thinking."
Nora applauds Pellegrino's work and the emphasis he places on virtue. "He reminds us that medicine, what we do, is a moral undertaking and the virtue or lack thereof directly impacts the patient," Nora said.
"Today is an opportunity to internally, and as a community, reaffirm those very important academic values," Nora said. "I would suggest to you that the virtues of the scientist, the virtues of the physician, and the virtues of the teacher will very much be what builds success of the next 50 years."
Nora then recognized physician Jacqueline Noonan, a UK faculty member who diagnosed the "Noonan Syndrome." Nora described Noonan's unfailingly optimistic attitude and advocated that it is a mind-set everyone should learn to adopt.
"We are in a time of enormous change in our country's health care system and in our higher education system," Nora explained. "Sometimes it feels like we're out of control, but what we have control over is our own attitude and the tone we help set in the places we go into. Dr. Noonan reminds us to think about our attitude and the tone we set when we walk into a room over the next year and over the next 50 years."
Nora then acknowledged Wanda Whitehouse, her former colleague in the Office of Academic Affairs from 1995 to 2002.
"Wanda was my administrative assistant, often my right arm, sometimes my right and my left arm and frequently my alternate brain," Nora said. "I bring her up to remind us that we don't do it alone."
Nora said that in the field of medicine, the emphasis is frequently put on the individual medical student or physician. She explained that individualism is a wonderful thing, but in research, clinical care and teaching, great results come from teamwork.
"Let Mrs. Whitehouse be a constant reminder to us over the next year and over the next 50 years of how important teams are, and how important it is to recognize that our success is our team's success," Nora said.
The last person Nora recognized was Dr. Richard Schwartz, surgeon, academic physician and leading surgical educator who passed away earlier this year. Nora discussed Schwartz's passionate dedication to his work and his determination to make his visions a reality.
"Let's use Richard's example to remind us over the next year to find our passion and honor it because our passions are what call us to leadership," Nora suggested. "Sadly, Dr. Schwartz is also a reminder to us that we may not have 50 years in which to make our impact so it's important that we treat each day, and find our passion and use it each day."
Nora ended her speech by congratulating the UK College of Medicine students and faculty for their remarkable accomplishments, and encouraged them to build upon the 50-year-old foundation set by those in the past.    
"I would suggest that by following their examples; searching for virtue, living virtuously, setting a positive tone, working as a team, recognizing our team members and living each day with passion; we can help make another great 50 years for students, patients, Kentucky and the rest of the country."