President Eli Capilouto Message to Graduates: 'Building a Career… Building a Life'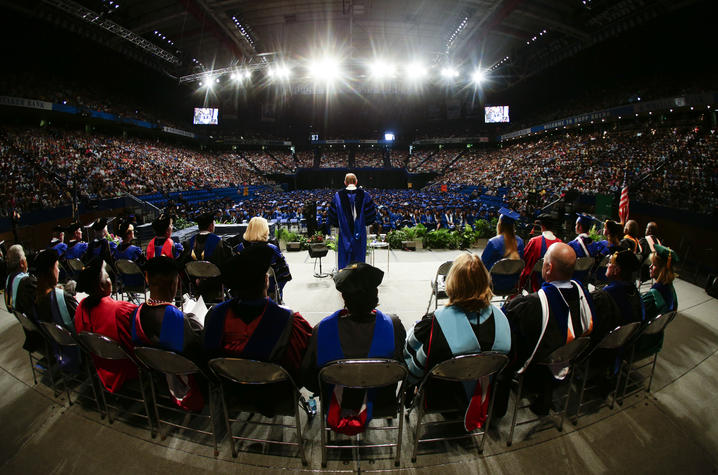 LEXINGTON, Ky. (May 6, 2022) — University of Kentucky President Eli Capilouto gave the following remarks at the 2022 University of Kentucky commencement ceremonies on May 6 and 7. More than 3,900 students crossed the commencement stage to become UK's newest alumni. Overall, the UK Board of Trustees has conferred 5,346 degrees for May 2022.
 'Building a Career… Building a Life'
Graduates of 2022, my sincerest hope is that we have prepared you: 
Prepared you to build a life for yourself. 
Prepared you to build a life for all of us. 
Prepared you to build.
Because we need builders. 
Kentucky… and the world beyond our Commonwealth... need builders.
Builders of jobs and companies … builders of houses and offices … builders of hospitals and health systems … builders of ships and technology that will take us to places like Mars… to new worlds currently beyond our reach and comprehension.
We need you to build a life of purpose and meaning.
And I hope – and I believe – that we have given you, through your education at the University of Kentucky, the tools to be that kind of builder.
Today, for a few moments, I want to talk with you about your last lesson before you leave: your lesson to build a life of meaning and purpose.
As the writer David Brooks talks about it: How do you pay attention to what he calls "resume virtues" – those things in life you have to pay attention to so that you build a great career – without losing sight of "eulogy virtues": all the things they will say about you after you're gone, which revolve around not only competence and capacity but character, compassion and contribution.
So, today I offer three lessons for life building that I hope you have learned from us… and that I believe we have learned from you.
First, have an open heart. You will be surprised where it takes you.
The writer and columnist Frank Bruni recently wrote an account of his struggles with potential blindness after a stroke impacted his optic nerve.
As his vision grew clouded, he wrote that his ability to see and understand more about people expanded.
As his eyesight dimmed, his vision grew clearer.
In so doing, he gained a greater capacity to walk a mile in the shoes of those around him and discovered what being open to others could do for him.
Bruni understood that everyone – everyone – is going through something, so much that he wished folks walking around on the streets would carry a sandwich board that simply said what they were facing …
What does your sandwich board say? (For the more technologically inclined, it might be your iPhone or iPad that you hold up).
"I've lost someone recently and am coping with it."
"I'm struggling with illness."
"My friend is hurting."
"I'm anxious about what the future holds and where I will go."
Beyond the carefully curated images and messages most of us portray in resumes or on our social media feeds, we are all – all of us – going through something.
Or we will.
Recognizing that – having a sense of empathy for others around you – will open you up even more to your potential.
It will open you up to the possibility of what others are going through and what they can still contribute.
Have an open heart.
Second, even in the inevitable busyness of careers and further education, find at least one way to build community. Find one passion that takes you beyond self.
You will be richer for it – in all the dimensions of that word.
I've already seen this desire in so many of you, particularly over the last couple of years.
You volunteered at vaccine clinics, in churches and in community centers to provide access to care for those who needed it most.
You danced your hearts out to raise money to eradicate pediatric cancer.
Among your fellow graduates are those who interned in the state's Homeland Security Office … worked with music festivals and orchestras … helped immigrants with language barriers or served as an ambassador for international students …
There are those who coached high school sports … worked and interned on political campaigns … and made plans to return to communities to provide medical care in underserved areas.
You recognize that building a life for yourself means building a life and community for others.
A recent speaker on our campus, Heather McGhee, argues in her book, The Sum of Us, that there is such a thing as a "solidarity dividend."
It's the idea that there is more we can do through "collective action" than we can ever do apart or by succumbing to those forces that try to "keep people with much in common from making common cause with one another."
Go beyond yourself.
Contribute to your community in a way that creates belonging.
Finally, don't be afraid to use your voice, even when it goes against conventional wisdom and thought.
Dissent doesn't have to mean division.
A Kentuckian, Justice John Marshall Harlan, was considered an "eccentric" for much of his time on the U.S. Supreme Court. He was the lone voice of dissent in some of the most important cases of his day.
That includes the 1896 case Plessy v. Ferguson, which upheld racial segregation and the blinkered view that "separate but equal" accommodations in institutions such as public schools were just and lawful.
Decades later, the opinions of this voice of dissent – this "eccentric" – are considered the very foundations of much of our legal system around race, worker and child safety laws.
He took a solitary path, following his conscience and his deep reading of the Constitution, not knowing where it would end and regardless of how others of his day might view him.
As one person recently said of this history-shaping Kentuckian, we should all reflect on the idea that "today's dissent might be tomorrow's truth."
The 20th-century writer and thinker, William Whyte, warned in his most famous book, "The Organization Man," against "group-think" – a term that refers to always conforming to group values or what is necessary to "belong."
We need to build communities – strong, durable, enduring; communities that have as their foundation a big tent where people of all identities and perspectives can express themselves … where they feel they are embraced as their authentic selves.
Indeed, true belonging means the ability to encourage and listen to voices that offer us a different verse for the play of life that we are all building together.
Sometimes holding us and others to account means using your voice in dissent…. but in the spirit of an open heart and with an intent to construct bridges rather than increase divides.
That, too, is a necessary part of building a life … and building a community.
The great American poet, Walt Whitman, asked the question in one of his most famous poems, "what good amid these, O me, O Life?"
His poem reveals the hollowness of an aimless life and day after day sleepwalking.  He reminds us of the danger of looking away from this one chance in life to find purpose.  He calls us to examine the human condition and ask the most important questions about who we really are, who we should be and the criticality of finding our "why" for being gifted a precious life.
The answer he provided: "that you are here – that life exists and identity…, That the powerful play goes on, and you may contribute a verse."
We are here in a time we did not choose.  We have an identity to discover and shape to influence others and better humankind.
As you go from this place, you will be asked – and you will determine – what verse you will contribute to life's great play.
It will be your legacy.  You have shown us early glimpses of its beauty.
We are grateful for this and what you have done to teach us life-building lessons, too.
Congratulations class of 2022.