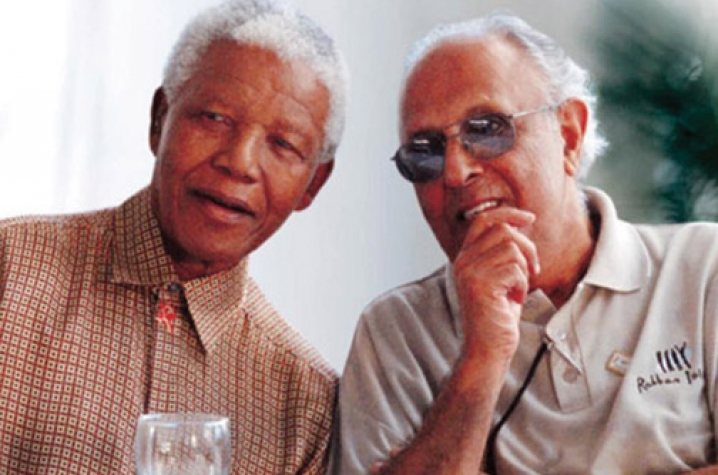 LEXINGTON, Ky. (April 11, 2011) − On Oct. 15, 1989, Ahmed Kathrada, along with several other South African anti-apartheid leaders, was released from a Cape Town prison. The men had been tried and convicted decades earlier of sabotage and attempting to overthrow the government by violent means. At the time of his release, Kathrada had spent half of his adult life − 30 years − behind bars. Despite the lengthy time he was imprisoned, Ahmed Kathrada has greatly contributed to change in South Africa and has taught the international community valuable lessons on tolerance, patience, and determination. 
In "No Bread for Mandela: Memoirs of Ahmed Kathrada, Prisoner No. 468/64," Kathrada not only provides his own personal history, but also makes a significant addition to the history of South Africa and its struggle against the apartheid. In offering his account, Kathrada opens a window to the stories of other South African leaders, including Nelson Mandela. In a foreword to "No Bread for Mandela," Mandela explains, "Our stories have become so interwoven that the telling of one without the voice of the other being heard somewhere would have led to an incomplete narrative." 
Kathrada's memoirs begin with his recollections of his childhood, relating his first encounter with apartheid as his formal schooling began when he was 8 years old. Schweizer-Reneke, the small community where his family lived, only offered schools for whites and Africans. Because of his Indian descent, Kathrada spent the school year in Johannesburg living with an aunt and attending an Indian school. Kathrada's interest in politics began in Johannesburg at 10 years old when he met Yusuf Dadoo, a pivotal revolutionary leader in South Africa. Dadoo's bold statements, courage, and far-sighted vision attracted Kathrada to political activism and later inspired him to join the movement. 
During the 1950s, Kathrada was an active member of the Indian National Congress which began to collaborate with the African National Congress. In 1960, the African National Congress was banned. Despite increasing pressure from the South African government and many detentions, Kathrada continued to work with ANC leaders. 
On July 11, 1963, Kathrada was arrested and placed on trial alongside Nelson Mandela, Walter Sisulu, Govan Mbeki, Andrew Mlangeni, Billy Nair, Elias Motsoaledi, Raymond Mhlaba and Dennis Goldberg. "No Bread for Mandela" gives an insider's perspective on what would come to be known as the Rivonia Trial, offering Kathrada's behind-the-scenes knowledge of the testimonies, the legal counsel, and the mindsets of the accused. In his memoirs, Kathrada shares the overwhelming relief felt by the revolutionaries as life sentences were handed out instead of the death penalty. Kathrada also explains in detail what life was like for the men as they served their sentences on Robben Island, showing how his treatment as an Indian differed from the restrictions Mandela and the other African leaders faced. 
In addition to historically documenting Kathrada's life and struggle, "No Bread for Mandela" presents a message of equality and freedom that will resonate with generations to come. Of Kathrada's memoirs, Gopal Gandhi, grandson of Mahatma Gandhi and former Indian High Commissioner to South Africa, asserts, "What has Kathrada shown? Don't confuse being good with being naïve, being brave with drama, being wise with a whole lot of high-sounding words. And − above all − don't dig the past for the leaden weight of its hated memories. Do so for the gold of a new awakening." 
"No Bread for Mandela" was published by the University Press of Kentucky. Offices for the administrative, editorial, production and marketing departments of the press are found at the University of Kentucky, which provides financial support toward the operating expenses of the publishing operation. 
The launch of Kathrada's memoirs, accompanying book tour and his anti-apartheid exhibit on campus are all a part of UK's South Africa Initiative. 
With the theme of "South Africa & Kentucky: Different Lands, Common Ground," UK's College of Arts and Sciences has featured South African activists, scholars, politicians, art exhibits, performances and coursework throughout the 2010-2011 school year. 
The South Africa Initiative provides the campus community as well as the general public with a closer look at the two societies' rich histories and present-day conditions. For more information on "Kentucky and South Africa," visit http://southafrica.as.uky.edu.
MEDIA CONTACT: Whitney Hale, (859) 257-1754 ext. 229; Whitney.Hale@uky.edu