Record First-year Enrollment, Increasing Diversity Show Commitment to State, Momentum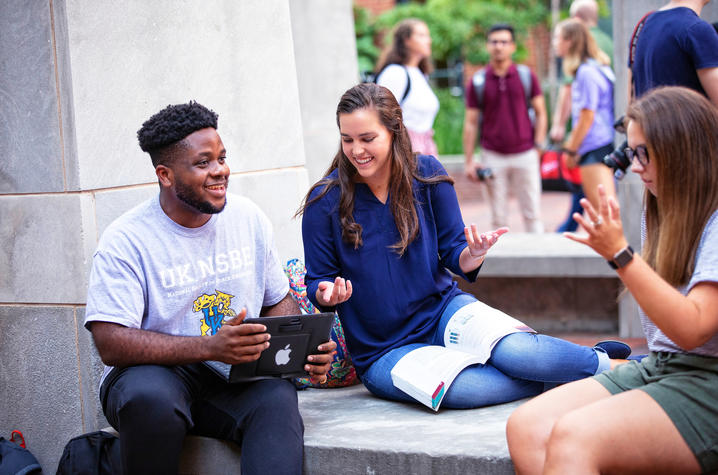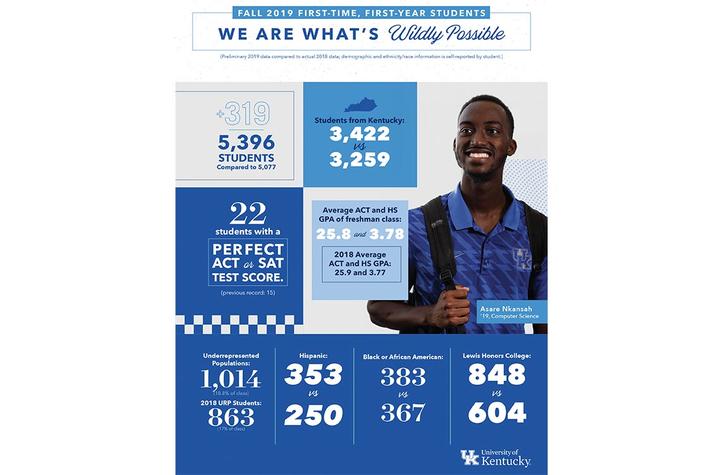 LEXINGTON, Ky. (Sept. 16, 2019) — The number is important — 5,348.
But more important than the number is what it represents:
UK's record first-year class — 271 more students than last year — underscores the commitment of the University of Kentucky to educate more Kentuckians and other young people, igniting their passions and empowering them to reach their boundless potentials.
"We are the University for Kentucky," said UK President Eli Capilouto in announcing details Friday of the 2019-2020 first-year class to the university's Board of Trustees. "We demonstrate that through our research, service and health care. But we also demonstrate that commitment by educating more students, preparing them for lives of meaning and purpose and supporting and challenging them to dream boldly and achieve greatly — in Kentucky and in the world beyond our state's borders."
"These numbers reflect the continued momentum of the University of Kentucky in recruiting outstanding students from Kentucky and, increasingly, the region and across the country," said Britt Brockman, chair of the UK Board of Trustees. "Most importantly, the numbers reflect the unwavering commitment we have to meeting the needs of the Commonwealth — in the research we conduct, in the service we render in every county of the state, and in the education we provide that is preparing students to not only create a skilled workforce, but in creating a new and stronger economy for Kentucky. These students are imagining anew what is possible for our university and for the state we serve."
Other highlights from preliminary data released Friday for the first-year class in 2019-2020, include:
Greater levels of diversity: The first-year class has 996 students from underrepresented populations — nearly 19% of the class — up from 863 last year. At the same time, the number of African American students increased to 372, up from 367 last year. And the number of Hispanic students reached a record level of 349, up from 250 last year.
Educating more Kentuckians: The number of Kentucky residents in the first-year class increased to 3,421, up from 3,259 last year. That's the largest number of Kentuckians in the first-year class since 2009.
More students transferring to UK from community colleges and other institutions: 1,032 transfer students enrolled at UK this fall, the highest in five years.
Outstanding academic quality and preparedness: Twenty-one first-year students had a perfect ACT or SAT score, a record. The previous record was 15. The average ACT score in the first-year class was 25.8 and the average GPA was 3.78 — both numbers are roughly the same as last year. For Fall 2019, 829 first-year students enrolled in the Lewis Honors College, compared to 604 last year.
"We have outstanding enrollment and student and academic life professionals who tirelessly work to recruit students and to support and challenge them as they join this special community," Capilouto said. "We put students first in everything that we do at the University of Kentucky. In doing so, we honor our mission and purpose as Kentucky's university."