Reminder About Campus Moped, Scooter Regulations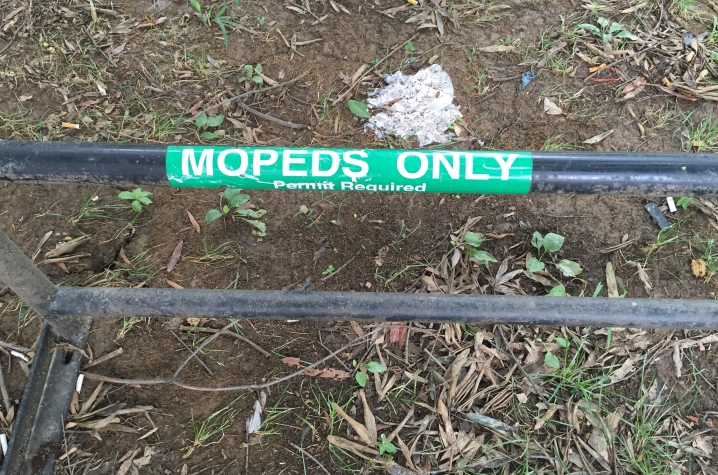 LEXINGTON, Ky. (Aug. 10, 2015) — As the new academic year approaches and much of the University of Kentucky family returns to campus, it is important to keep in mind some basic information and regulations while traveling to and throughout campus.
While some walk, bike or drive to campus, other students and employees elect to ride motor scooters.
According to University of Kentucky Police Department Capt. Kevin Franklin, "The university has seen an increase in the inappropriate and illegal use of mopeds on campus."
There are a few important things to keep in mind if you choose to use this mode of transportation.
Scooters, mopeds and motorcycles are required to obtain a parking permit from Parking and Transportation Services and utilize motorcycle parking areas on campus. These areas are conveniently located throughout campus and are marked by the presence of signage, green lines or both. Mopeds may also park at moped-only parking racks, which are located in front of Memorial Coliseum and between Funkhouser Building and the Advanced Science and Technology Commercialization Center (ASTeCC).
Scooters, motorcycles and mopeds are not authorized to park at bicycle racks, or in any area that is not listed above. Additionally, scooters, motorcycles and mopeds are not permitted to drive or travel on sidewalks, bike paths or lawns.
Director of Parking and Transportation Services Lance Broeking said that it is important for moped and scooter users to understand why these policies exist.
"These policies are designed to encourage safe operating and parking procedures for these vehicles, as well as free up areas for bicycle-only parking." He further explained, "It is essential to remember that no matter how you choose to get to work or class, we are all members of the UK community and should be safe and respectful in traveling and parking on campus."
 
MEDIA CONTACT: Blair Hoover, (859) 257-6398; blair.hoover@uky.edu