Staff from The Study to Present at National Conference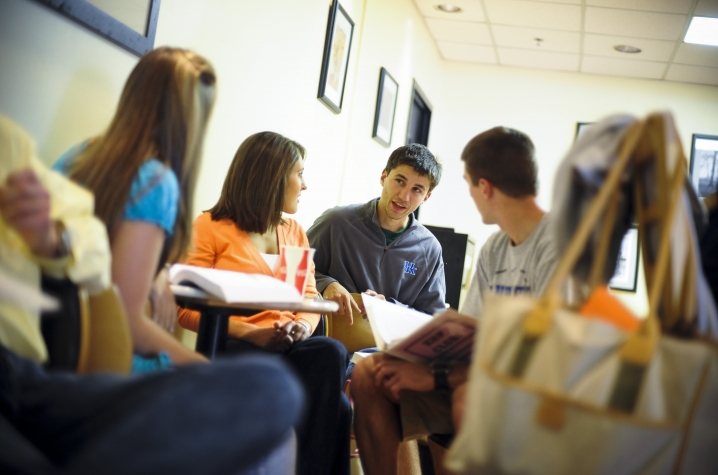 LEXINGTON, Ky. (July 12, 2011) — Academic Enhancement is best known for the assistance it offers University of Kentucky students, but The Study's staff is also making a difference beyond the border of our campus. This year's National College Learning Center Association (NCLCA) has invited staff, graduate students, and undergraduate students from The Study to present at its annual conference in Indianapolis this fall.
Instructional staff member Dana Malone and Academic Enhancement Assistant Director Anna Gatewood will share their presentation, "Critical Competencies for Success in the College Classroom: Strategies for Developing Critical Thinking Skill Sets." Focusing on curriculum strategies meant to improve student's critical thinking, Malone and Gatewood will share strategies they have implemented over the last academic year in a course targeting students with low academic performance. The methods presented are directed at building critical reading, writing, and reasoning skills and are adaptable to numerous disciplines and courses.
Another presentation, "Using Assessment to Further Develop Programs Dedicated to Student Excellence," will be given by Elizabeth Neiser, assessment coordinator and James Breslin, associate director of Academic Enhancement.  They will share their assessment plan, developed to make sure learning outcomes are met each year. Incorporating student opinions is a component of this plan, which serves The Study's student-responsive and student-centric programs.
The Study's last presentation will be given by Breslin and Stephanie Sipp, an undergraduate student who serves as a student program coordinator at The Study. "Cost-Effective Leadership: Capitalizing on the Returns from Investing in Our Students,"  will share our Student Program Coordinator model, which focuses on overcoming new challenges in higher education while benefiting undergraduates with unique leadership opportunities.
In addition to three presentations, The Study also will have a poster session at this year's NCLCA featuring reading workshop instructor Bethany Sharpe's "Using Technology to Create Book Clubs across Continents for Students in College Reading Classes."
For more information on the National College Learning Center Association and its annual conference, visit their website at www.nclca.org.
Open to students, faculty and staff at UK, The Study provides a variety of services to promote Academic Enhancement across campus. With peer tutoring available in several courses, The Study offers students free, proactive academic assistance in a relaxed learning environment. It also offers several programs to the public, including ACT prep programs and placement testing for incoming undergraduate students. For more information on what's going on at The Study, follow on Twitter at @TheStudyScoop or friend "The Study" on Facebook.
MEDIA CONTACT:  Keith Hautala, (859) 323-2396 or keith.hautala@uky.edu