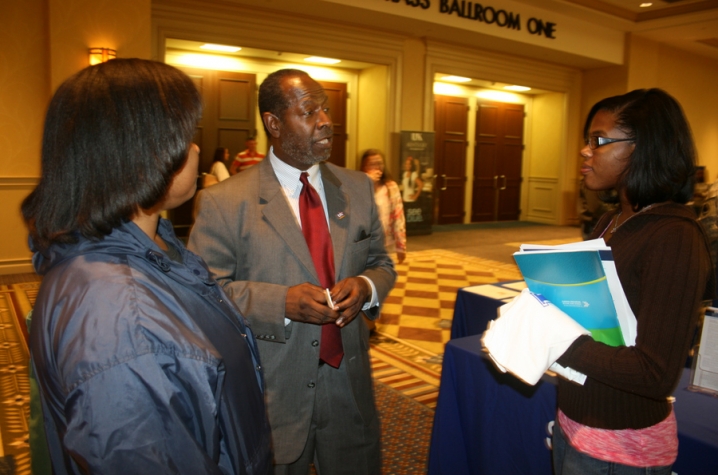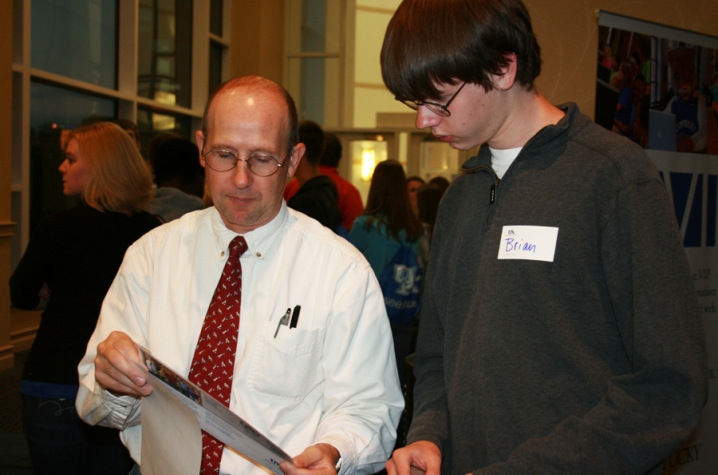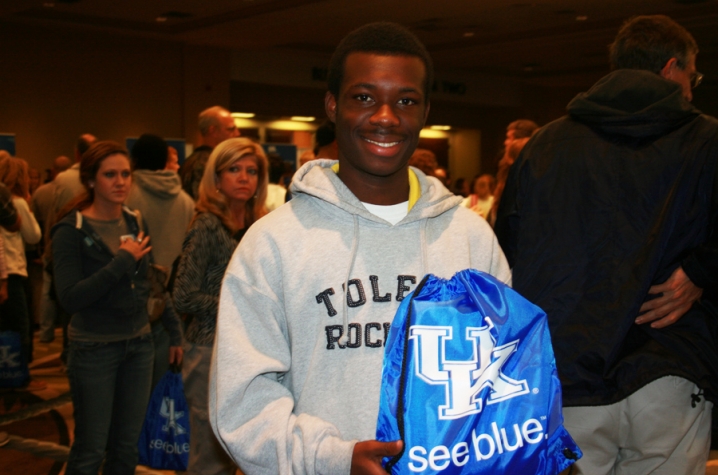 LEXINGTON, Ky. (Aug. 31, 2010) – The University of Kentucky hits the road to share a taste of campus life with high school students across the state and region.
During the next several weeks, faculty and staff from numerous colleges and departments at UK will travel across the Commonwealth and even outside the state during upcoming see blue. Preview Nights.
"We have expanded our reach this year to include additional Preview Nights in strategic areas based on prospects and applicants," said Don Witt, vice provost for enrollment management.  "We will be adding Dayton, Ohio and Chicago and look forward to meeting all of the great students and families from these areas and all of our Preview Night venues."
The Office of Undergraduate Admission and University Registrar, along with various departments and colleges across campus, will send representatives to set up special events in 16 different communities throughout the state and region, as well as in Lexington. 
"We couldn't be more excited to take UK on the road to begin to introduce students who may not be familiar with the University of Kentucky to what we have to offer," said Brian Troyer, associate director of admissions.  "By working with our academic colleges, who are tremendously supportive of our efforts, we strive to basically bring as much of the university as possible to each of these cities."
Students attending the community events will be able to visit various booths to learn how the university fits in with their goals and interests for the future.
"Preview Nights are very valuable because we are able to take UK to the student by covering all aspects of the enrollment process from visiting campus to applying for admission, financial aid, and scholarships," said Witt.  "We are able to showcase what really sets UK apart – all of the outstanding academic offerings – with over 200 majors! In addition, we are able to promote many areas including Housing, eUreKa!, AMSTEMM, the Honors Program, Discovery Seminars, Living and Learning Communities, and Education Abroad, just to name a few."
The unique part of this event is that students and their families actually get to talk with faculty, staff, and current students about academic programs, campus activities, and student life.

"Preview Nights represent the best of UK and the collaborative spirit and support from the campus community," said Witt.  "It is truly a team effort and I think everyone enjoys being able to talk with prospective students and families about their academic and extracurricular opportunities and offerings."

Here is the schedule for upcoming see blue. Preview Nights:

-Paducah: 7 p.m. Tuesday, Aug, 31, Luther F. Carson Center, 100 Kentucky Ave.
-Owensboro: 7 p.m. Wednesday, Sept. 1, River Park Center, 101 Daviess St.
-Elizabethtown: 7 p.m. Thursday, Sept. 2, Pritchard Center, 404 Mulberry St.
-Somerset: 7 p.m. Tuesday, Sept. 7, Center for Rural Development, 2292 S. Highway 27
-Lexington: 7 p.m. Wednesday, Sept. 8, Bluegrass Ballroom at the Lexington Center and Rupp Arena, 430 W. Vine St. (Click here to access the parking voucher needed for this location).
-Dayton, Ohio: 7 p.m. Thursday, Sept. 9, Dayton Marriott, 1414 S. Patterson Blvd.

-Hopkinsville: 7 p.m. Tuesday, Sept. 14, James E. Bruce Convention Center, 303 Conference Center Dr.

-Bowling Green: 7 p.m. Wednesday, Sept. 15, Holiday Inn & Sloan Convention Center, 1021 Wilkinson Trace
-Pikeville: 7 p.m. Tuesday, Sept. 21, Eastern Kentucky Exposition Center, 126 Main St.
-Ashland: 7 p.m. Wednesday, Sept. 22, Paramount Arts Center, 1300 Winchester Ave.
-Louisville: 7 p.m. Thursday, Sept. 23, Kentucky Fair & Exposition Center, 837 Phillips Ln. (Click here to access the parking voucher needed for this location)

-Columbus, Ohio: 7 p.m. Tuesday, Sept. 28, Hilton Columbus at Easton, 3900 Chagrin Dr.

-Covington: 7 p.m. Wednesday, Sept. 29, Northern Kentucky Convention Center, One W. River Center Blvd. 
 
-Maysville: 7 p.m. Thursday, Sept. 30, Mason County High School, 1320 US 68
-Chicago: 7 p.m., Tuesday, Oct. 5, Hotel Arista, 2139 Citygate Lane, Naperville, Ill.

-Indianapolis: 7 p.m. Thursday, Oct. 7, Scottish Rite Cathedral, 650 N. Meridian St.

-Nashville, Tenn.:  7 p.m. Tuesday, Oct. 12, The Factory at Franklin, 230 Franklin Rd., Franklin, Tenn.
 
For directions, visit www.uky.edu/Admission/collegefair.htm.  For other questions, visit www.applyuk.com or call (859) 257-2000.
Click on the video player below to watch the video about this year's preview night schedule, or visit: http://www.youtube.com/watch?v=FdmzWyKHLl0.