Toyota Gift to Help Math, Science Teaching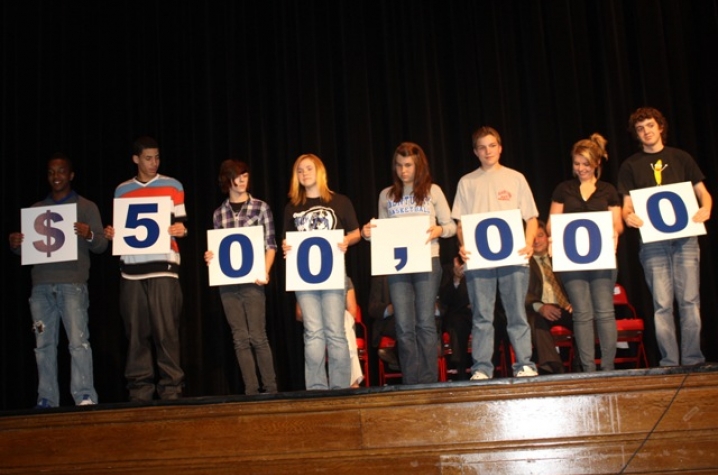 LEXINGTON, Ky. (April 26, 2010) − Toyota USA Foundation has awarded a $500,000 grant to a University of Kentucky program designed to help K-12 teachers develop more effective methods of teaching math and science in 13 central and northern Kentucky urban school districts.
The grant will allow the UK Partnership Institute for Mathematics and Science Education Reform (PIMSER) to provide teacher-driven teams assisted by university and college faculty in developing localized strategies for improving teaching and/or student learning in their mathematics or science programs.
"I am particularly pleased that the Toyota USA Foundation has decided to fund the expansion of a successful STEM education model approach that was developed by our Appalachian Math and Science Partnership," said UK President Lee T. Todd Jr. "It allows us to expand a 'best practice' developed by the National Science Foundation-funded project. Too often when a grant ends there is no way to sustain or scale innovative projects. But Toyota has again demonstrated its commitment to improving education in the Commonwealth by providing us the resources we need to deliver this innovative project to more Kentucky students."
Steve St. Angelo, president of Toyota Motor Manufacturing Kentucky Inc., said, "Since our arrival, Toyota has made education one of our primary focuses of community support. We have enjoyed a great partnership with our friends at the University of Kentucky as well as the Northern and Central Kentucky school districts. We look forward to their successful mission to enhance the teacher-student experience."
 "This program recognizes and utilizes the knowledge and experience gained by P-12 teachers in classrooms that is essential for successful engagement partnerships with higher education faculty that brings about sustainable curricular reform and student achievement. The participants are appreciative of the recognition and significant support of this approach by the Toyota USA Foundation and the Kentucky Toyota Group," said UK Associate Provost for Educational Partnerships John Yopp, the project's principal investigator.
PIMSER's Partnership Enhancement Project (PEP) will provide planning guidelines and training to teachers to help determine their district's students' specific mathematics and science needs. Math and science professors at UK and several other colleges and universities use research based strategies to provide intervention plans for those specific needs. The teachers also will receive training on how to write professional development plans.
The professional development guidelines could support a variety of proposals or plans. Examples of possible proposals are:
  -- Improving student achievement scores for mathematics and science
  -- Implementing and improving assessment methods
  -- Improving academic subgroup scores
  -- Improving classroom instructional strategies to include problem-based learning and inquiry
  -- Improving data-driven decision making for classroom teachers and distributed leadership, and
  -- Increasing collaboration between K-12 school districts' faculty and university/college faculty.
Participating school districts are, in northern Kentucky, Bellevue Independent, Boone County, Campbell County, Covington Independent, Dayton Independent, Kenton County, Newport Independent, Silver Grove Independent and the Diocese of Covington Department of Catholic Schools.
In central Kentucky, participating districts are Bourbon County, Fayette County, Scott County and the Diocese of Lexington Catholic Schools.
"The Toyota USA Foundation grant will provide school districts opportunities to collaborate with other school districts having a shared need to improve teaching and student learning in mathematics and science," said Gary Rye, superintendent of Dayton Independent Schools in Campbell County. "Universities will provide expertise from higher education to partner as part of the team to assist schools. This collaboration will bring about a long-term dialogue between schools and higher education for school improvement. The districts will provide the higher education with expertise that classroom teachers have gained over the years enabling professors to prepare new teachers before they are employed by the districts. This is a win-win situation for all."
"The Toyota USA Foundation grant is a wonderful example of being a Professional Learning Community," said Lana Fryman, superintendent of Bourbon County Public Schools in Paris, Ky. "Businesses, like Toyota, colleges, like UK, and our local schools, are all working together to train teachers that will educate our children to their fullest. A well educated citizenry is the foundation of a great and successful country."
In addition to UK, Bluegrass Community and Technical College, Georgetown College, Northern Kentucky University, Thomas Moore College and Transylvania University will provide faculty mentors and technical support.
PIMSER is an outgrowth of a National Science Foundation (NSF) grant to UK that established the Appalachian Math and Science Partnership (AMSP) program to help K-12 math and science teachers develop innovative and more effective teaching methods in rural school districts. The $24 million grant has expired, but UK is continuing to expand the program through private foundation and corporate grants.
AMSP helped teachers in school districts in four Appalachian states develop localized approaches to improving students' understanding of math and science, resulting in improved test scores. The teachers usually designed their local programs and were mentored by UK professors of mathematics, physics, chemistry and other sciences. Some of the teaching methods that were developed were so successful that UK professors integrated them into their classrooms.
The Toyota USA Foundation charitable endowment was established in 1987 to support education programs serving kindergarten through 12th grade students and their teachers in the United States, with an emphasis on mathematics, science and environmental science. For additional information about the Toyota USA Foundation, visit www.toyota.com/foundation.