Transportation Services Improves Pedestrian Experience on University Drive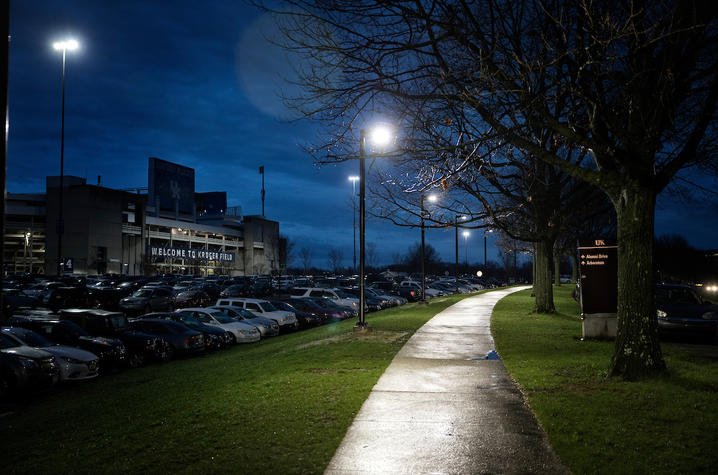 LEXINGTON, Ky. (April 24, 2018) —  University of Kentucky Transportation Services, in cooperation with the UK Pedestrian Advisory Committee, funded the addition of pedestrian lighting along the Kroger Field side of University Drive between the Blue Lot bus shelter and Cooper Drive, adjacent to the Red Lot.
"The pedestrian lighting improvement along the University Drive corridor has significantly improved the pedestrian environment and increased the visibility and walkability for those who park in the campus periphery," said Lance Broeking, director of UK Transportation Services and chair of the Pedestrian Advisory Committee (PAC).
This pedestrian enhancement is the latest in a series of projects undertaken by the PAC since its formation in August 2017. The committee spearheaded the all-way pedestrian scramble crosswalk at Prall Street, promoted the installation of raised crosswalks on Hilltop Avenue at the Rose Street Garage and on University Drive at Lewis Hall, and funded the installation of a series of raised crosswalks on Complex Drive.
The PAC has a number of infrastructure improvements planned for completion this summer, prior to the return of students in the fall. These projects will continue the momentum of pedestrian improvements created over the past year, by adding, improving and enhancing the pedestrian infrastructure in a variety of locations across campus.
For more information about the Pedestrian Advisory Committee, visit www.uky.edu/transportation/pedestrian.