Triple Crown Hopeful Wins Second Look in New UPK Book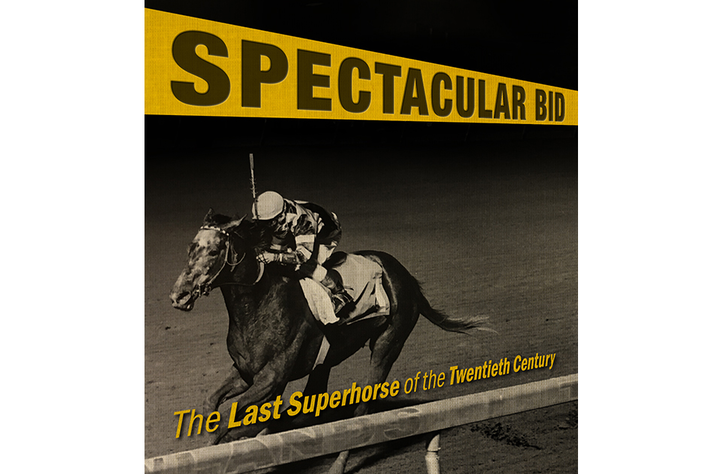 LEXINGTON, Ky. (Sept. 30, 2019) — A safety pin is all that kept Spectacular Bid from becoming the 11th thoroughbred to take the Triple Crown in 1979. In this new book, "Spectacular Bid: The Last Superhorse of the Twentieth Century," Peter Lee examines Spectacular Bid from his humble beginnings ― from birth in a mud puddle on a horse farm in Versailles, Kentucky ― to his recognition as one of the greatest American racehorses.
On the morning of the 1979 Belmont Stakes, Spectacular Bid stepped on a safety pin in his stall, injuring his foot. He impressively won the first two races ― the Kentucky Derby and the Preakness ― but finished third in the Belmont, most likely due to his injury, making him one win shy of becoming the sport's third straight Triple Crown champion.
But that loss did not prevent him from becoming one of horse racing's greatest competitors. After taking two months to recover, the battleship gray colt would go on to win 26 of 30 races during his career, with two second-place finishes and one third. Voted the 10th greatest thoroughbred of the 20th century by Blood-Horse magazine, "A Century of Champions" places him ninth in the world and third among North American horses, ahead of the renowned Man o' War.
Lee tells the story of the honest and not-so-glamorous colorful characters surrounding the champion ― including Bud Delp, the brash and cocky trainer who distrusted the Kentucky establishment, and Ron Franklin, the 19-year-old jockey who buckled under the stress and pressure associated with fame ― and how they witnessed firsthand the splendor and triumphs of Spectacular Bid.
Including contemporary newspaper accounts of Bid's exploits and interviews with key players in his story, this is an encompassing look into the legacy of one of horse racing's true champions.
Lee, a former journalist, maintains the blog "The Way to Churchill Downs," which reports on Kentucky Derby hopefuls for the coming year. He is also the author of "The Death and Life of Mal Evans."
The University Press of Kentucky is the scholarly publisher for the Commonwealth of Kentucky, representing a consortium that includes all of the state universities, five private colleges and two historical societies. The press' editorial program focuses on the humanities and the social sciences. Offices for the administrative, editorial, production and marketing departments of the press are found at the University of Kentucky, which provides financial support toward the operating expenses of the publishing operation.