UK Adds Primary Care Options for Insured Employees and Family Members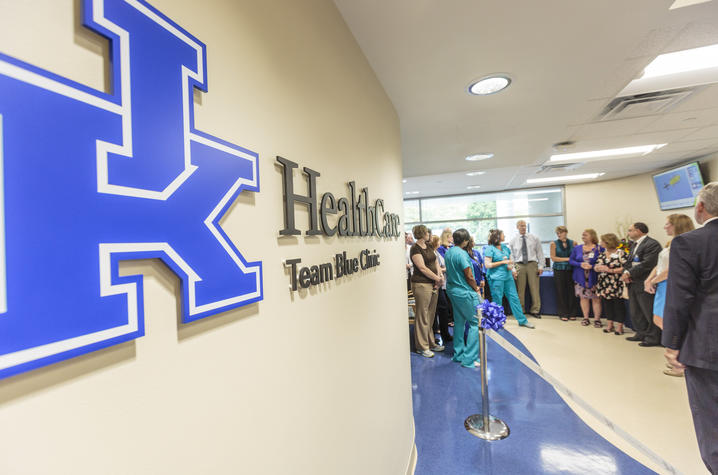 LEXINGTON, Ky. (Sept. 19, 2017) — University of Kentucky employees and their family members now have more ways to access primary care — a new clinic dedicated to those on a UK insurance plan and "virtual" visits with providers.
The new Team Blue Primary Care Clinic is now open at Kentucky Clinic South. Any faculty or staff member on a UK health insurance plan, and any family members included on their plan, can visit the clinic for primary care.
Some UK employees have experienced a wait when scheduling a primary care appointment with a UK HealthCare provider. The Team Blue clinic aims to make it easier.
Faculty and staff can schedule an appointment at the clinic by calling 859-218-5999.
Here are some of the highlights of the clinic designed just for UK employees and their UK-insured family members:
The clinic is led by Dr. Heidi L. Frazier.
Two experienced advanced practice providers are also on site to offer care: Melissa Walters, FNP-C APRN, and Merrille Stevens, FNP-C APRN.
Employees and their family members on a UK health insurance plan can receive routine primary care.
The clinic will also offer same-day appointments when employees and their family members are sick.
HR Health & Wellness will be on site to guide patients toward any health and well-being services that might be beneficial.
In addition to the Team Blue clinic, UK's health plan administrator, Anthem, is now offering virtual visits with a doctor or therapist on a smartphone, tablet or computer with a webcam.
Online visits using LiveHealth Online are a covered benefit under UK's health insurance plans. All users need to do is sign up at www.livehealthonline.com or download the app to their mobile device. The first 400 people to sign up for LiveHealth Online by Oct. 30 will receive a $5 gift card and be entered for a chance to win a $100 gift card.
Doctors using LiveHealth Online can provide medical care for common conditions, such as the flu, colds, pink eye and more. They can also send prescriptions to a pharmacy. Visits cost $10 for all plans, except the UK Indemnity plan, which is subject the $10 co-pay plus co-insurance.
Two webinars are scheduled for Sept. 21 to learn more. Anyone attending the webinar will be entered for a chance to win a $50 gift card. Register here for the 10-10:30 a.m. webinar Sept. 21. Register here for the 3-3:30 p.m. webinar Sept. 21.
All gifts cards are subject to taxation, per IRS regulations.
These are just the latest steps to ensure UK employees and their family members have access to high-quality care, including opening the UK Health Plans Urgent Care Clinic and making primary care available at local Concentra clinics.