UK Is a Barnett Family Tradition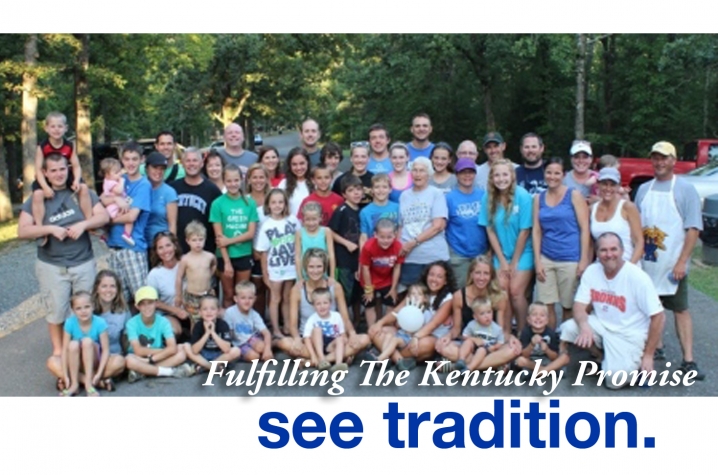 LEXINGTON, Ky. (Oct. 9, 2012) ― It all started in Louisville, with Robert and Delores Barnett, the patriarch and matriarch of what is one of the largest UK families in memory. Robert Barnett earned a bachelor's degree in pharmacy from UK in 1959 and, since then, the family has never looked back on its UK roots.
What's so special about this family, you ask? Robert and Delores Barnett had 12 children, and they raised each of them with a love for the University of Kentucky. Each of their children agreed on one thing: they all wanted to attend the University of Kentucky. And that they did, and they all earned their degrees from UK.
"I just think my oldest son decided he wanted to go there and it rolled from each child to the next," said Delores Barnett, a diehard UK fan who graduated from a nursing program at Saints Mary and Elizabeth Hospital in Louisville. "I don't think anyone felt that they had to. I just think it snowballed."
It is obvious that Delores Barnett is truly loved by each of her 12 children and 34 grandchildren who say she gave them the strength and encouragement to pursue their dreams. However, she has a deep appreciation for her children's hard work during their college years.
"The truth is, one of the things I am most proud of is that they put themselves through college on scholarships, loans, grants and jobs," she said. "They all turned out beautifully. Life with 12 kids was never hard. Probably at times we struggled, but we accepted each one that came along, and I don't think they ever felt neglected."
The Barnetts are a tight-knit family, often getting together for holidays and family outings to their favorite spot at Kenlake State Park. However, in 2004, beloved husband and father Robert Barnett passed away.
"They loved their dad a lot," Delores Barnett said. "I was so proud of him. He was a great provider. We were never rich but always happy. I am so grateful to have my children. If I need something, they're always here. I have been blessed."
Delores Barnett is also excited about some of her grandchildren who have decided to attend UK. So far, one granddaughter has graduated from UK, three grandsons are current students and another granddaughter will be a UK freshman next year. It's possible there will be more to come!
Each of the 12 Barnett siblings has a unique view of time attending UK.
Bob Barnett '82 EN of Louisville: "I was the first, so it was really cool when I was a senior and would come across three other siblings at social events or football games. We still meet at football games and tailgate."
Kathleen Barnett Russell '83 ED of Louisville: "I went to UK because my older brother (Bob) went there. Being only the second child, I really did not consider going elsewhere."
David Barnett '86 CI of Louisville: "I was born into the Big Blue Nation. I have early memories sitting in my parents' kitchen and listening to Cawood Ledford on the radio calling UK football and basketball games. I was hooked.  My father was a graduate of UK with a degree in pharmacy, so we were all pretty 'blue' from day one."
Ruth Barnett Grimm '87 NUR of Lexington: "One of my favorite memories is working at Commons Cafeteria (even the dish room). David and I worked there together for several years and made great friends doing so. This group tended to get together on weekends to socialize, too. It was nice having a big brother look out for me at parties."
Judith Barnett Boehman '89 PHA of Carmel, Ind.: "I remember loving the fact that I always knew someone on campus. I felt I had a one-up on other students. What a blessing to have the experienced advice from my older siblings. Some experiences, such as my very first college party hosted by my older brother, David (off campus, of course), I could have used a little more advice about. I learned to 'cash in' my food plan on Friday afternoons if I was headed home. I stocked up on bags of Frito Lay products, Hostess treats and six-packs of soda. What fun it was bringing treats home to my younger brothers and sisters."
Jean Barnett Ezell '90 ED of Lexington: "We were raised to 'bleed blue.' I'll never forget going to the store the day after the basketball team won the NCAA Championship in 1978 to buy my victory T-shirt. I was 10 years old!"
Rachel Barnett Harrington '91 AG of Lexington: "I followed in Judith's footsteps to become one of the last ever Lady Kat mascots. I wore the Lady Kat suit from 1988-89 and had a great time traveling with and cheering on the women's basketball team. I loved being on top of the Lady Kat pyramid!"
Patrick Barnett '96 AS of Germantown, Ohio: "I remember coming to visit Bob, Kathleen, and David when they were in school and how cool and huge UK seemed. And the fact that Kathleen lived at Blazer Hall, and I remember seeing some of the basketball players around Wildcat lodge which was the coolest thing ever."
Stephen Barnett '96 BE of Shelbyville: "One of my first memories at UK was going to a football game with Patrick and Rachel. I had been to a few games before but going as a student with my older sister and brother was a special feeling, and it was like 'I have arrived.'"
Maureen Barnett McLean '97 NUR of Louisville: "There are so many memories I have of UK, but I especially remember being in elementary school and going to stay with my sisters in the residence halls during my spring break. I always enjoyed getting to walk around campus with them and eating in the cafeterias."
Tim Barnett '02 '09 HS of Lexington: "As the 11th child, the path to UK had been well cleared for me. I was proud to know that my father had attended UK, and I recognized the success of my older siblings at the university. I also enjoyed my visits on 'little sibs' weekends and at other times throughout the school year."
John Barnett '02 CI of Louisville: "Being the youngest, I was definitely raised to love UK. Kind of hard not to when all my siblings and Dad spoke of how great a place it was and how important it was to their lives. Didn't hurt that all of them, Mom especially, never missed a chance to cheer on the Cats in basketball and football. Although my mom personally never attended UK, she is UK. Her love of the school and the success it has helped her children attain is unparalleled. I've heard her say one of her proudest achievements is that all of her kids graduated not just from college, but from UK."