UK College of Agriculture, Food and Environment Inducts 2014 Hall of Distinguished Alumni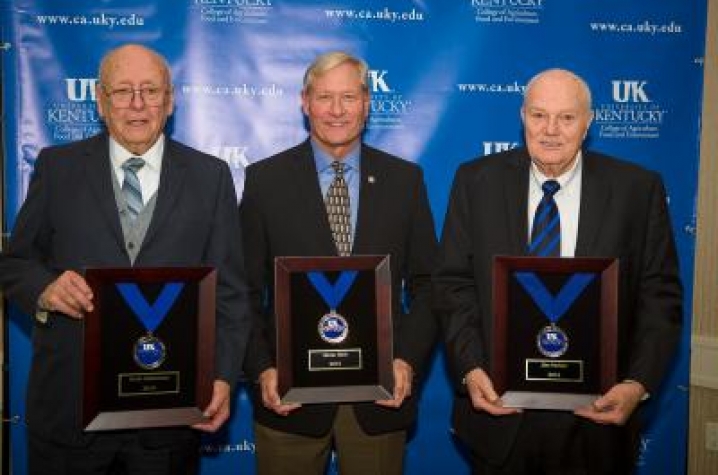 LEXINGTON, Ky. (Feb. 26, 2014) – Illustrious graduates of the University of Kentucky College of Agriculture, Food and Environment were inducted Feb. 21 into the 2014 class of the college's Hall of Distinguished Alumni.
Of the 13 honorees, this year's living inductees are James Mahan, Herbert Ockerman and Glenn Stith. These honorees have had outstanding careers and continue to serve as important members of their fields and their communities.
This award is the highest honor the college bestows. The college's Ag & HES Alumni Association spearheaded the formation of this award. The college's Office for Advancement along with the alumni association administers the program.
"As an alumni association, we are pleased to support the college's highest honor, reserved for an elite group whose professional careers and service have distinguished them," said alumni association president Diana Doggett. "Our distinguished alumni represent some of the most innovative, visionary and influential graduates in the world. We are confident that their impact will be felt for decades and even centuries to come. We are honored to count them among our own."
James "Jim" Mahan, of Lexington, has been an active and important part of Kentucky agriculture since his youth. After receiving his bachelor's degree in animal science in 1967, Mahan devoted his life to his farm, family, youth and agriculture. From opening his farm and sharing it for many years with the local 4-H sheep club, to providing leadership for the development of Locust Trace AgriScience Farm and school, he is an advocate for youth leadership. He also provided leadership and financial support for the construction of the Ag Pavilion at Masterson Station Park.
Herbert Ockerman was born in Chaplin in 1932 and came to UK to play football under legendary coach Paul "Bear" Bryant in 1950, but an injury changed those plans. Ockerman has had a distinguished career in animal sciences at The Ohio State University, where he continues to teach. Through his philanthropic endeavor, he collects and distributes books to libraries throughout the world. To date, he has donated more than $850 million in books to 350-plus global destinations. Ockerman lives in Columbus, Ohio.
Glenn Stith, a native of Meade County, graduated from UK in 1978 with a bachelor's degree in agricultural economics. Immediately following graduation, he joined Monsanto and has held a variety of positions in the company. At his retirement in 2010, he was vice president of commercial operations, North America and Latin America North, for Monsanto's crop protection division. Stith also lends his time and talents to the country's youth, especially through FFA, Alpha Gamma Rho fraternity and the UK Ag & HES Lincoln Trail Scholarship endowment. Stith lives in Ankeny, Iowa.
"These alumni are outstanding leaders in their professions and in society, and it is our honor to acknowledge their contributions," said Nancy Cox, dean of the UK College of Agriculture, Food and Environment. "We are proud of the many distinguished alumni we have in this college. They serve as models to our students of the many diverse opportunities a degree from this college can offer."
This year's posthumous award recipients are Charles D. Bennett, Rose Mary Brooks, Jim Corbin, H. David Hilliard, George M. Kurtz, Ira E. Massie, William A. Seay, Barbara Ellis Taylor, Henry D. White, and Patch G. Woolfolk. Find more information about these honorees at http://www2.ca.uky.edu/alumni.