UK College of Education Shares Ways to Help Students Process Racial Trauma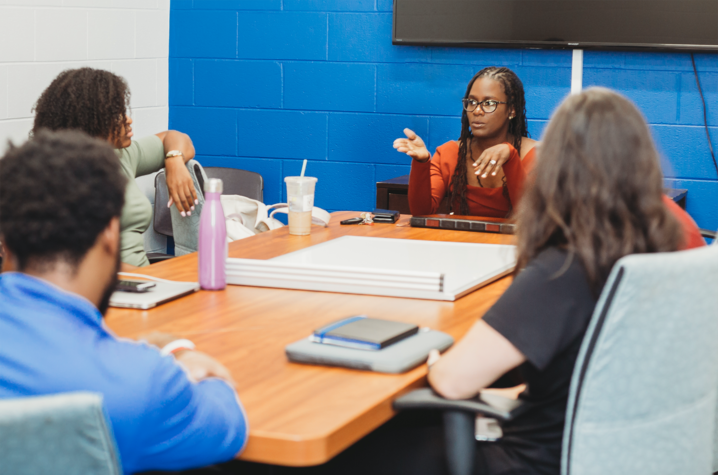 LEXINGTON, Ky. (March 12, 2021) — As anniversaries of the tragedies that sparked nationwide protests against systemic racism approach, faculty members with the Education and Civil Rights Initiative in collaboration with the NAACP, based in the University of Kentucky College of Education, are sharing information to aid school personnel in helping students process racial trauma and feel supported when speaking out on the journey for racial equity.
"It is important for schools to embrace students during painful events, to acknowledge their potential pain and stress and provide ways to help process traumas. As more school districts return to in-person learning, including in Louisville where Breonna Taylor was murdered on March 13 last year, some students and teachers will be together, in person, for the first time while facing reminders of this tragedy and others, such as George Floyd, that so heavily impacted our community," said Gregory Vincent, a professor in the UK College of Education Department of Educational Policy Studies and Evaluation and executive director of the department's Education and Civil Rights Initiative in collaboration with the NAACP — the nation's largest and most preeminent civil rights organization. 
Last fall, the UK Education and Civil Rights Initiative hosted "Navigating Your Teens in Breonna Taylor's America," a webinar focused on empowering students and educators and offering guidance to youth as they search for justice while balancing school, work, friendships, family and their personal well-being.
During the session, UK College of Education assistant professor of counseling psychology Candice Hargons, a prominent voice in the emerging science of racial trauma, described the pain students have likely felt. 
"Racism impacts us, not just in hurt feelings, but in physiological response. That means how your body takes in that information. So, you might see a video or even hear a story about Breonna Taylor's murder, or about any other person that looks like you, being murdered, and you notice a drop in your stomach, you notice your heart rate picks up, you notice you start sweating, you have a hard time breathing. When we continue to be faced with onslaughts of highly publicized instances of murders and violence against people of color, those somatic responses, those experiences in the body, have long-term health consequences. And for Black people and Black students, very often this is invalidated. People think you should get over it. And when you're experiencing that type of pain and don't receive an empathic response — a response where somebody is like 'I feel you,' 'I see you,' 'I get you,' 'I hear you,' —  it goes deeper."
"When someone, such as a teacher, has taken steps to help students feel validated, only then will students feel they can walk into that teacher's classroom environment and discuss difficult and personal topics," said Kenneth Tyler, professor and chair in the UK College of Education Department of Educational, School, and Counseling Psychology.
"Classrooms are places where we should be able to feel a sense of belonging and where there are high expectations for achievement. If we cannot bring this very intimate and difficult piece of who we are and what we have experienced as a Black person into a space, it amplifies the hurt. So, we have to create spaces where students can talk, feel validated and bring topics surrounding racial trauma into conversations without getting in trouble for talking about it," Tyler said.
"It is important to consider the burden it places on children and teens when teachers are not adequately prepared to engage in discussions about racial realities with their students," said Cheryl Matias, a professor in the UK College of Education Department of Curriculum and Instruction and a leading voice in racially just teacher education scholarship.
"The adults in students' lives have responsibilities and commitments to acknowledge and help lead discussions on the racial realities faced by students of color," Matias said. "The majority of teachers in the U.S. are white, around 80%, and every teacher should be prepared to deal with racial realities. They need to understand how racial traumas are produced and how they themselves engage in microagressions. This is not a burden students should shoulder on their own."
The burden, however, is not solely on teachers. It's also on the systems that train the teachers and the environments where they teach.
"Whether or not teachers can understand Black pain is going to be tied to whether or not they got a degree where they were charged with understanding Black pain," Tyler said. "If that doesn't happen, we are sending them out to do more harm with Black student populations, but that is not the teacher's fault. Even the most knowledgeable teachers are only going to be able to do what administrators say can be done in their classrooms. So, now we have to think about educational leadership. Now we have to think about who's sitting on a board of directors for a county school board. Now we have to think about what their superintendents are thinking and how they see Black bodies and Black minds. In the absence of that, we will continue to have this conversation the second somebody else Black dies."
It is important for school leaders to not create policies that prevent students and teachers from having class discussions around racially sensitive topics, Hargons said.
"Research shows the impact of vicarious racial trauma on Black students, and being prevented from having these discussions amplifies it. Some of the consequences are that you have a hard time concentrating and you feel hyper vigilant when you walk into the classroom. You feel devalued and might experience higher levels of stereotype threat or feeling like imposter syndrome, like you don't deserve to be there, that you can't raise your hand. All of those are actual, research-based evidence of why schools should not make a decision to prevent class discussions." 
The UK College of Education has several upcoming opportunities for teachers, school leaders and others who want to build their capacity to help youth process racial trauma. 
"As a college of education, it is imperative that we help provide resources for teachers and school leaders who want to grow in their ability to recognize unconscious bias, create socially and racially just classrooms and support students who are processing racial trauma. We consistently evaluate our teacher education programs to ensure we are preparing students in our college — aspiring teachers and leaders — to go into their careers with the skills and the desire to continuously learn and grow. Each year, as we evaluate our programs, we make more intentional and more robust connections in culturally responsive and social justice-oriented teaching practices. To move the needle, we have to build capacity from all angles, and that includes working closely with our communities," said Margaret Mohr-Schroeder, associate dean for clinical preparation and partnerships, and a professor of STEM education.
During the "Navigating Your Teens in Breonna Taylor's America" webinar, the panelists said teachers and other adults should work to empower young people to be effective in their civic engagement.
"For instance, one of the reforms that we hope will come out of this, in response to Breonna Taylor's murder in Louisville, are laws to limit the use of no-knock warrants in Kentucky," Vincent said. "I think that one of the things we have to think about, while we protest, is making sure we change policy and practice so we can feel safe in our own homes."
Young people have a unique ability to use their energy, power and sheer numbers to move change, Hargons said. 
"The older you get, the more fatigue you feel with having been in the game for many years doing this work. Racial battle fatigue and racial trauma are real. We don't want progress to lag when older generations are slowed. That's why I like to embolden and empower young people to take it up. One of the myths of racism is we are waiting on someone to save us and actually we don't need that. As people of color, we can come through and transform this system. I always want to highlight that. Even though it should be the responsibility of these systems, I want to always add in that students are powerful — full of power — and in collective power, they have the power to change the system."
As the state's flagship, land-grant institution, the University of Kentucky exists to advance the Commonwealth. We do that by preparing the next generation of leaders — placing students at the heart of everything we do — and transforming the lives of Kentuckians through education, research and creative work, service and health care. We pride ourselves on being a catalyst for breakthroughs and a force for healing, a place where ingenuity unfolds. It's all made possible by our people — visionaries, disruptors and pioneers — who make up 200 academic programs, a $476.5 million research and development enterprise and a world-class medical center, all on one campus.   
In 2022, UK was ranked by Forbes as one of the "Best Employers for New Grads" and named a "Diversity Champion" by INSIGHT into Diversity, a testament to our commitment to advance Kentucky and create a community of belonging for everyone. While our mission looks different in many ways than it did in 1865, the vision of service to our Commonwealth and the world remains the same. We are the University for Kentucky.