UK College of Medicine Celebrates 50 Years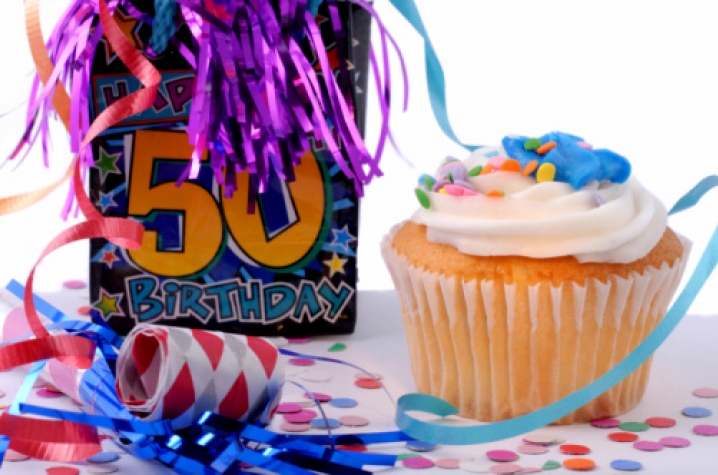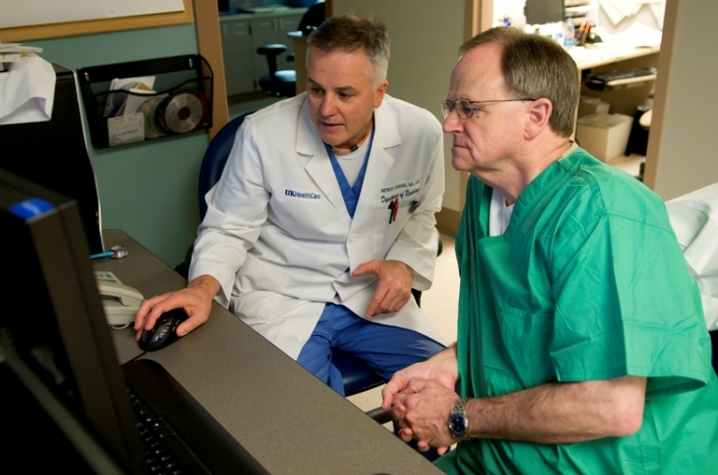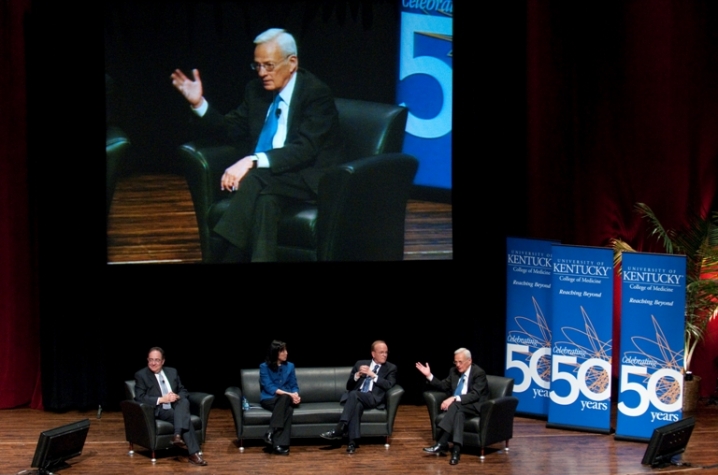 LEXINGTON, Ky. (Oct. 15, 2010) − The year 2010 marks a significant date in the history of the University of Kentucky College of Medicine as it celebrates its 50th anniversary. The festivities culminate on Oct. 15 with the Signature Event, held at the Keeneland Sales Pavilion. This year commemorates individuals who have been a part of the accomplishments of the past five decades and for those who will be a part of its bright future.                                                                                                        

"Over the past half century, the University of Kentucky College of Medicine has been reaching beyond as the state's flagship medical school to educate the best physicians and researchers, provide patient care across the Commonwealth and conduct breakthrough biomedical research," said College of Medicine Interim Dean Emery A. Wilson, M.D. "This year-long celebration is the perfect way to honor the College's rich history and prepare for an even more promising future."                   

More than 50 years ago, ground was broken for the University of Kentucky Albert B. Chandler Medical Center. The university and academic medical center immediately became a cornerstone for educating top physicians, providing outstanding health care, and conducting breakthrough medical research.                               

When the UK College of Medicine first opened its doors, it received more than 400 applications and admitted its first class of 40 students, including 39 men and 1 woman; 33 were Kentuckians, the other seven represented five different states. In 2010, the College admitted 113 students after receiving  2,026 applications. The entering class of 2010 included 48 women and 67 men. Two foreign countries,  15 other states, and 35 Kentucky counties were represented, with  45 students being from rural areas. Over this time much has changed, but the pride and spirit remains.          

This pride stretches far and wide with more than 9,000 alumni, including medical students, graduate research students and houst staff, practicing in all 50 states and several countries around the world. In total, 2,730 alumni are currently practicing across the Commonwealth, generating $6.3 billion annually into Kentucky's economy, according to UK's Office of Health Research and Development.                    

Throughout the year, Kentucky's legislators, the mayor of Lexington, the secretary of the Cabinet for Health and Family Services, Kentucky business and community leaders have all experienced medical school firsthand as "students" in the University of Kentucky College of Medicine's Mini Medical Schools. They experienced – in one day – examples of the events and milestones medical students encounter in four years of training, from white coat ceremony to graduation.    
[IMAGE2]                        

In just nine hours, these "medical students" attended lectures on diabetes and obesity; toured the gross anatomy lab; learned about the differences between a normal and fatty liver in a histology small-group study session; toured radio telemetry labs, metabolic chambers and other research labs to learn how UK studies the effects of hypertension, diabetes and obesity; and participated in clinical rotations with UK physicians, residents and medical students. Finally, they graduated and received their "match day" placement information for residency programs.                        

This anniversary not only provides the opportunity to look at the past, but also dream of the future. The University of Kentucky's College of Medicine hosted an academic symposium, "Preparing Physicians for the Next 50 Years," for its faculty, staff, students and community. The symposium featured nationally acclaimed speakers with diverse backgrounds, such as Dr. Pauline Chen, Paul O'Neill, and Dr. Dennis O'Leary who shared their visions for the future of physicians and the health care system, focusing on the importance of patient safety, the need for radically improving health care delivery and highlighting the benefit of interprofessionalism within medicine and the health care industry.

[IMAGE3]
"We are looking at what kind of physicians we need to create, and how we can prepare our students to provide optimum care for patients," said Wilson. "New standards of care are being established every day, and tomorrow's physicians must embrace several core competencies in order to advance the delivery of health care and the education of future providers."                                                                         

Recently, the college celebrated the union of past, present and future through the White Coat Ceremony, a significant and meaningful tradition, with alumni representatives from the past five decades presenting the newest medical students with their coats.                                                                                                                  
"As we mark our 50th anniversary, we celebrate our past and look to the future," said Dr. Carol Elam, UK College of Medicine associate dean for admissions and institutional advancement. "Our newest students stand on the shoulders of those who came before them. Their entrance into our College of Medicine will change their lives. And through the education they receive here, they will, in turn, change the lives of countless patients. To serve society in such a manner is indeed a privilege."       

As part of the upcoming three-day 50th Anniversary Alumni Reunion and Family Weekend this weekend, the college already expects over 500 attendees to the Signature Event. Attractions inside the Keeneland Sales Pavilion will include a birthday cake designed for the College by none other than Charm City Cakes, made famous by Food Network's top-rated show, "Ace of Cakes." One of the staff members of Charm City Cakes will be in attendance with the specially-created UK College of Medicine cake.                                     

This event will commemorate the rich history of the College with an emphasis on each of the past five decades' food, sights, and sounds, including oral histories from students and faculty throughout the era and special presentations. Musical entertainment will be provided by numerous notable musicians, including the Johnson Brothers, with special guest performer Dr. Jay Zwischenberger, chair of UK's Department of Surgery and 1977 alumnus of UK's College of Medicine.         

The University of Kentucky College of Medicine is currently undergoing construction on UK HealthCare's new $762 million, 1.2 million square-foot hospital and is one of the few universities in the nation to have all six health science colleges (Medicine, Dentistry, Health Sciences, Nursing, Pharmacy and Public Health) on one campus.       

Visit the UK College of Medicine's 50th Anniversary Website to view historical highlights and listen to oral histories of those who helped establish and advance the UK Medical Center.  

Read more about the various 50th Anniversary Events here:
Building a Legacy of Hope, in memory of Dr. William R. Markesbery.

'Founding Father' Played Key Role in Medical Education, in honor of Dr. Robert Straus.

UK College of Medicine First Class, Class of 1964, Reunites, honoring the first medical class.

UK Medical Alumni Honored, celebrating the accomplishments of college alumni.

Take Your Legislator to School Day, highlighting the College of Medicine's inaugural Legislative Mini-Medical School.

Bringing $6.3 Billion into Kentucky's Economy, highlighting the economic impact of UK medical alumni.

Symposium Focuses on Next 50 Years, highlighting the college's Academic Symposium.

Trading in His Ph.D. for a M.D., featuring UK President Dr. Lee T. Todd, Jr. 

UK College of Medicine Welcomes Class of 2014, highlighting the college's White Coat Ceremony.

The Doctors Can See You Now, honoring recent graduates of the UK College of Medicine.