UK Faculty Recognized at Bench2Business Event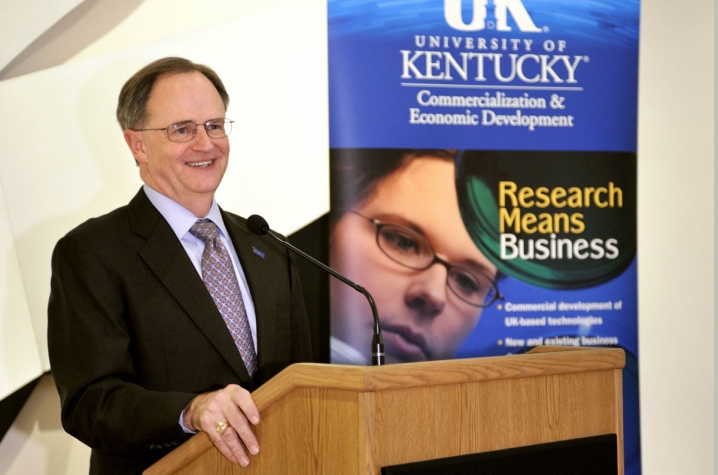 LEXINGTON, Ky. (Dec. 10, 2010) —More than 100 faculty and local entrepreneurs, investors, civic and government leaders turned out recently for the biannual Bench2Business networking event to applaud those involved in commercialization activities during 2010.  Keynote speakers were UK alumni entrepreneurs John A. Williams Sr. '62, founder of Computer Services Inc., and Kim Knopf '82, founder of Sleep Outfitters. B2B was sponsored by the Bluegrass Business Development Partnership, which includes UK Office for Commercialization & Economic Development, Commerce Lexington and the Lexington-Fayette Urban County Government.
UK President Lee T. Todd Jr. recognized faculty and companies for new patents and licenses, SBIR-STTR grants and contracts, investments from Kentucky programs and the Bluegrass Angels, and projects from the new HHS therapeutic discovery program.
Two companies, Escent Technologies and TrackFive Diagnostics, moved into the ASTeCC campus incubator this year, and three companies graduated including Adaptive Intelligence Systems, ParaTechs Corporation and Yaupon Therapeutics.
Companies receiving licenses for technology developed at UK included CoPlex Therapeutics, Equine Diagnostic Solutions, Escent Technologies, Medical Scan Technologies, NuForm Materials, Phillip Morris Products, Porifera, Secure Analytics, Seikowave, Therix Medical Development LTD Co., and TrackFive Diagnostics.
Faculty members were also recognized for receiving patents during 2010. Those receiving patents include Clair Hicks in animal and food sciences; Lou Hersh, Hans Peter Spielmann and Douglas Andres in biochemistry; Stephen Testa, biological chemistry; Darrell Taulbee and John Stencel, Center for Applied Energy Research; Sylvia Daunert, chemistry; Robert Houtz and Mark Alan Williams, horticulture; Brian Murphy, internal medicine; Sue Straley and Bob Perry, microbiology, immunology and molecular genetics; John Littleton, Kentucky Tobacco Research Development Center; Marwan Khraisheh, mechanical engineering; Philip Landfield, Eric Blalock, Kuey-Chu Chen and Olivier Thibault, molecular and biomedical pharmacology; Peter Oeltgen, pathology; Jeffrey Moscow, pediatrics; Peter Crooks, Jurgen Rohr, Chang-Guo Zhan, Hsin-Hsiung Tai and Kyung Bo Kim in pharmaceutical sciences; William Bailey, plant and soil sciences; and Vivek Rangnekar, radiation medicine. A complete list of honorees is availaible here.
Guest speakers were UK alumnus entrepreneurs John Williams '62, Gatton College of Business and Economics, and Kim Knopf '82, College of Arts and Sciences. Williams founded Computer Services Inc. in 1965. The company that provides banking services such as online security, check image capturing and debit card transactions has grown to six brands with more than $150 million in annual sales. Knopf started Mattress Warehouse/Sleep Outfitters in 1983, just a year out of UK. Today, the business has more than 90 retail locations in four states. Williams and Knopf also met with the UK Entrepreneurs and Wildcat Investment student groups.