UK Holding 2nd Annual 'One Day for UK' Online Fundraising Event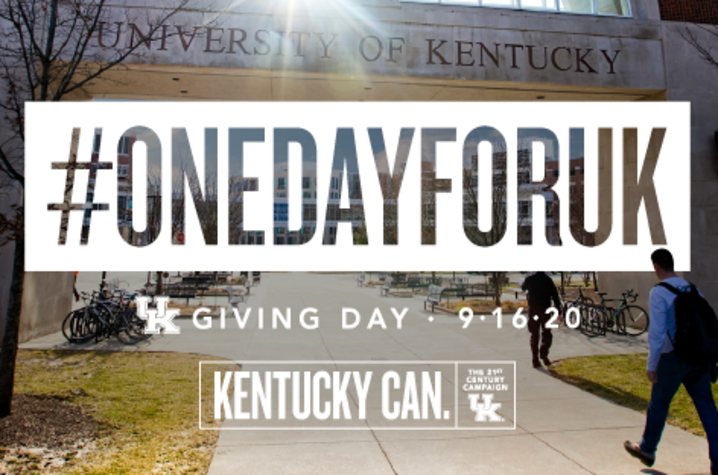 LEXINGTON, Ky. (Sept. 16, 2020) — "One Day for UK," the University of Kentucky's second annual giving day, is today! During the 24-hour fundraising campaign, which is currently underway, donors can give to the college, program or cause of their choice.
"Never before has our pursuit of what's possible been more critical to the future of our Commonwealth and our world. 'One Day for UK' is an opportunity to stand behind our institution and build a brighter future," President Eli Capilouto said. "Together, the University of Kentucky, its students, faculty, staff, alumni and friends can prove that anything is possible. Together, we will show the world what Kentucky can do."
Last year, more than 3,200 gifts were made as part of "One Day for UK," raising more than $1 million and providing key funding across the university, including support for more than 50 causes.
"The opportunities at the University of Kentucky are endless, and 'One Day for UK' allows us to highlight the many programs that can prepare tomorrow's leaders, solve complex problems and enhance each other's lives," D. Michael Richey, vice president for philanthropy and alumni engagement, said. "Each and every gift makes a difference and brings us one step closer to fulfilling our promise of being the University of, for and with Kentucky."
Donors can visit onedayforuk.uky.edu to find causes and make gifts, view real-time progress, read about the impact of "One Day for UK" and more. Supporters can also promote the university's giving day by using #OneDayforUK in posts on social media, participating in challenges throughout the day, and wearing Kentucky blue to show how Big Blue Nation can come together in one day.
"This is a special day for the University of Kentucky as gifts of all sizes come together to make an enormous impact," Katie Sanders Vogel, associate director of annual giving, said. "No matter what you can give, you are part of the UK family, and your support makes an impact."
Thanks to generous donors, challenges and matching fund opportunities will be available throughout the day to multiply the impact of gifts to the University of Kentucky. To celebrate the year 1865 when the university was founded, the donor who makes the 1,865th gift on "One Day for UK" will unlock a matching gift of $1,865 to the college, program or cause of their choice. The UK Office of Philanthropy social media sites will be sharing more challenges and announcing winners throughout the day.
"One Day for UK" supports the university's comprehensive campaign, Kentucky Can: The 21st Century Campaign, which increases opportunities for student success, funds innovative research, improves health care, strengthens the alumni network and enhances athletic programs. Now, more than halfway to its $2.1 billion goal, Kentucky Can benefits from every gift.  
Most colleges, units and causes have selected a specific fund or funds to highlight. A complete list is located online. To join the online conversation, follow #OneDayforUK on all social media platforms.