UK Shines Again in NCAA Academic Progress Rates (APR)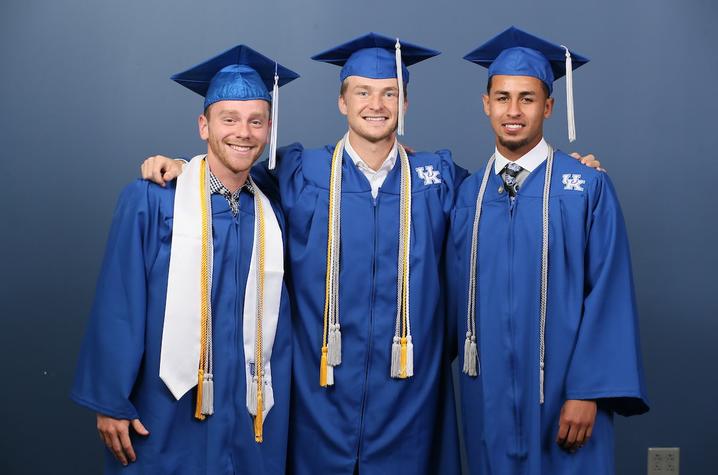 LEXINGTON, Ky. (May 11, 2017) – The NCAA released its Academic Progress Rate report Wednesday, showing that all 22 of the University of Kentucky sports teams surpassed the NCAA cut score. Twenty-one of the 22 squads – the most in school history – exceeded or equaled the national average for public universities in their sports and, for the first time in school history, every Wildcat team scored at least 958.
The men's basketball, men's golf, softball and volleyball teams led the way with perfect 1,000 scores over the previous four years. Each of those teams was recognized last week with a national award for being in the top 10 percent of their respective sports. Having four teams earn the national award tied the school record.
The APR marks are a four-year composite, covering the 2012-13, 2013-14, 2014-15 and 2015-16 school years, taking a real-time look at academic success of scholarship student-athletes. The APR measures academic eligibility, retention and graduation.
Every Division I sports team across the nation calculates its APR each academic year, similar to a report card. Each semester, scholarship athletes earn one point for remaining eligible and one point for staying in school or graduating.
The NCAA cut score to compete in the 2017-18 postseason is a 930 four-year APR. Teams scoring below 930 can face additional consequences, such as practice restrictions or playing-season reductions, to direct more focus on academics.
Another highlight was that 12 UK teams notched perfect 1,000 scores for 2015-16, the most recent school year in the report: men's basketball, women's basketball, men's cross country, women's cross country, men's golf, women's golf, gymnastics, men's soccer, women's soccer, softball, women's tennis and volleyball.
"It's gratifying to have another record-setting year of APR scores," said Director of UK Athletics Mitch Barnhart. "I'm proud of the work our students have done inside and outside the classroom, along with how well the coaches have managed their programs and the guidance provided by our academic staff."
With each team exceeding the NCAA cut score, no Wildcat squads are subject to penalties. None of UK's 22 teams have incurred a penalty during the 12-year history of the APR.