UK Student-athletes on Ethiopia Visit: In Their Own Words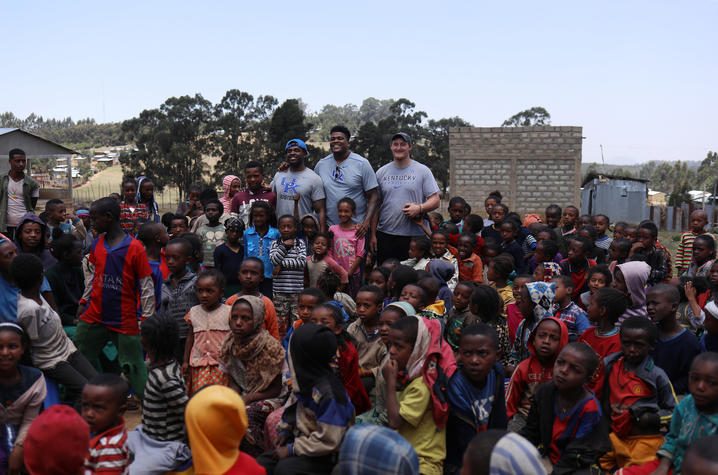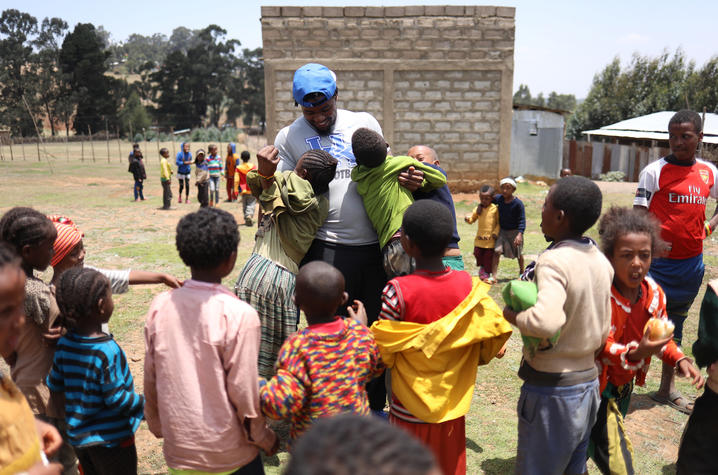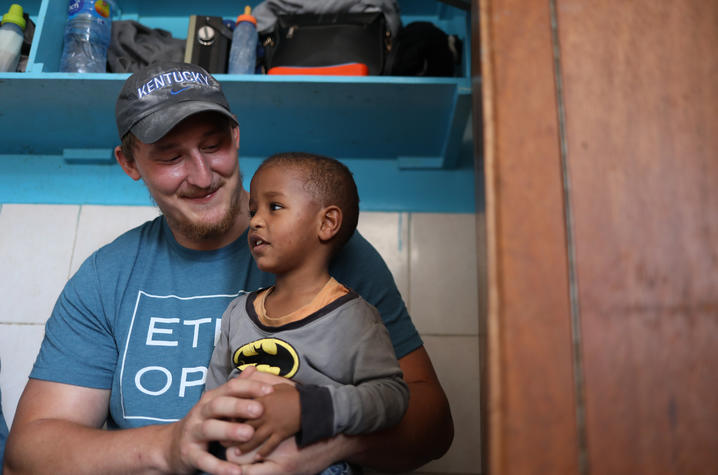 LEXINGTON, Ky. (June 7, 2019) — Another group of University of Kentucky student-athletes recently made a service trip to Ethiopia and each returned with a dramatically different outlook about how other people in the world live, as well as a fresh perspective on their own lives.
Wildcat football players Landon Young, Jamar "Boogie' Watson and Calvin Taylor journeyed together to the African nation and interacted with children and adults who face markedly different challenges from themselves, yet manage to keep a smile on their faces and in their hearts. What follows below, in their own words, are a few thoughts from each of these young men on the impact of this experience.
For a look at the recent media availability with Young, Watson and Taylor, please visit https://ukathletics.com/news/2019/6/3/kentucky-football-press-conference.aspx.
#67, Landon Young, Offensive Tackle
"The process of being able to give an actual hungry kid food was just something that will never leave my mind. Just seeing their face light up, seeing how grateful they were just to get a meal. You saw at the beginning when we fed them that there were a couple of kids that would even pour all of their food onto one plate and share from the same plate because of the different serving sizes that they had. Just to see kids that literally have nothing, that this may be one of their only meals for the week, and most definitely one of their only hot meals for the week, just be so selfless to pour all their food and eat together as a community, that was amazing. Seeing them help out the person next to them and feed the person next to them, give a little bit of food off their plate, that was amazing too. Just to see they don't have anything, and they're willing to sacrifice everything for their friends and their family and people up on that hill … It just really humbles you that we have it so good and these kids are still so selfless that they will share maybe their only meal of the week with somebody else. But again, I'd like to thank Jason (Schlafer), Mr. (Mitch) Barnhart and Coach (Mark) Stoops for putting this together and giving us this once-in-a-lifetime opportunity to do something I never would've been able to go on if it wasn't for UK football to let me do it."
#31, Jamar "Boogie" Watson, Outside Linebacker
"The most impactful thing for me on the trip was going to an area called Korah. It is surrounding a trash dump in Ethiopia. Basically, everyone in that area lives off of the trash dump. The food, their houses, everything they get comes from the trash dump mainly. They said when the airport drops off their trash that's like a five-star meal for them because the airport has the best food. Seeing those kids and their families have to live off of that, seeing the trash dump and seeing that that's where they get their main source of food is kind of crazy to me … They don't have much to be happy about from our eyes, but every person we came across was excited to be there, excited to see us. They walked around with a smile on their face every day. Just being there makes me very grateful to be in the situation I'm in. Every day I think of how grateful I am and how blessed I am to be in the place that I'm in."
#91, Calvin Taylor, Defensive End
"It was an eye opener. It changes your perspective. It gives you a perspective that there is no way I would've gotten unless I went to Ethiopia … I take back a sense of being different. There's no reason to make an excuse that you can't do something, like I can't do this because it's raining or I can't go to class, I can't go to workouts because I'm tired or something like that. It's just really a perspective of there's no reason to make an excuse to do anything. You can do anything. If those people can do anything with very limited resources and I have an abundance of resources just at my fingertips that I can use, then there's no excuse in life for me. Honestly, it gives you the sense that you can do more. That's the main takeaway for me. I can't make any excuses honestly."