UPDATE: Online Classes Extend to End of Semester; Assistance Available for Faculty Making the Shift to Online Classes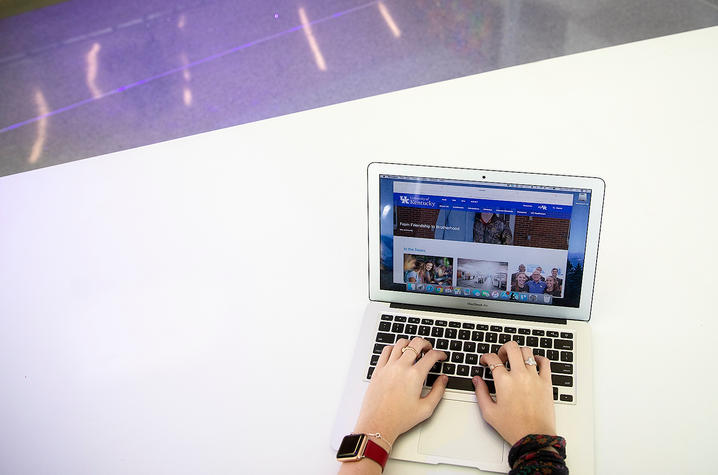 LEXINGTON, Ky. (March 16, 2020) — University of Kentucky President Eli Capilouto on Tuesday announced that UK will move to online or alternative formats for classroom instruction for the rest of the semester in response to the continued spread of the coronavirus (COVID-19).
In a campuswide email Tuesday, Capilouto wrote that he was making a series of moves — including moving to online learning for the rest of the semester — in response to the quickly evolving nature and spread of the virus, continued direction from federal health officials and Gov. Andy Beshear, and the need to build capacity at UK HealthCare to handle expected increases in numbers of patients who have contracted the virus.
All faculty who need assistance with moving their classes online should visit UK's new Teach Anywhere site, which consolidates planning, strategies, tools, tutorials and other information for faculty moving online: https://teachanywhere.uky.edu/.  Teaching, Learning, and Academic Innovation (TLAI) will continue to assist faculty.  TLAI's schedule is below.
"We have a responsibility to do everything we can to stem the tide of this disease. It requires us to make significant changes to honor our most important principles: protecting the health, safety, and well-being of everyone in our community; and enabling our students, faculty, and staff to succeed," Capilouto wrote. "Based on the advice of health experts, guidance from the Centers for Disease Control and Prevention, and directives from Governor Andy Beshear, we are moving quickly and changing direction to be responsive to the needs of everyone in our community."
Specific steps announced Tuesday include:
Instruction will move to online or other alternative learning formats, effective March 23 through the end of the Spring 2020 semester.
Students are being strongly encouraged to return to their residences away from campus to continue their studies remotely through the end of the semester. UK will communicate by Thursday, March 19, about details for moving out of residence halls. Students will be required to return to their homes unless they receive approval to remain on campus.
UK also is developing a process for refunds for housing and dining, which will be communicated in the coming days.
University of Kentucky faculty members can receive assistance immediately in shifting their classes to an online format.
Teaching, Learning, and Academic Innovation (TLAI) is making consultants available now through Sunday, March 22.  All assistance will now be made virtually beginning Tuesday, March 17.
TLAI will host daily office hours via Zoom. See the schedule below. Instructors seeking assistance with Canvas, Zoom, and pedagogical strategies for teaching online are encouraged to attend.
Faculty librarians and other faculty and staff on campus have also volunteered to collaborate with TLAI, who is creating a roster of faculty and staff who are ready to assist their colleagues with Canvas and Zoom.
Daily Office Hours
Virtual office hours will be held via Zoom at https://uky.zoom.us/j/275350313. These times have been scheduled from March 13 to March 22.
Weekdays (Monday through Friday):
8 to 12 p.m. and 1 to 5 p.m.
Weekends (Saturday and Sunday)
1 to 4 p.m.