UPK Book Serves Up 'Kentucky Culinary Trinity'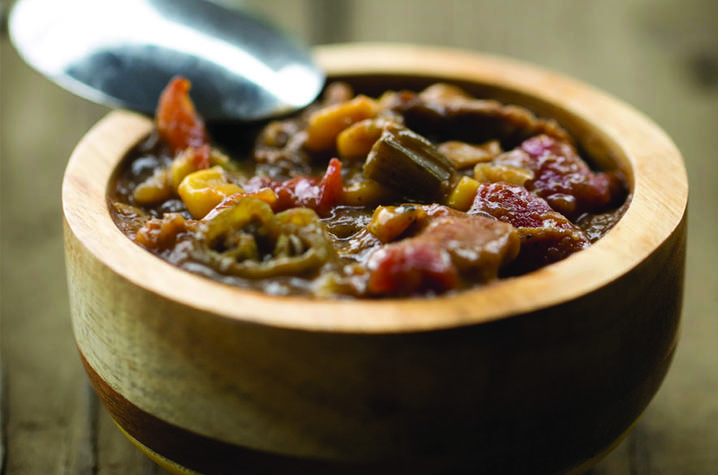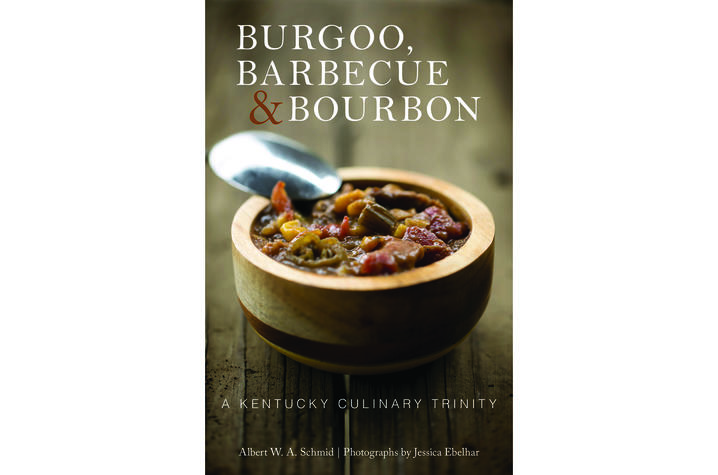 LEXINGTON, Ky. (Oct. 11, 2017) — As Kentuckians celebrate fall in the Bluegrass, it is sure they can be found at Keeneland or tailgating football games with one or more of the trinity of good taste in the Commonwealth — burgoo, barbecue and bourbon. A new book from University Press of Kentucky (UPK) by award-winning author and chef Albert W. A. Schmid serves up a feast for readers wanting to know more about these beloved and tasty treats.
In "Burgoo, Barbecue, and Bourbon: A Kentucky Culinary Trinity," Schmid shares recipes and lore surrounding these storied culinary traditions. Known as the gumbo of the Bluegrass, burgoo is a stew that includes meat — usually smoked — from at least one "bird of the air," at least one "beast of the field" and as many vegetables as the cook wants to add. It is not uncommon to find this dish paired with the Commonwealth's other favorite export, bourbon, and the state's distinctive barbecue.
Schmid introduces his readers to new and forgotten versions of favorite regional dishes from the time of Daniel Boone to today and uncovers many lost recipes, such as mush biscuits, Kentucky tombstone pudding and the original Kentucky whiskey cake. He also highlights classic bourbon drinks that pair well with burgoo and barbecue, like the moon glow, bourbaree, and the hot Tom and Jerry. Featuring cuisine from the early American frontier to the present day, this book is filled with fascinating tidbits and innovative recipes for the modern cook.
Schmid is the director of Culinary Arts and Hospitality Manage­ment at Guilford Technical Community College in Jamestown, North Carolina, and the former director of the Hotel-Restaurant Management and Hospitality Management Departments at Sullivan University's National Center for Hospi­tality Studies in Louisville, Kentucky. He is the author of "The Old Fashioned: An Essential Guide to the Original Whiskey Cocktail," "The Manhattan Cocktail: A Modern Guide to the Whiskey Classic," the award-winning "The Kentucky Bourbon Cookbook" and the award-winning "The Beverage Manager's Guide to Wines, Beers and Spirits."
UPK is the scholarly publisher for the Commonwealth of Kentucky, representing a consortium that includes all the state universities, five private colleges and two historical societies. The press' editorial program focuses on the humanities and the social sciences. Offices for the administrative, editorial, production and marketing departments of the press are found at the University of Kentucky, which provides financial support toward the operating expenses of the publishing operation through the UK Libraries.
Recipes from "Burgoo, Barbecue, and Bourbon"
Jonathan's Kentucky Burgoo Servings: 8-12
This modern burgoo recipe comes from Lexington chef Jonathan Lundy and is very much in the spirit of the original dish, while taking into account modern tastes.
1 tablespoon olive oil 2 cups diced onion 1 cup diced celery 1 cup peeled, diced carrots 1/2 cup diced green peppers 2 cups sliced shiitake mushrooms 1/2 teaspoon minced garlic 1/4 cup teaspoon dried sage 1/2 teaspoon dried thyme 12-ounce bottle of Kentucky ale or dark ale 1/2 gallon brown beef stock 2 cups braised bison brisket, diced 2 cups roasted pork loin, diced 2 cups roasted beef tenderloin, diced 1/2 cup fresh roasted corn, cut off the cob 1/2 cup frozen soybeans or lima beans 1/4 cup chopped canned tomatoes Salt and fresh ground pepper to taste
In a large soup pot, preheat the oil on high heat and sauté the onions, celery, carrots and peppers for 3-4 minutes. Add the mushrooms, garlic and dried herbs. Sauté for 3-4 minutes more. Add Kentucky ale. Reduce heat to a simmer. Cook for about 5 minutes to allow alcohol to cook off. Add remainder of ingredients and simmer for about 20 minutes before serving.
Can be made 2–3 days ahead of time and reheated.
Lake Barkley Bar-B-Q Sauce
1/2 cup onion, finely chopped Vegetable oil 2 quarts catsup or tomato sauce or tomato purée 3 ounces Worcestershire sauce 1/3 small bottle Tabasco sauce 1/2 pound brown sugar 1/4 cup lemon juice 1 tablespoon liquid smoke 1 cup apple cider vinegar Poultry, beef or pork meat
Sauté onions in small amount of vegetable oil. Add catsup, Worcestershire sauce, tobacco sauce, brown sugar, lemon juice, liquid smoke, vinegar and mix well. Simmer approximately 30 minutes, stirring frequently. Season meat and partially cook — one half of cooking time. Apply sauce and complete cooking meat slowly. Baste several times with sauce.
"Run for the Roses" Pie
Derby Pie® is a trademarked title for a pie made by the Kern's Kitchen Inc., and though few know the real recipe, there are many pretenders. One of these, a 1976 Kentucky State Fair winner, is listed below.
1/4 cup melted margarine 1 cup sugar 3 eggs 3/4 cup light corn syrup 1/4 teaspoon salt 1 teaspoon vanilla 1/2 cup chocolate chips 1/2 cup chopped English walnuts 2 tablespoons Kentucky bourbon, plus a little extra
Soak ground up walnuts in 2 tablespoons bourbon and set aside. In mixing bowl, beat melted margarine, sugar and eggs with spoon until fluffy. Blend in corn syrup, salt and vanilla. Add chocolate chips. Take strainer and drain walnuts, reserving the bourbon. Add walnuts to filling mixture. Add new bourbon to the reserve portion to bring quantity back to up to 2 tablespoons again. Add to filling mixture and blend well. Pour into partially baked crust and bake in 375 F oven for 55 minutes. Use either a homemade or purchased (frozen) 9-inch pie crust, prick bottom and sides and bake 7 minutes at 350 F. Cool.
UK is the University for Kentucky. At UK, we are educating more students, treating more patients with complex illnesses and conducting more research and service than at any time in our 150-year history. To read more about the UK story and how you can support continued investment in your university and the Commonwealth, go to: uky.edu/uk4ky. #uk4ky #seeblue