VIDEO: On National Teacher Appreciation Day, Beyonce-approved Music Video Highlights STEM Teaching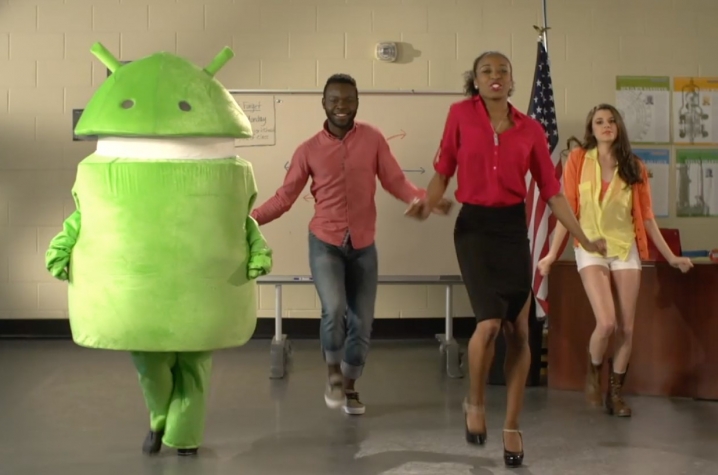 LEXINGTON, Ky. (May 5, 2015) – STEM (science, technology, engineering and mathematics) teachers received a boost to their "cool" factor with the "All the STEM Teachers" parody of Beyonce's hit song "All the Single Ladies…Put A Ring On It" released today in honor of National Teacher Appreciation Day.
The musical dance video, which can be found at www.TeachScienceandMath.org, features lyrics and choreography rewritten to focus on the importance of STEM teaching in the U.S., spotlighting the career choice as one that is fun, high-energy and innovative. The producers of the video hope it will "go viral" and generate more dialogue about one of the most critical and rewarding career paths open to today's generation of young people. Currently, the nation is experiencing a shortage of science and mathematics teachers in our middle and high schools. The shortfall has been the subject of much attention from educators and lawmakers alike.
"Our number one goal with this video was to shine a bright and positive light on teaching careers," said Ed Dickey, of the University of South Carolina Department of Instruction and Teacher Education and leader of the Teach Science and Mathematics effort. "Playing off the hit Beyonce song will help us connect with a younger generation. By communicating with our audience through this video, we hope to augment traditional communications about the value of STEM teaching as a career path. Plus it is a lot of fun."
"Our efforts here mirror a national movement to recruit more and improved STEM teachers," said Margaret Mohr-Schroeder, STEM PLUS program co-director in the University of Kentucky College of Education. "We are partnering with the national Mathematics Teacher Education Partnership and the 100Kin10 project to recruit, place, and retain 100,000 STEM teachers nationally by 2023 and to have a comparable impact in our own states." 
Dickey and Mohr-Schroeder collaborate with teams at over 100 universities to improve STEM teacher recruitment.
Approved by Beyonce and her team, the parody is a collaboration between the University of South Carolina (UofSC) and UK. The video was filmed using students and faculty from the University of South Carolina's schools of Education, Dance and Journalism and Mass Communications as well as students from C.A. Johnson High School.
Students who might have an interest in teaching science or mathematics are encouraged to visit http://seeblue.com/stem for more information.
Along with UofSC, UK is especially equipped to train STEM teachers like never before with the College of Education's STEM PLUS (Producing Leaders for Urban/rUral Schools) program. The program, offering an undergraduate bachelor's degree and teacher certification is the first STEM education major in the nation and represents a unique transdisciplinary approach to teacher education.
"We think teachers prepared this way will have a better understanding of STEM fields and career pathways and integrate that knowledge in their own classrooms," said Mohr-Schroeder.
Housed within the College of Education's Department of STEM Education, STEM PLUS is a double major in STEM Education and the student's chosen area of focus (such as mathematics, physics, chemistry, earth science, and computer science). The program makes it possible to earn a bachelor's degree and teacher certification in four years.
In 2011, UK STEM faculty joined a national campaign, known as 100Kin10, that endeavors to enrich America's classrooms with 100,000 excellent STEM teachers by 2021. One of those teachers will be Jamie Kosel, who graduated from Jacobs High School in the northwest suburbs of Chicago in 2011, and is currently finishing her senior year in UK's STEM PLUS program while student teaching at Henry Clay High School.
"Math is known to be a difficult subject for many students," Kosel said. "This all roots directly from the way the material is presented to a student and their self-esteem towards math. Everybody is capable of being good at math. In the past, math was typically presented in a very dry manner- hand-written notes and excessive drill-and-practice homework assignments. The really cool thing about STEM and math in general is that we are trying to incorporate engineering and technology into our lessons to spice things up. I try to encourage collaboration, inquiry learning, and applications in my classes."
The STEM PLUS program familiarizes students with all areas of STEM, while also building a depth of knowledge in the specific subject students wish to pursue in their teaching careers. Additionally, it is a clinically-based teacher preparation program, meaning students take education-focused coursework each semester and go into local schools for field experience starting their freshman year. They learn to teach STEM subjects in such a way as to engage learners and make STEM knowledge and skills relevant and useful for all students.
Katherine Poe graduated from Larry A. Ryle High School in Boone County in 2012 and is currently a junior in the STEM PLUS program.
"I chose math because so many students struggle and hate math, but I want to show them they can succeed and have fun while doing it," Poe said. "It is important in education to be able to connect concepts to other subjects and real world problems. Having the STEM background makes this easier because you are learning how all of these subjects can be integrated."
Through an agreement with the UK College of Engineering, all STEM PLUS students take an introductory engineering course, and can optionally take more advanced engineering and computer sciences courses.
"Ultimately, this program gives undergraduates more exposure to the unique learning opportunities being created in the STEM field," Mohr-Schroeder said. "Teachers prepared in our program will be able to give their students the opportunity to spark an interest in STEM."
For more information on STEM PLUS, visit https://2b.education.uky.edu/stem/new/undergraduate-programs/.
About the University of South Carolina
The University of South Carolina (UofSC) was established in 1801 and is a full-service, state-supported research university that includes the 358-acre Columbia campus and seven regional campuses with a total full-time student body population of more than 39,500 and 2,100 full-time faculty members. The University provides researchers with a full range of grant-related services through its Sponsored Awards Management, Research Compliance, and Contract and Grant Accounting offices. Located in the capital city of Columbia in the geographic center of the state, UofSC's main campus is part of a thriving metropolitan community of more than 450,000 inhabitants. UofSC offers a broad spectrum of educational opportunities with 14 colleges and schools that encompass 324 undergraduate and graduate degree-granting programs.
About the University of Kentucky
Founded 150 years ago as a land-grant institution, the University of Kentucky is nestled in the scenic heart of the beautiful Bluegrass region of Kentucky. UK's 918-acre campus adjacent to downtown Lexington is home to more than 30,000 diverse students representing 117 countries and every state in the nation, and approximately 14,500 employees. UK is one of eight universities in the U.S. that has well-established programs in agriculture, engineering, medicine and pharmacy on a single campus, leading to groundbreaking discoveries and unique interdisciplinary collaboration. Kentucky's flagship university consists of 16 academic and professional colleges where students can choose from some 200 majors and degree programs.
MEDIA CONTACTS: Whitney Harder, 859-323-2396, whitney.harder@uky.edu or Jean Triskett, 803-361-3774, jean@injeaniousmedia.com