A&S Web Classes Heat Up This Summer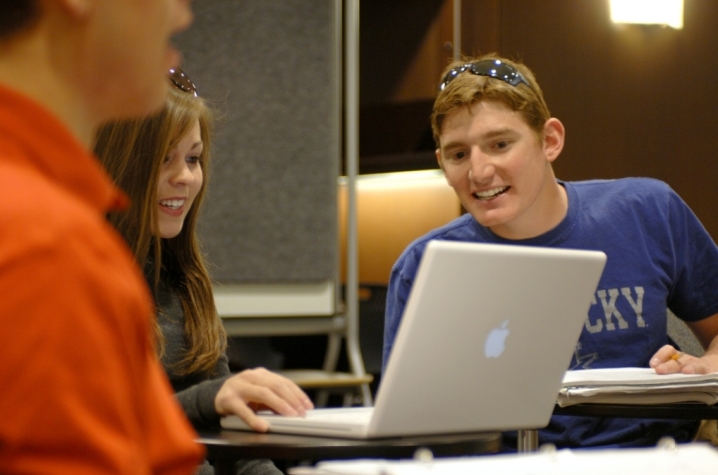 LEXINGTON, Ky. (July 19, 2010) —Summer school is cool, and the University of Kentucky knows it.
UK students are jumping at the chance to take the new online classes being offered by the College of Arts and Sciences this summer with an enthusiasm not seen since ESPN Gameday!
Gone are the lazy days normally associated with warmer temps. Summertime is filled with globe-trotting vacations, internships, increased off-campus workloads and varied responsibilities; online classes are the best way for UK undergrads to fulfill degree obligations, while going about their daily lives.
"We, as a college, realize that students need more flexible scheduling options," said JoLynn Noe, assistant dean for Instruction and Enrollment Management in Arts & Sciences. "And asynchronous courses allow students to go at their own pace. They don't have to physically log on a certain time."
When Dean Mark Kornbluh moved to Lexington and to UK, he brought with him his vast experience with online courses.
"As chair of Michigan State's History Department, we started a small pilot program of online classes and within five years we saw tremendous growth," Kornbluh recalled. "The students and faculty loved the flexibility, and our studies demonstrated that online class quality was on par with in-person campus classes."
Psychology Professor Nathan DeWall is teaching his Social Psychology and Cultural Processes class online this summer, providing a PowerPoint presentation and notes with each class, as well as a self-recorded video of the lecture.
To further assist his students, DeWall divides his classes up into 20-minute micro lectures, which allow even greater flexibility. "You can't have coffee breaks in the classroom," he said. "No one has the time for that. For online classes, I thought I would try shorter classes, and students seem to like it."
DeWall has heard nothing but good things from participating students, who are logging in from California to China. "Students are as engaged if not more engaged in the online class as opposed to real class," he said. "I might be reaching even more students through this medium."
Students feel especially connected because of DeWall's video lecture, according to senior Nikki Justice, who is working 65 hours a week this summer, in addition to taking DeWall's online psychology sessions.
"I think that the class is structured well with the video as well as notes," she said. "I enjoy the freedom of being able to do work at my home computer at my leisure and not having to go to a classroom to be lectured. Online classes are a nice break from the typical class set-up."
Junior Eric Grucza is taking Anthropology 160: Cultural Diversity in the Modern World while interning in Los Angeles this summer. "It's nice to not to be on an extremely tight schedule," he said."You can work at your own pace and get to things when you have time."
Grucza is learning a bit more self discipline through his online class work as well. "If you let everything build up, you're left trying to do everything last minute," he said.
A&S is offering 30 online courses this summer and expects to double that number for next summer.
Want to dip your toe in the water, but need a first-hand look before diving in? Grucza and UK biology major Nikki Noe are blogging about their online educational experiences this summer. Read up on their helpful hints and experiences; no prior training necessary.
For more information, visit the College of Arts and Sciences website.