Wildcat Warmth Felt in Rural Kentucky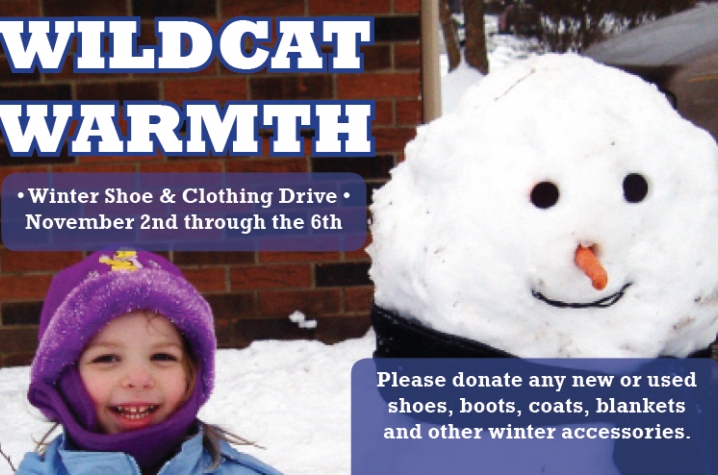 LEXINGTON, Ky. (Nov. 2, 2009) – As cooler weather approaches and sweaters, coats and boots emerge from closets, University of Kentucky students are encouraging the community to pause and consider those without proper winter clothes.
Wildcat Warmth, a campuswide, student-driven collection of new or used coats, shoes, blankets, gloves and other winter accessories, will benefit needy families in the southeast region of Kentucky. Wildcat Warmth is organized and sponsored by students in the College of Public Health.
In an e-mail to the campus, UK President Lee T. Todd Jr urged participation, saying, "The Appalachian region is vital to Kentucky, a region rich in natural and scenic beauty, but also an area that ranks among the poorest in the nation economically. UK is proud to sponsor (Wildcat Warmth) to help families in the region prepare for the upcoming winter season."
During the week of Nov 2-6, well-marked collection bins and boxes will be placed in nine locations scattered across campus as well as three off-campus locations. The clothing collected through Wildcat Warmth will be distributed by Kentucky Homeplace, a UK program housed in the university's Center for Excellence in Rural Health-Hazard.
"Our goal is to not only help hundreds of needy families, but to also raise awareness of the economic and health disparity in the Appalachian counties of Kentucky, an area where 28 percent of the population live below the poverty line," said John Kim, a public health graduate student who has organized a small volunteer army of students, faculty and staff.
In its inaugural year last fall, more than 150 coats, 100 pairs of shoes, and hundreds of bags containing blankets, gloves, sweaters, jeans, and other cold weather necessities were collected and transported to the region by students, assisted by Richard Crosby, chair of the Department of Health Behavior in the College of Public Health.
Fran Feltner, director of Kentucky Homeplace, said, "It's just wonderful that our UK students – some of them who come from this area – want to help the less fortunate in our community, especially in a time when unemployment is so high and our people are just trying their best to make ends meet. We have the neediest of the needy here, and I can't tell you how much Wildcat Warmth will help us achieve our mission to serve this area."
Campus locations for the collection bins include:
• Commons Market
• Blazer Cafe
• Student Center (near the information desk)
• Hall of Fame area near Wildcat Deli in Kentucky Clinic
• Gatton College of Business and Economics atrium
• Ag North Deli
• Early Childhood Development Lab in Erikson Hall
• CATS Center/Athletics in Memorial Coliseum
• Peterson Building
Off campus locations:
• UK Markey Cancer Control Program, Southcreek Properties, 2365 Harrodsburg Road, Suite A230
• Lexington Athletic Club, 3992 W Tiverton Ct (next to Fayette Mall)
• Lexington Montessori School, 319 S Broadway Park
For more information about Wildcat Warmth, contact John Kim at John.Kim@uky.edu.